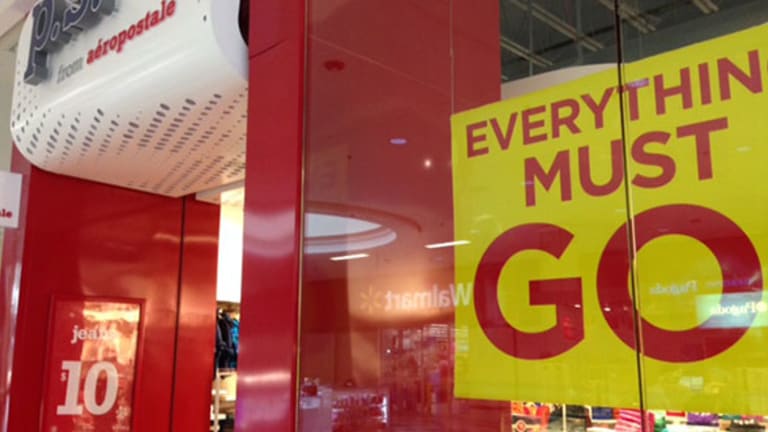 Macy's and J.C. Penney Announce Store Closings: Who's Next?
The wave of store closings by major U.S. retailers is expected to continue well into 2015.
NEW YORK ( TheStreet) -- Macy's (M) - Get Report  and J.C. Penney (JCP) - Get Report  both announced plans this week to shutter some stores, and you can bet other retailers will be following suit in the weeks and months to come.
More people shopping and surfing for deals on mobile devices, population shifts and the emergence of new competitors headline the list of reasons why well-established major retailers continue to re-think the number of physical stores they operate in the U.S.
According to Macy's spokesman Jim Sluzewski, the Macy's closings are about more than just saving a few bucks on rent and payroll. "On one hand, customer shopping patterns change over time; a mall that was in a prime location 20 or 30 years ago may now be in an area where population has shifted away," said Sluzewski. " Or, customer traffic may have been drawn away to a new nearby shopping center that was built later."
Macy's plans to take its savings from its latest round of store closures and reinvest in laying the groundwork for its future, which include stocking inventory by local market preferences and expanding a same-day delivery service now available in eight major markets.
The moves by J.C. Penney followed similar steps it took in 2014 when the department store retailer waved goodbye to 33 locations, most of them in malls where foot traffic had fallen precipitously. "Our decision to close these locations was made after a careful analysis of store performance and future strategic fit for the company," J.C. Penney spokesman Joseph Thomas told TheStreet via email.
What made the newest course of action from J.C. Penney so surprising is that execs, particularly outgoing CEO Mike Ullman, had  downplayed its desire to close stores at an Oct. 9 analyst meeting in New York City, stating it had very few unprofitable sites open.
TheStreet takes a look at where the light switches will likely be turned off next in retail land.
But the supercenter model has not exactly been ripping the cover off the ball financially. Underperforming supercenters could be scrapped this year as new Wal-Mart U.S. President and CEO Greg Foran seeks to turn around profitability. For the nine months ended Oct. 31, operating margins for Wal-Mart U.S. have fallen 46 basis points year-over-year.
In October of 2013, then Wal-Mart U.S. President and CEO Bill Simon remarked that 10% of the division's store base was underperforming and required "special attention." Same-store sales for Wal-Mart's supercenters declined 0.3% in the second-quarter. The performance of its supercenter was not shared on the third-quarter earnings call, but looked to be challenged. Meanwhile, same-store sales increased a solid 5.5% for Wal-Mart's smaller Neighborhood Market store concepts, while total U.S. same-store sales, which include the performance of the supercenters, only advanced 0.5%.
Wal-Mart operated 3,400 supercenters centers in the U.S. as of Nov. 30, representing 78% of its domestic store fleet.
Mired in a deep sales slump that's led to staggering losses as teens favor fast-fashion houses Forever 21 and H&M, Aeropostale (ARO)  is trying to close stores en masse to stay alive. During the third quarter, the company closed 23 stores and followed that up by exiting 75 locations in the fourth quarter. Aeropostale's total year-end store closures will have amounted to 120, higher than its projection coming into the year of 40 to 50. 
Aeropostale is currently deciding whether to close an additional 50 to 75 stores in 2015. In January alone, it will dim the lights at 126 P.S. from Aeropostale locations, a chain that was created in 2009 to cater to children under the age of 13.
But with Aeropostale poised to deliver an adjusted net loss of about $136 million for 2014, on top of a $63 million loss in 2013, closing more than 50 to 75 stores to save money on employee, rent, and inventory costs is highly likely.
American Eagle Outfitters is shrinking to avoid Aeropostale's financials.
Although not serving up the same dreadful financial results as competitors Aeropostale and Abercrombie & Fitch (ANF) - Get Report  in 2014, American Eagle Outfitters continues to shrink in size to better position itself in the age of mobile shopping. The teen apparel retailer closed three stores in the third quarter, including two of its Aerie intimates standalone locations. The company was on track to close over 70 stores by the end of its fiscal year in January, with over 40 closing this month alone, as part of a three-year goal of leaving 150 locations.
In 2015, the company expects to close 70 stores, most of which will go dark after the upcoming holiday season. However, with a store count still north of 1,000 and bitter competition in the teen apparel space, American Eagle could accelerate the number of closures this year to more than 70.
During the third quarter, Abercrombie, which enters 2015 in search of a new CEO, closed four U.S. stores and was on pace to exit 60 locations in its fiscal year ending in January. The company anticipates a similar number of closures in each of the next few years for stores it has characterized as having "low volume." At the end of the third quarter, Abercrombie operated 834 stores in the U.S.
"Clearly there's a very significant channel shift that is continuing towards online," noted Abercrombie COO Jonathan Ramsden on the Dec. 3 third-quarter earnings call. The company, said Ramsden, is now questioning if it can turn around groups of stores that performed well historically but have underperformed of late.
Even if a new CEO is not announced before its holiday quarter earnings are released sometime in March, Abercrombie's steep sales and profit declines from 2014 will likely lead to its Executive Chairman and former Sears (SHLD)  exec Arthur Martinez announcing more than 60 U.S. store closures this year. The closures could be focused on the standalone Abercrombie kids stores -- the merchandise of the 127 store kids chain is presently being tested for sale in the back of select Abercrombie & Fitch adult stores.
This article is commentary by an independent contributor. At the time of publication, the author held no positions in the stocks mentioned.