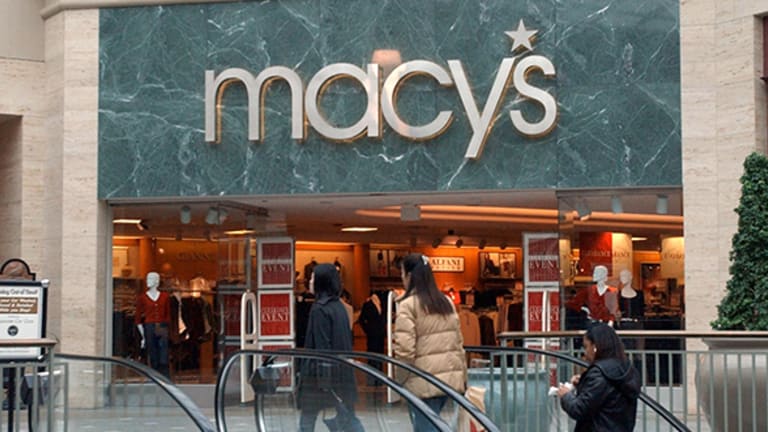 Macy's Shares Plunge on Disappointing Sales, But Here Are 3 Reasons to Be Optimistic
The retailer had another sluggish quarter and reduced its guidance for the holidays, but there were some positive signs amid the bad news.
The retailer had another sluggish quarter and reduced its guidance for the holidays, but there were some positive signs amid the bad news.
Updated from 10:58 a.m. with comments from Macy's chairman and CEO Terry Lundgren.
Macy's (M) - Get Report had another sluggish quarter and offered up a worrying outlook for the holidays, but did manage to detail three things that may intrigue investors.
On Wednesday, the department store retailer reported third quarter earnings of 56 cents a share excluding one-time items, narrowly beating forecasts for 54 cents a share. Comparable store sales, which are sales from stores open longer than a year, fell by 3.6%. The sales result was worse than the second quarter, when same-store sales declined by 1.5%. 
Macy's highlighted continued tepid spending by U.S. consumers in certain apparel and accessories departments. International visitors, who have visited Macy's biggest tourist stores less frequently this year due to their weaker currencies vs. the U.S. dollar, also continued to shop cautiously.
"Consumers are spending on things like home improvement items, tech downloads and eating out at restaurants -- plus they continue to have a fairly big savings account," explained Macy's chairman and CEO Terry Lundgren in an interview with TheStreet as to why sales continue to be soft. 
The lackluster third quarter results, fueled in part by weak store traffic, caused Macy's to offer a dour outlook for the approaching holiday season. Macy's now expects earnings in a range of $4.20 to $4.30 a share excluding one-time items, compared with its previous guidance in the range of $4.70 to $4.80 a share.
Same-store sales are forecasted to decline 1.8% to 2.2% for the year, compared with previous guidance of approximately flat. In the fourth quarter, same-store sales are seen dropping 2% or 3%.
Macy's shares plunged more than 13% to $34.92 in early trading on Wednesday. 
In spite of its struggles, Macy's did discuss several things that could boost profits and returns for shareholders longer term. TheStreet takes a look at three of them.
1. More store closures could be coming.
As previously announced in September, in early 2016 Macy's will close 35 to 40 under-performing stores out of its current portfolio of about 800 Macy's and Bloomingdale's locations.
On Wednesday, Macy's suggested it's not yet done shuttering stores in order to more profitably run the business in the age of digital commerce, saying in a statement that it "expects it will continue to reduce the number of stores over time." Lundgren was non-committal when asked about the optimal size of Macy's store network in the the future.
"I don't have an exact number, but it's less than today," said Lundgren, adding the rise of digital shopping makes it less essential for Macy's to operate stores so close to one another.
According to Lundgren, it's now important to get more productivity from Macy's top locations, as opposed to operating a wide network of stores. One way Macy's plans to focus on getting people into its stores, says Lundgren, is by opening more shops that offer unique merchandise or some form of service.  
An example is the deal Macy's announced Wednesday with Luxottica to open 500 LensCrafters optical shops inside the department store retailer's stores. The first LensCrafters will open at a Macy's location by April 2016, with 100 scheduled to open by the end of the year.  
In recent years, Macy's has also added shops from shoe retailer Finish Line (FINL)  and toy retailer Build-A-Bear (BBW) - Get Report . In September, Macy's struck a deal with electronics retailer Best Buy (BBY) - Get Report to operate shops inside its stores.
With fewer under-performing stores in the mix, and more productivity at the best locations, Macy's profits could receive a nice boost once sales recover.

2. More real estate deals could be announced.
Macy's said it has engaged real estate developer Tishman Speyer to help identify and advance potential store redevelopment projects nationwide. The company has begun to explore joint ventures or other deal structures with third parties to redevelop Macy's flagship stores in Manhattan (Herald Square), San Francisco (Union Square), Chicago (State Street) and Minneapolis (Nicolet Mall).
By extracting cash from its lucrative real estate holdings, Macy's could use the proceeds to buyback its now depress stock, boost the dividend and reinvest in the very best store locations.
In August, the department store retailer agreed to sell a 378,000-square-foot location in downtown Brooklyn, N.Y. to Tishman Speyer. Macy's will receive $170 million in cash for the property, plus an additional $100 million over the next three years to be used as a contribution toward renovating the store.
One thing Macy's won't be doing to unlock shareholder value is forming a real estate investment trust (REIT) as struggling companies such asdepartment store retailerSears Holding Corporation (SHLD) , restaurant operatorDarden (DRI) - Get Report  and casino operator MGM Resorts (MGM) - Get Report have done recently.
"After extensive review with the assistance of our experienced financial, tax, legal and real estate advisors, the company has decided not to pursue the formation of a REIT at this time -- the board of directors has concluded that a REIT does not offer sufficient upside potential for value creation," said Macy's on Wednesday.
Macy's reasons for not pursing a REIT echo those made by fast-food giant McDonald's (MCD) - Get Report , which announced on Tuesday that it will not be forming a REIT after researching it for several months. 
The decision by Macy's not to form a REIT dealt a blow to views held by a noteworthy activist investor. "We believe there is an opportunity to create two leading companies while maintaining the dividend," Starboard Value CEO Jeff Smith said at the Delivering Alpha investment conference on Jul. 15.  
Smith said Macy's could be worth $125 a share if it were to form a REIT. According to Bloomberg data, Starboard Value has an undisclosed stake in Macy's.

3. Macy's may soon become a more formidable player in the off-price sector. 
TJ Maxx (TJX) - Get Report , the owner of off-price kings TJ Maxx and Marshalls, may need to start looking over its shoulder. Over the next two years, Macy's will roll out about 50 free-standing Macy's Backstage stores, the company's own off-price effort, following a pilot launch this fall. 
The company currently has 5 free-standing Backstage stores and is adding an additional one by the end of the year. In the spring of 2016, Macy's will pilot Backstage stores within up to 10 existing Macy's store locations.
A more aggressive store opening plan should create a new sales stream for Macy's. "Consumers are continuing to shop in the off-price channel, and we will get a piece of the pie," said Lundgren, who suggested the company is going after new Backstage openings quicker than it thought it would.
But improvements to the operations will likely have to be made.
In a visit to one location in Long Island, NY pictured below, TheStreet found the store environment to be no-frills with generally dark lighting and merchandise that was slightly pricier relative to TJ Maxx and Marshalls. Moreover, the stores lacked a strong selection of national brand merchandise that is the hallmark of TJ Maxx and Marshalls, and instead had more of a focus on private label goods.