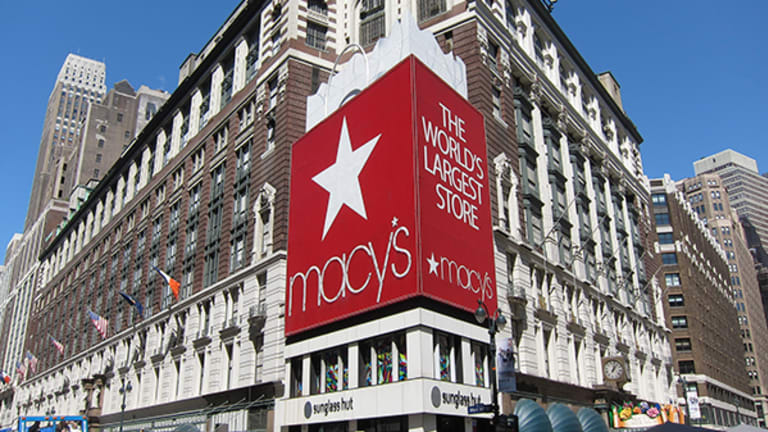 If there was any lingering doubt that apparel retailers were in trouble following a disappointing earnings report from Macy's (M) - Get Macy's Inc Report  on Wednesday, similarly unfortunate results from Kohl's (KSS) - Get Kohl's Corporation (KSS) Report  and Nordstrom (JWN) - Get Nordstrom, Inc. (JWN) Report  on Thursday wiped it away.
Yet, the excuse that U.S. consumers aren't spending on apparel doesn't hold water in light of the data.
As a refresher, Macy's reported its fifth-straight quarter of falling same-store sales, down 5.6%. Earnings of 40 cents a share topped expectations of 36 cents, but that was overshadowed by a drastic reduction in the company's full-year same-store sales and profit outlook.
Kohl's and Nordstrom then reported that they hit a similar headwind last quarter.
Kohl's suffered a 3.9% decline in same-store sales, leading to a sizable shortcoming in the retailer's earnings estimates.
Nordstrom bombed in the first quarter as well, earning 26 cents a share, versus estimates of 46 cents. The company's shares were off 17% in Thursday after-hours trading and are down more than 15% on Friday, after news of the company's contracted full-year sales and profit guidance.
Management comments from each retailer had a common thread, though Kohl's Chief Financial Officer Wes McDonald's comment on the state of the consumer may have been the most straightforward of all the observations this week.
"They are not buying apparel. That's the simple answer," McDonald said.
"They are spending money on restaurants and experiences. Until we get some more excitement in apparel it's going to remain in my opinion a replenishment market," McDonald said.
Macy's CFO Karen Hoguet struck a similar chord.
"We're, frankly, scratching our heads. We see the same economic data you all see, and it would point to a customer that would be spending more," Hoguet said.
"I think that gets to what he and she are spending it on," she said.
"Savings rates are high, which tells you that either they are purposefully saving more or that there's some of that savings that can be used for discretionary spending if they get motivated to do so," Hoguet said. "Some of it is spending in different categories health, restaurants, travel."
That reality explains a great deal about a number of retail earnings shortfalls this week.
The problem is, those numbers don't line up with the data.
During the first quarter, spending at the nation's clothing and clothing accessories stores grew 2.7% on a year-over-year basis, reaching $55.4 billion, according to the U.S. Census Bureau. 
General merchandise stores saw a 2.4% improvement in their collective first-quarter top lines. Miscellaneous stores and specialty stores also saw sales growth as a group.
The conclusion? Retailers -- and apparel retailers in particular -- aren't the victims of bad luck that they have made themselves out to be. Mostly, they have the wrong merchandise at the wrong price at the wrong time being sold in the wrong way.
Spending on apparel is strong, even if not robust. It is simply that dollars previously garnered by names commonly seen at the mall are being redirected toward, smaller and a greater number of purveyors.
And to be clear, the Census Bureau's data reference store sales and exclude e-commerce venues, not that online sales aren't taking a bite out of brick-and-mortar retailer's sales all the same.
For every quarter last year, U.S. e-commerce sales were up no less than 14% year over year. Not once did overall retail sales, which are still predominantly offline sales, exceed a year-over-year growth pace of 2%.
In other words, Kohl's Macy's, Nordstrom and any other mostly brick-and-mortar retailer that faced a demand headwind during the quarter may want to think about this issue more closely.
Consumers have money, and they are spending it on apparel. They just aren't spending it at those stores.
They may even be spending it online.
Nevertheless, that money is up for grabs. It is time for these retailers to make big changes.
This article is commentary by an independent contributor. At the time of publication, the author held no positions in the stocks mentioned.