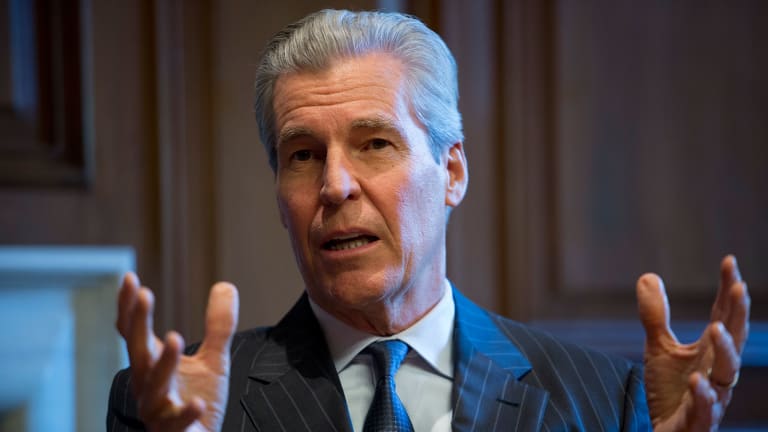 Macy's CEO: 'I Don't See a Recession'
With stock markets in turmoil, fears of a recession have begun to creep into the minds of some investors.
Updated to include additional comments from Macy's chairman and CEO on Tuesday morning.
With stock markets plunging globally to start the new year amid concerns about slowing growth in China and plunging oil prices, fears of a U.S. recession occurring sometime in 2016 has begun to creep up in the minds of investors. 
According to CNBC's Fed survey of top economists, strategists and money managers, the chances of a recession in the U.S. are at their highest levels since 2011, although the overall percentage of those who think a recession is likely is still relatively low at 28.8%.
But Macy's chairman and CEO Terry Lundgren doesn't count himself among that pessimistic group. "I don't see a recession," Lundgren told TheStreet at an event Monday evening being held by the National Retail Federation. Lundgren added that "the economy has been more flattish."
The Container Store (TCS) - Get The Container Store Group, Inc. Report chairman and CEO Kip Tindell was a bit more cautious. however. "Well, if we keep seeing 300 point down days in the markets, then I don't know," said on whether the U.S. was headed toward a recession.
Both big-name retailers are coming off the types of holiday seasons that underscore cautiousness on the economy.
Macy's warned on Jan. 6 that same-store sales plunged 4.7% for the months of November and December combined. Same-store sales for its fourth quarter, which runs through January, are seen falling by about 4.7%, worse than previous guidance for a decline of 2% to 3%.
Macy's also lowered its full-year earnings guidance to between $3.85 and $3.90 a share from its prior expectations of a $4.20 to $4.30 a share range.
The company will close 36 stores by the spring as part of a broader reorganization. After those stores are shuttered, Macy's will operate about 730 locations in the U.S.
"We are still over-stored in the country -- but we aren't going to zero stores," explained Lundgren. One reason why Macy's is still likely to operate hundreds of stores in the U.S.? People still want to see and touch what they are buying. 
"They still want to go into the store -- they do in fact want to touch the clothes and try them on," said Lundgren at a keynote speech at the National Retail Federation conference on Tuesday morning. Lundgren continued, "We are very excited about the online business, but I am also excited about seeing Macy's and Bloomingdale's bags from the stores [being walked] down the street to reinforce the message of our brands."
Shares of Macy's have dropped about 40% in the past year, worse than the 7% decline for the S&P 500.
Meantime at The Container Store, same-store sales rose a modest 0.5% for the third quarter ended Nov. 28. The company cautioned on Jan. 7 that the retail environment was "choppy", and that a "softer than planned November has continued into the beginning of the fourth quarter."
Shares of The Container Store have shed about 75% in the last year.
A sluggish holiday season was felt beyond apparel and home goods retailers such as Macy's and The Container Store.
According to the government, overall retail sales fell 0.1% in December compared to November and were up just 2.2% from December 2014. For the entire year, retail sales only increased 2.1% from 2014, the smallest annual increase since 2009.
The National Retail Federation reported that holiday sales in 2015 increased 3% from the previous year to $626 billion, compared to its forecast for 3.7% growth.
A tepid holiday season for retailers and turbulent stock markets so far in 2016 arrive despite what looked to be a solid U.S. economy last year. Employers added an average of 221,000 jobs a month during 2015, and 284,000 a month from October through December. The unemployment rate has declined from 10% in 2009 to about 5%, a rate often associated with a healthy economy.