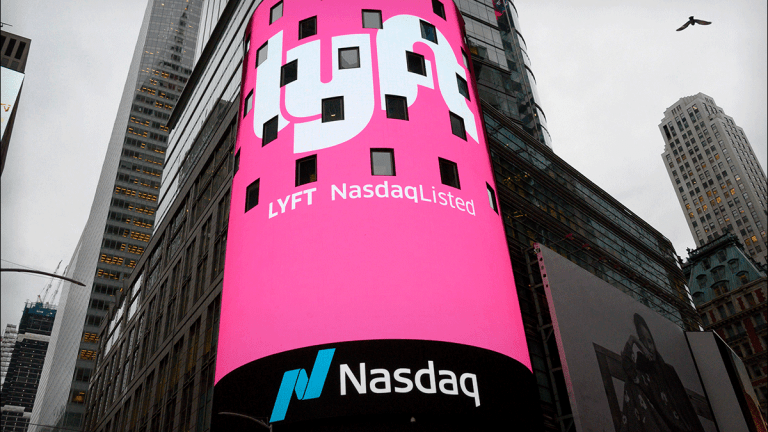 Lyft's Execution Looks Stronger Than Uber's Right Now
Lyft's ride-sharing business is growing faster than Uber's, and the company has also shown more financial improvement lately.
Though it's possible that the story will be different down the line, Lyft's (LYFT) - Get Lyft Inc Class A Report execution currently looks better than Uber's (UBER) - Get Uber Technologies, Inc. Report .
A look at the numbers that the companies delivered in their Q2 reports helps drives this home. Lyft isn't merely growing faster than Uber; it has also been showing more progress lately towards being profitable and cash-flow positive, in spite of having less scale.
Lyft's Latest Numbers
On an annual basis in Q2, Lyft
grew its revenue by 72%
, its active riders by 41% and its revenue per active rider by 22%. And though annual comparisons are set to get more difficult due to the lapping of price hikes carried out in Q2 2018, the company guided in its Q2 report for revenue to grow 54% to 56% in Q3 and 61% to 62% for the whole of 2019.
Lyft, which like Uber has reported that the price pressure in the U.S. ride-sharing market is cooling, also guided for full-year adjusted EBITDA of negative $850 million to negative $875 million. That's markedly better than prior guidance of negative $1.15 billion to negative $1.175 billion.
And with the qualifiers that cash flows can be lumpy from quarter to quarter and that it could still be a while before Lyft is sustainably cash-flow positive, the company reported Q2 operating cash flow of $15 million, much-improved from a year-ago level of negative $80 million. Free cash flow (FCF), which also accounts for capital investments such as investments in Lyft's scooter-sharing service, was negative $28 million.

Lyft's quarterly revenue growth. Source: Lyft.

Uber's Latest Numbers
Uber, which unlike Lyft operates outside of North America and runs a major food-delivery platform (UberEATS) in addition to a ride-sharing platform, officially reported 12% Q2 revenue growth. Excluding currency swings and a $287 million "driver appreciation award" related to Uber's IPO, the company's "adjusted net revenue" (ANR), which already excludes referral and "excess driver incentive" payments, grew 26%. In the U.S. and Canada, the two markets where Lyft operates, Uber's ride-sharing and UberEATS revenue rose a combined 19%.
Uber did report that it trips rose 35%, and that its total "monthly active platform consumers" (MAPCs) grew 30%. However, much of its current top-line growth is coming from UberEATS, whose take rates remain well below that of Uber's ride-sharing business amid heated competition in the U.S. and India. In Q2, the company's UberEATS gross bookings rose 91% to $3.39 billion, while its ride-sharing bookings rose 20% to $12.19 billion. And though it's worth noting revenue growth rates for both businesses were hurt by the driver appreciation award, ride-sharing ANR rose just 4% to $2.31 billion, while UberEATS ANR rose 53% to $337 million.
And from the looks of things, Lyft, which according to third-party estimates has been steadily taking share from Uber in the U.S., will see its ride-sharing business continue to outgrow Uber's by a substantial margin during the back half of the year. Uber guided on its Q2 earnings call for its constant-currency gross bookings growth, which was 41% in Q1 and 37% and has been benefiting from strong UberEATS growth, to be in a range of 31% to 35% for the whole of 2019. The company added that its ANR growth (14% in Q1 and 12% in Q2) is expected to improve during the second half of 2019, but didn't say by how much.
Meanwhile, Uber reported Q2 operating cash flow of negative $922 million, after having reported a Q1 figure of negative $722 million. And the company guided for full-year adjusted EBITDA of negative $3.2 billion to negative $3.3 billion.

Uber's quarterly "adjusted net revenue" growth. Source: Uber.
Uber vs. Lyft
Analysts polled by FactSet expect on average that Uber will post 2019 FCF of negative $3.67 billion, and that Lyft will post 2019 FCF of negative $767 million. Uber, which had 3.8 times as much revenue as Lyft in Q2 and whose scale should in theory provide it with efficiency advantages in areas such as R&D spending, marketing spending and operational and infrastructure expenses, is expected to see 4.9 times as much cash burn as Lyft this year, while growing at a meaningfully slower clip.
Even after accounting for the pressure that UberEATS is placing on Uber's bottom line, that's not a great look.
In time, Uber could be running itself much more efficiently than it is today. CFO Nelson Chai, who was hired a year ago, has been taking steps to curb spending that range from cutting customer promotions to implementing a hiring freeze for technical jobs to eliminating the $250,000 that Uber was spending each year on birthday balloons for employees.
And over time, the fact that Uber operates both a ride-sharing platform and a food-delivery platform could become a bigger competitive advantage. It's worth noting here that the company is just 9 months removed from launching a loyalty program that covers both rides and food orders, and more recently began testing a subscription-based service that covers rides and food orders, as well as Uber's bike and scooter-sharing services.
But for now, Lyft is taking share from Uber in Uber's most lucrative market, while also demonstrating better financial execution and (like Uber) benefiting from an improved pricing and promotional environment in the U.S. ride-sharing market.
Save 57% With Our Labor Day Sale. Join Jim Cramer's Action Alerts PLUS investment club to become a smarter investor! Click here to sign up!