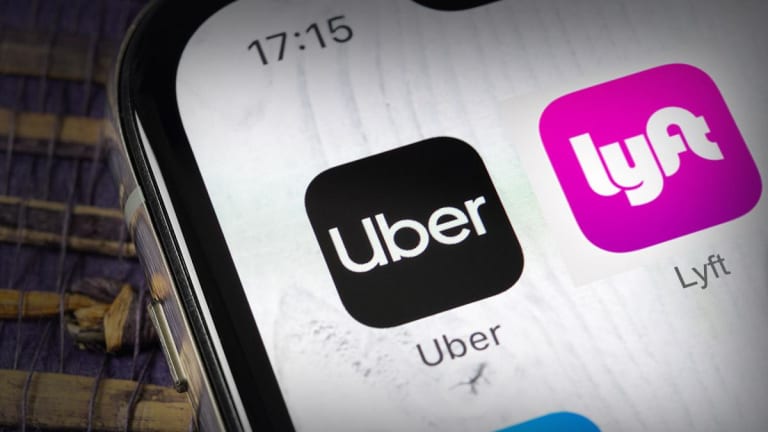 Uber's Earnings Call Provides More Fuel For Lyft's Shares Than Uber's
The ride-hailing leader says the U.S. market is now behaving more 'rationally.' But its broader profit outlook still looks pretty murky.
There are reasons why Lyft's (LYFT) shares are up over 5% following Uber's (UBER) Thursday Q1 report and call, but Uber's shares are only up slightly.
Many of the key numbers shared in Uber's first earnings report as a public company were in line with the guidance the ride-hailing leader issued in its IPO filing, and most of the others also meshed with expectations. However, on the call, CEO Dara Khosrowshahi and CFO Nelson Chai offered some upbeat comments about pricing and financial trends in the U.S., where Uber appears to get a little over half its revenue, but Lyft gets the overwhelming majority of its revenue.
"We've more recently seen signs of [U.S.] competition becoming more focused on brand and products versus incentives, which is a trend that has continued into Q2 2019 and we think which is a healthy trend for the business," said Khosrowshahi on the call. Likewise, Chai said Uber is seeing "improving competitive dynamics in U.S. ridesharing," along with "relative stability" in Latin America, where intensified competition has been a recent headwind.
Thanks to these trends, Chai said Uber expects its contribution margin (a financial metric created by the company that excludes a slew of expenses) to "improve sequentially in Q2 2019 and for the remainder of the year." He also guided for the take rate for Uber's "core platform," which covers its ride-sharing and the Uber Eats food-delivery business, to be up sequentially in Q2 thanks to "increased rationality" in the U.S. ride-sharing market along with new Uber Eats fees.
These comments came after Lyft said on its Q1 call that the U.S. ride-hailing market is now "the most rational" it has ever been, and that "competitive pressure in terms of rider incentives has recently receded."
Much as memory manufacturers have long signaled their production plans to each other via public comments -- and by doing so have influenced industry supply growth -- Uber and Lyft appear to be signaling to each other that they're eager to curtail their U.S. driver and rider incentive expenses, as they each try to please Wall Street by narrowing their still-considerable losses.
There's a risk here that Uber and Lyft, who between them effectively have a ride-sharing duopoly in the U.S., could get accused of collusion by drivers and/or consumers if they're not careful about how they engage in such signaling. Nonetheless, it's understandable that markets are pleased the companies are getting less aggressive in their attempts to wrest share from each other.
It's also understandable that Lyft's shares are getting more of a boost from this news than Uber -- both given how much of Lyft's revenue comes from the U.S. and given that many of the other things shared by Uber on Thursday (though not significantly worse than expected) didn't exactly soothe ongoing concerns about revenue growth, take rates and losses.
Though Uber is guiding for its core platform take rate to rise sequentially in Q2, as well as for Uber Eats' take rate in particular to improve over the course of 2019, it's worth keeping in mind that its core platform take rate fell 4 percentage points annually in Q1 to 18%. This is a big reason why -- although Uber's gross bookings rose 34% annually in Q1 -- its adjusted net revenue rose just 14%, and its core platform adjusted net revenue grew a mere 10%.
This take rate decline has much to do with the fact that Uber Eats, which saw its bookings rise 108% in Q1 to $3.07 billion, had a take rate of just 7.8% amid a tough competitive environment in the U.S. and India. However, it also didn't help that the ride-sharing business, whose bookings grew 22% $11.45 billion, saw its take rate drop to 20.4% from a year-ago level of 22.6% amid a sharp uptake in "excess driver incentive" payments.
Meanwhile, as many others covering Uber's earnings have already noted, the company is still losing quite a lot of money, as it deals with high operational costs, tough competition that has boosted its incentive and marketing expenses, and large investments in both international operations and newer businesses such as Uber Freight and the electric bike and scooter fleets. The company had a GAAP net loss of $1.01 billion in Q1, and free cash flow (when defined as operating cash flow minus purchases of property and equipment) of negative $851 million.

Even on an adjusted EBITDA basis, which excludes certain expenses, Uber is still losing a lot of money. Source: Uber.
Moreover, unlike Lyft, which offered Q2 and full-year revenue and adjusted EBITDA guidance in its Q1 report, Uber isn't providing any formal top-line or bottom-line guidance. While some of the company's earnings call remarks about expected take rate and contribution margin improvement were encouraging, they don't by themselves guarantee a major drop in losses or cash burn.
Put it all together, and there are still a lot of reasons to tread carefully with Uber's stock at a time when the company still sports a valuation of $73 billion after factoring outstanding stock options, warrants and restricted stock units (RSUs). Between its competitive position in key geographies, its global scale advantages and its long-term opportunity, there are a lot of positives to Uber's story. However, paying such a large valuation to get a piece of that story is a gamble in light of the company's current financial profile and take rate pressures.
This article has been corrected to state Uber Eats' Q1 bookings were $3.07 billion.