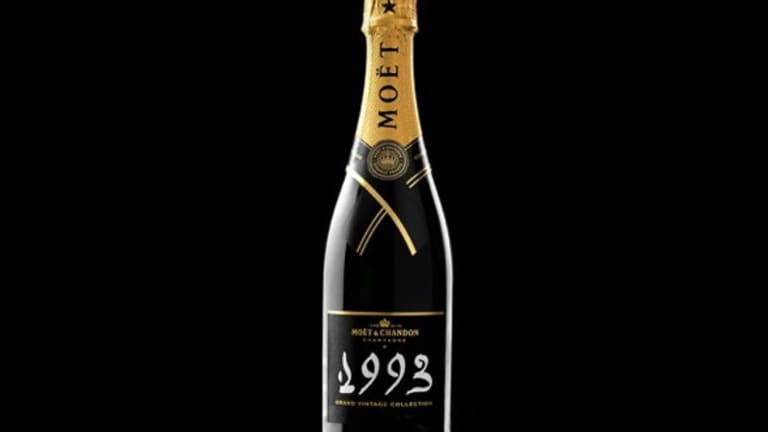 LVMH Shares Rise Amid Strong Demand for Wines and Spirits
First-half profit is in line with expectations, while sales grow more than expected in the same period.
Champagne corks are popping for French luxury good maker LVMH (LVMUY) a day after the owner of the Louis Vuitton designer label said strong demand for wines and spirits offset a decrease in French tourism in the first half of the year.
In its latest earnings report published after the close of market on Tuesday, the company said that profit in the first half amounted to €2.96 billion ($3.25 billion), little changed from a year earlier and in line with market bets on €2.92 billion.
Second-quarter sales rose by 4% on an organic basis, well above the 2.9% forecast in a Bloomberg News analyst poll.
The wine and spirits business fared the best, recording 13% organic growth compared to expectations of a 5% increase.
Within wine and spirits, the champagne business had a strong start to the year, especially in Europe and the U.S., with prestigious vintages performing particularly well and Hennessy cognac seeing strong growth in the American market and improved momentum in China.
Its champagne brands include Veuve Clicquot, Moet & Chandon and Dom Perignon — named for the Benedictine monk often credit with inventing the method for making sparkling wine though that's often disputed.
LVMH shares were up 7.55% in Paris at €153.90 on Wednesday, giving it a market worth of around €78.53 billion. The stock is down 2.21% since last year, similar to Pernod Ricard (PDRDF) 's 2.38% drop over the same period.
Both are well behind Remy Cointreau (REMYF) . Remy Cointreau's shares are up 19.8% since last year as it, too, sees a recovery in China. Last week it said volume and value depletions - or what wholesalers sell to retailers - were up in the mid-single digits in the first quarter, which is typically its weakest.
It's not wine and spirits alone that gave LVMH a stronger than expected first half.
On Wednesday, the company boasted of "exceptional" profitability at Louis Vuitton boosted by the success of iconic lines and new products, "strong momentum" in Christian Dior perfumes, market share gains at its Bvlgari luxury jewelry and watch brand, and "exceptional progress" at its Sephora retail chain which is strengthening its position in all operating regions as well as digitally.
Do experts believe the hype? 
UBS analysts do. They have a buy rating on the stock, citing the "under-appreciated" resilience of the Louis Vuitton brand combined with the defensiveness and momentum of the wider portfolio. "H1 results reinforced our confidence in this view.
Looking at wider luxury sector trends, the analysts noted the start of a bigger divergence between soft and hard luxury, the latter underperforming amid material restocking in high-end watches.  They will next be watching out for results from Moncler (MONRF)  due to be released later today after European markets close and from Kering (PPRUY)  on Thursday, also after the trading day.