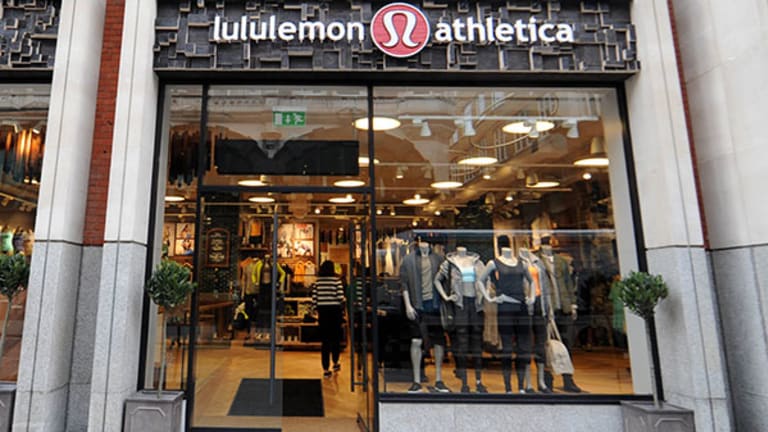 Lululemon Is in Danger of Losing Market Share to Puma, Rihanna and Kylie Jenner
Lululemon had a great earnings release Wednesday, but Kylie Jenner's new marketing campaign for Puma may help Puma to steal market share from the maker of yoga and sports clothing.
Lululemon (LULU) - Get Lululemon Athletica Inc Report  has been very popular with millennial women, but the maker of athletic and yoga apparel is facing a competitive threat from Puma (PMMAF) , and Lululemon investors need to keep a close eye on this trend.
Lululemon's most recent quarterly results, reported Wednesday, showed that it's benefiting from strong demand from consumers, including millennials. Earnings per share were 85 cents, decisively beating the average analyst estimate of 80 cents, and up from 78 cents in the year-earlier quarter. Net revenue increased 17% to $704.3 million from $602.5 million a year earlier. What's more, Lululemon repurchased 2.1 million shares of the company's stock during the fourth fiscal quarter, which concluded at the end of January.
Lululemon's CEO Laurent Potdevin said, "I'm very pleased with our strong finish to the year with positive momentum across all channels. Our fourth-quarter results are a reflection of our ability to deliver a truly unique experience to our guests, led, as always, by our outstanding store educators." Lululemon also stated in its earnings report that it expects the current fiscal year, which started in February, to have a sales increase in the mid-single digits.
All of this sounds like great news, but Puma, the German athletic and casual apparel maker, is challenging Lululemon for millennial women's wallet share, and it's making big moves to show it's focused on its female customers. With its recent signing of teen social media queen Kylie Jenner to front its marketing campaign, Puma has added a valuable name that should increase its appeal with millennial women. 
What's more, Puma already signed another big star, Rihanna, back in 2014 and has released Rihanna's Fenty Puma designer line of sneakers and women's apparel with great success, selling out of Rihanna's Fenty Trainer and Fenty Creeper sneaker designs online. Puma attributed its 11.5% increase in fourth-quarter sales to the Rihanna deal, CEO Bjorn Gulden said, "The future is female and the connection between women and Puma is very strong," according to MarketWatch.
With the addition of Kylie Jenner, the youngest of the Jenner and Kardashian clan, to the Puma team and the media frenzy of the rumored million-dollar deal, Puma has tapped into Kylie's media power, and it may pay off big time. Kylie will release her first sneaker, The Puma Fierce, on Friday, April 1, and the Internet has been buzzing about it.
With the influence that Kylie has over millennial women, this may be the deal that puts Puma in a prime position to claim a large stake in the women's athletic apparel market. Kylie currently has more than 56 million followers on Instagram and 15 million followers on Twitter as well as a constant media presence that keeps millennial women stalking her every move. Women have gone so far as to try to emulate Kylie's lips, and her cosmetic lip kit reportedly "broke Google" and sold out in a matter of minutes. It's no secret Kim Kardashian's half-sister is a hot commodity in the female consumer discretionary industry right now, and with her and Rihanna helping Puma reach women, that partnership could prove very costly for Lululemon.
Now it's true that Lululemon doesn't make shoes, but the Rihanna and Kylie Jenner marketing campaigns go way beyond their signature sneakers. Rihanna has modeled Puma "athleisure" clothing in advertisements, and online shoppers at the Puma Web site can search for "Rihanna's Picks," which include clothes as well as sneakers. Meanwhile, the first image in Kylie Jenner's new campaign shows her wearing Puma athletic clothing: cropped leggings and a sports bra-like top. 
We can't say Lululemon is in too much danger just yet. Lululemon has had a good run recently. It's stock is up more than 38% year to date, including a big increase Wednesday after the earnings release. Since the beginning of the year, the S&P 500 has gained only 0.9%. Still, Lululemon needs to take seriously the growing threat from Puma for millennial women's market share. Otherwise, it's good run could come to an end.
This article is commentary by an independent contributor. At the time of publication, the author held no positions in the stocks mentioned.