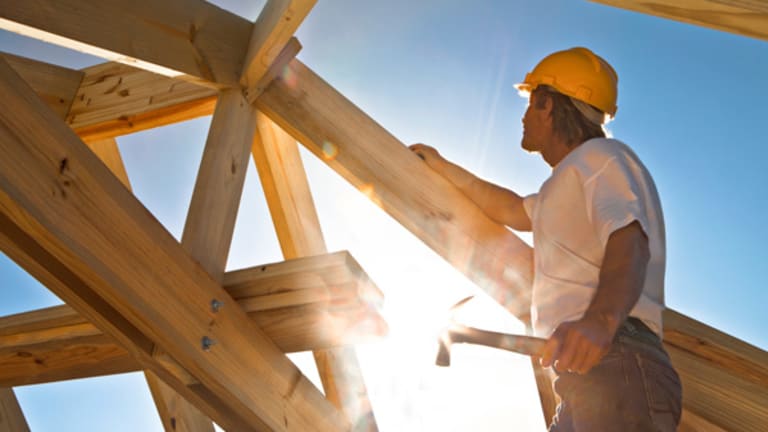 Lowe's Never Stops Improving
Lowe's tries to follow its own slogan and investors have benefited.
NEW YORK (TheStreet) -- The last time we discussed Lowe's (LOW) - Get Lowe's Companies, Inc. (LOW) Report, I said that for its own good and for the sake of investors, the retail giant, which is immured in a battle with rival Home Depot (HD) - Get Home Depot, Inc. (HD) Report, had better start improving.
Contrary to what some readers believed, I didn't think that was a huge demand. After all, "improving" is in the company's slogan. But here's the thing: Even though I wasn't particularly enamored with Lowe's recent performances, I still believed that Lowe's stock, which did not fully reflect the company's long-term potential, was a strong buy.
By contrast, I felt that shares of Home Depot had reached their peak. This is even though no one could disagree that Home Depot had meaningfully outperformed Lowe's on an operational basis.
Investors disagreed.
The market had fallen in love with Home Depot, while overstating much of Lowe's weaknesses, many of which clearly just near-term struggles. In the span of two months, though, shares of Lowe's have been up by more than 12%, while
.
READ: Time Warner Cable Pays CBS While Focusing on FCC
And after a solid quarter, during which management raised guidance, investors should expect more of the same stock outperformance.
Now, this is not a situation where I'm going to try to make Lowe's appear like the better company in this duopoly. I believe more improvements need to be made before that happens.
Still, after coming off a May quarter, during which management blamed (among other things) the weather for the company's disappointing results, Lowe's was able to grow revenue this quarter by 10% while also raising guidance. That's a strong statement.
I'm not going to blow one quarter out of proportion. But the first takeaway was that Lowe's outgrew Home Depot this quarter. It also says that the steps that management has taken to improve operational efficiency are beginning to pay dividends.
And as evidenced by the 9.6% growth in same-store sales (or comps), which tracks the performances of stores that have been opened at least one year, there's no denying that Lowe's has found a solution to its merchandising and cost-management deficits.
Although I had little doubt that Lowe's would eventually get its house in order, weak merchandising and a feeble cost structure had eroded Lowe's foundation, which led customers to Home Depot instead.
That the company has now produced its best comp growth in a decade, I have to credit management It's been an extremely difficult environment, especially given the weak comps that we've seen from the likes of
Wal-Mart
(WMT) - Get Walmart Inc. Report
(1% growth).
READ: Why Microsoft's Decision to Buy Nokia Is Bad
Although it may sound like it, I'm not here boasting about my confidence in Lowe's. Well, maybe a little. But it's not hard to like a company that has put together the string of profitability that this company has. Even though Lowe's had struggled with growth and some operational deficits, the company had never showed signs that its cash registers were not ringing.
And that gross margins advanced this quarter by 42 basis points also suggests exceptional cost controls, which is not easy to achieve, by the way. So even though the company added to its workforce, while also extending employee work hours, management still figured out ways to boost operating income by 25%, demonstrating strong signs of efficiency.
Unlike some recent quarters, there were no noticeable weaknesses this time in Lowe's that Home Depot could exploit.
READ: 'My Biggest Work Mistake': 7 Career Confessions
To be fair, given Home Depot's likewise solid results, I don't believe that this is a situation where Lowe's is stealing market share from Home Depot. Given what I've seen from lumber manufactures such as
Weyerhaeuser
(WY) - Get Weyerhaeuser Company Report
and
Louisiana Pacific
(LPX) - Get Louisiana-Pacific Corporation Report
, I more or less believe that the U.S. housing recovery has much more to do with the better-than-expected results.
The question, though, is how long can this continue?
The good news is that Lowe's is no longer suffering from self-inflicted wounds. It seems as though Michael Jones, who the company added earlier this year as chief merchandising officer, already deserves a raise.
For now, however, it is investors who have benefited from the company's hard work and solid improvements. These shares should end the year at $50. And until that mark is reached, I believe that this stock should be in your portfolio.
At the time of publication, the author held no position in any of the stocks mentioned
.
Follow @saintssense
This article was written by an independent contributor, separate from TheStreet's regular news coverage.
Richard Saintvilus is a co-founder of
where he serves as CEO and editor-in-chief. After 20 years in the IT industry, including 5 years as a high school computer teacher, Saintvilus decided his second act would be as a stock analyst - bringing logic from an investor's point of view. His goal is to remove the complicated aspect of investing and present it to readers in a way that makes sense.
His background in engineering has provided him with strong analytical skills. That, along with 15 years of trading and investing, has given him the tools needed to assess equities and appraise value. Richard is a Warren Buffett disciple who bases investment decisions on the quality of a company's management, growth aspects, return on equity, and price-to-earnings ratio.
His work has been featured on CNBC, Yahoo! Finance, MSN Money, Forbes, Motley Fool and numerous other outlets.
Follow @saintssense