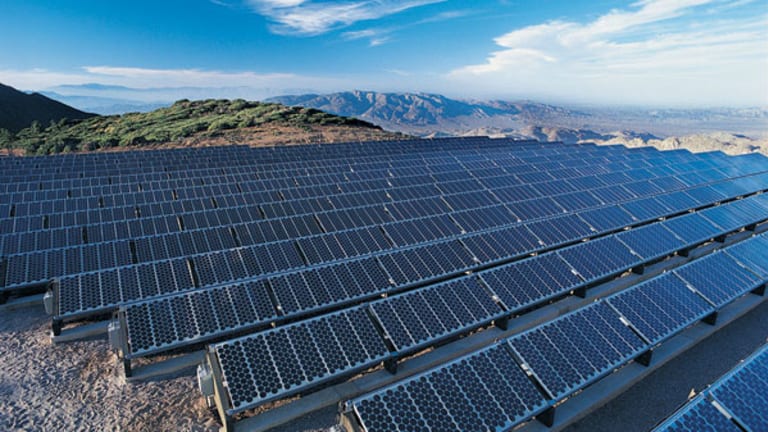 Lower Energy Prices Throw a Cloud Over Solar
Don't expect solar's price jump to continue as long as oil and natural gas remain cheap and plentiful.
Don't expect solar's price jump to continue as long as oil and natural gas remain cheap and plentiful.
NEW YORK (TheStreet) -- News of metals setting new records for how far they fell Monday was widely covered.
The
S&P Gold Trust ETF
(GLD) - Get Report
fell over $13 by the end of after-hours trading on Monday compared to Friday's close. The
iShares Silver ETF
(SLV) - Get Report
fared even worse on a percentage basis. SLV fell over $3, or 12%. (Both are higher in recent trading, with GLD up 2.3% to $134.30 and SLV up nearly 4% to $22.92.)
Both these widely followed metals didn't exactly have a fun start into the weekend either. Friday was one of the worst days for both in a long time and Monday more or less pushed on the accelerator to increase the intensity of the fall.
What you may have missed is that the
United States Oil ETF
(USO) - Get Report
has a similar chart pattern and has stepped over the cliff to join the metals. Oil leads the way and is the primary influence on inflation, which in turn pushes gold higher or lower.
The price of oil and natural gas as seen by the
United States Nat Gas
(UNG) - Get Report
, directly influences the viability of alternative energy such as solar. For solar bulls, lower energy prices spell trouble. (See my
warning about chasing solar.)
>>Also see: Long-Term Value in Recent Clean Energy Selloff >>
About a week ago, many solar names jumped on news of greater efficiency and lower cost.
First Solar
(FSLR) - Get Report
was busy announcing several developments. First Solar announced it is acquiring
TetraSun,
expects greater revenue for 2013 and expects to produce 40-cent-per-watt cells by 2017. Investors enthusiastically welcomed the announcement for First Solar, which gave a boost to other solar names.
First Solar went from an April 8 closing price of 27.04 to a closing price the next day of $39.35.
LDK Solar
(LDK)
closed April 8 at $1.07 and closed the next day at $1.38.
Trina Solar Limited
(TSL)
and
Suntech Power Holdings
(STP)
also made similar moves higher.
Since April 9, none of these solar companies have closed higher, and most have fallen back to under or near the closing price before that day.
First Solar is the only company that hasn't totally fallen back to the previous lows. However, investors in the solar space have a much greater problem on their hands. If the price of oil declines, demand for alternative energy sources, including solar, will as well.
It's hard to argue that the
hasn't been turned on its head. The theory is still intact. But as long as improvements in oil recovery outpace demand, the amount of time before the end of fossil fuel is extended.
More important for solar investors, the price of conventional energy continues to remain affordable, thus placing a cloud over solar's profitability.
Dim profitability for solar profits will exert downward price pressure on solar stocks. Case in point is every stock other than First Solar in the last week.
Even First Solar hasn't experienced much in terms of real buying. First Solar's short interest was over 30% before the jump. Other than shorts covering due to the squeeze, there hasn't been enough buying pressure to match the closing price, much less take out the high of $41.
>>Also see: If Apple Breaks $419, the Stock Market Will Break >>
If you want to know if the move higher in First Solar has legs, keep a close eye on USO and UNG.
If oil and natural gas continue their trend lower, you can forget about the solar space entering into a bullish trend higher. It's a little late to take gains in the solar names other than First Solar. You may not want to short First Solar because it's so heavily shorted already, but now may be a good time to grab some or all the profits off the table.
At the time of publication the author had no position in any of the stocks mentioned.
This article was written by an independent contributor, separate from TheStreet's regular news coverage.