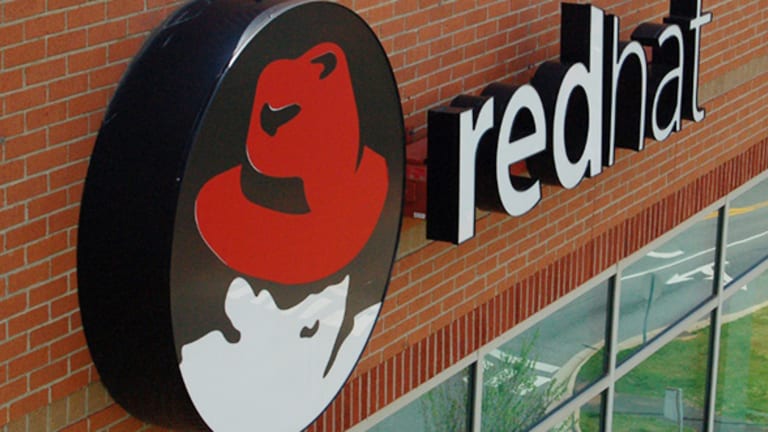 Low Valuation, Strong Earnings Growth Put Red Hat in 'Sweet Spot'
This fast-growing software firm is underappreciated by investors, but its imminent earnings announcement is expected to exceed expectations. Here is why this tech stock is a great buy now.
This fast-growing software firm is underappreciated by investors, but its imminent earnings announcement is expected to exceed expectations. Here is why this tech stock is a great buy now.
Those familiar with open-source software, have heard of Red Hat (RHT) - Get Report .
The company uses a community-powered approach to develop and offer open-source, middleware, virtualization, storage and cloud technologies. And Red Hat has delivered growth that outperforms its industry.
The stock is an undervalued pick that faces robust growth this year. The time to buy the stock is now, ahead of earnings that are likely to come in strong.
Red Hat belongs to a group of high-tech innovators that should soundly beat the market this year.
In 2012, Red Hat became the first $1 billion open-source company. The company was an early entrant into the field and is cementing its lock on the market through proprietary technology, making it a growth stock winner over the long haul.
When the company releases fiscal fourth-quarter earnings on Tuesday, it is projected to become a $2 billion sales entity. Over the next five years, the company is expected to increase earnings per share by nearly 17%, faster than Microsoft and Oracle, which are expected to deliver 7% to 9% EPS growth each year.
Our assessment of low valuation for Red Hat, which trades at 33.21 times forward price/earnings isn't based on price or earnings alone.
Three filters determine the stock's true value: return on equity should be more than 15%; the debt-to-equity ratio should be equal to or less than 0.5; and the current ratio should be closer to 2.
Red Hat meets two out of three.
The stock's 12-month trailing ROE of 15.1%, which beats the industry average of 5.3%, implies robust profitability and a competitive advantage, making it a leader in its technology niche. By comparison, creative-design software maker Adobe Systems has an ROE of 9.1, and Salesforce.com has a negative ROE. 
Red Hat's debt-to-equity ratio of 0.5 means that it doesn't have to hugely depend on outside capital to finance its growth. This is where it appears to be a much better stock, compared withIntuit (debt-to-equity ratio of 1.6) and Open Text (debt-to-equity ratio of 0.9).
Finally, Red Hat's current ratio of nearly 1.4, while not at an ideal 2, is much better than that of Salesforce.com, for instance.
Red Hat's consistent and high profitability make it a tech growth stock with unstoppable momentum.
Given that its market is open source, Red Hat has done remarkably well on that front. Between 2011 and 2015, the company has managed to deliver stable and annually growing profits even as it almost doubled yearly sales.
Software king Microsoft increased sales during the same time period but nearly halved annual profits. Adobe managed a small rise in revenue but has seen notable declines in its bottom line.
The story is largely the same for SAP, which hadflat bottom-line growth, and Salesforce.com, which had huge growth in sales but was unprofitable for the fifth straight year.
Given that Red Hat has slowly emerged as a stable and growing company, looking at forward P/E alone isn't enough to spot its hidden value. Based on its expected five-year price-earnings to growth ratio of 2.32 and price/sales on a trailing 12 months' basis of 6.75, its shares are hardly valued fairly, compared with Microsoft (PEG of 2.15 and P/S of nearly 5), slow-growth Oracle (PEG of 1.99 and P/S of 4.51) and Salesforce.com (PEG of 2.52 and of P/S 7.3).
Even after a gain of 8.42% in the past 12 months, Red Hat's shares look poised to clock growth in the mid- to high teens this year and log their fifth-straight annual gain.
Analysts have a more bullish view, with a 12-month median target of $90, or about a 23.7% increase.
Don't buy Apple stock; buy this tech stock instead. There is a battle raging in the fast-moving world of Silicon Valley. Just as VHS tapes snuffed out Betamax and CDs killed cassettes, the winner of a new "gold standard" for data is about to be crowned. Here is a small company that figured out a way to corner this new $10 billion market, no matter who comes out the winner. Click here to learn more.
This article is commentary by an independent contributor. At the time of publication, the author held no positions in the stocks mentioned.