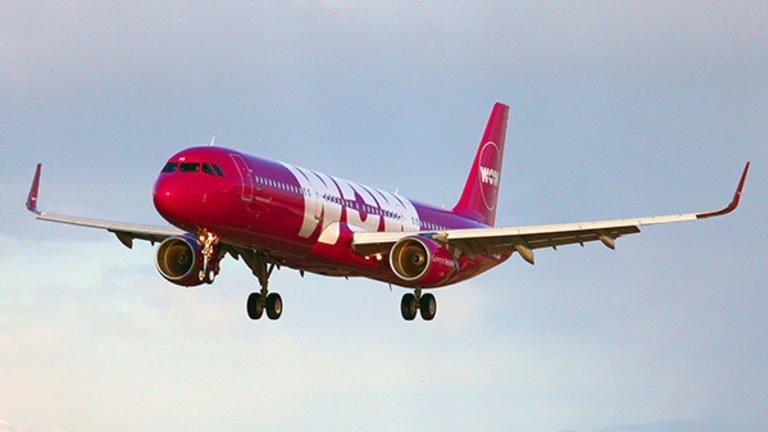 Publish date:
Low-Cost Airlines Allegiant, Frontier and Wow Break Out New Routes
Ultra-low-cost carriers Allegiant, Frontier and Iceland's Wow Air announce new routes on Tuesday, a sign of the rapid expansion in the segment.
Ultra-low-cost carriers Allegiant, Frontier and Iceland's Wow Air announce new routes on Tuesday, a sign of the rapid expansion in the segment.
Three ultra-low-cost airlines announced new routes on Tuesday in a sign of the dramatic change that is underway in an increasingly segmented airline business.
Allegiant (ALGT) - Get Allegiant Travel Company Report , Frontier and Norway's Wow Air are all considered to be "ultra-low-cost carriers," or ULCCs, because they charge rock-bottom fares, limit frequencies, squeeze passengers into seats with minimal "pitch" or space between them, and pile on the ancillary fees. 
In the 21st century, the three global U.S. carriers all went through bankruptcies and pared marginal routes. Now, ultra-low-cost carriers are filling in some of the gaps.
"Low cost is the only viable business model out there" for new carriers, said Skúli Mogensen, Wow founder and CEO, in an interview. "Look at who has the fastest growing airlines domestically in North America, Europe and Asia. They are all low-cost carriers."
On Tuesday, Frontier named four new destinations. This spring, Columbus, Ohio, will get Denver, Las Vegas, Orlando and Philadelphia service. Colorado Springs will get Las Vegas. San Antonio will get Atlanta, Denver, Las Vegas and Philadelphia. Pittsburgh will get Denver, Atlanta, Chicago, Las Vegas and Orlando. The expansion is on top of 42 new routes that Frontier announced last week.
Meanwhile, Allegiant announced new service, starting this spring, from Baltimore to Asheville, N.C.; Cincinnati; Knoxville, Tenn.; Lexington, Ky.; Savannah, Ga.; and Tulsa, Okla.
Also, Wow Air said it will begin service to Reykjavík, Iceland, in June, with four flights a week from Los Angeles and five a week from San Francisco. In Reykjavik, passengers can connect to 21 European destinations.
Another airline development on Tuesday was that JetBlue (JBLU) - Get JetBlue Airways Corporation Report and Wow's Iceland-based rival Icelandic strengthened their code-share agreement, so that JetBlue can write tickets on Icelandic for passengers who board in six U.S. cities and connect in Reykjavík.
Mogensen has said that Southwest (LUV) - Get Southwest Airlines Co. Report established a model he has tried to follow and he would welcome a partnership. "I'm not sure traditional code sharing works with low-cost carriers, but Southwest feeds a lot of passengers to us at Baltimore," he said. "They are a great carrier and we would like to do [something] with them."
Mogensen said the ultra-low-cost model barely exists on the trans-Atlantic, with the primary competition coming from Norwegian Air. But he noted that Wow realizes it must provide more pitch on the nine-hour flights from the West Coast to Reykjavik.
The airline's three Airbus (EADSY) - Get Airbus SE Report A330-300s will have 340 seats, with pitch ranging between 30 and 34 inches, with most seats at the higher end. It's more cramped than Delta's (DAL) - Get Delta Air Lines, Inc. Report A330-300s, which have just 293 seats, but at least Wow customers will be able to upgrade a bit.
Mogensen said comfort and service are important. "I often say the Internet is a very tough boss," he said. "Consumers are smart. They go on TripAdvisor (TRIP) - Get TripAdvisor, Inc. Report or some other comparison site. So it's not enough to just offer the lowest fare. Overall we have a high rating, unlike Spirit (SAVE) - Get Spirit Airlines, Inc. Report or Ryanair."
Airline consultant Bob Mann said "the key takeaway is that Wow gets it -- you can't do Spirit service on nine- or 10-hour routes."
Recently, the ultra-low-cost segment has been making news. Last week, Ben Baldanza left as CEO of Spirit, the leading ULCC. Under new CEO Bob Fornaro, Spirit is widely expected to seek a merger with Frontier. An industry source familiar with the carriers said that is likely in the current year.
"If you look at performance, Spirit financially has done phenomenally well, but they went too far on the consumer side," Mogensen said. By contrast, he said, "What Frontier has done since Indigo took over [as the owner] has been very impressive" in terms of improving operational performance and offering amenities.
This article is commentary by an independent contributor. At the time of publication, the author held no positions in the stocks mentioned.