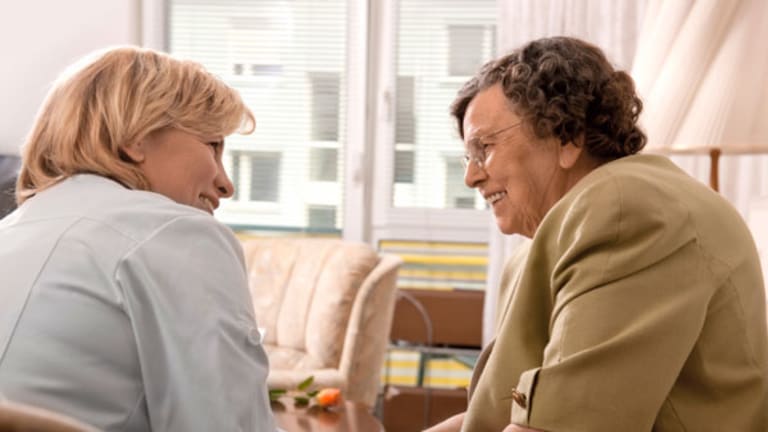 Love in Action: Ask Noah
As a child, Mom took care of you. But what happens when Mom needs a nursing home?
NEW YORK (TheStreet) -- Q: My heart hurts. Lately it has become more and more obvious that my loving, elderly mom needs to be placed in a quality nursing home. With her doctor's help, I've found an excellent facility. Still, I feel really guilty and a little irresponsible for leaving her there. How can I feel more comfortable with this decision?
A:
As a child, your mom took care of you. So it makes sense that you feel upset at not being fully capable of returning the favor.
I challenge the idea that you have in any way let your mother down. Did you cause her to age? Were you the reason she got sick? Have you withheld your love and support?
Her health issues are beyond your control. You didn't fail her.
Moving your mom to this "quality" nursing home is an act of great love. The facility's services and the staff's talents will help her lead a more fulfilling life. This new environment will increase socialization with peers, keep her physically active and provide a consistent level of medical monitoring.
In becoming a member of this community, she could engage in activities and interests long forgotten. Where once she may have felt isolated, she might now feel a renewed sense of value and belonging. She could take great comfort in living with those who have shared experiences and are no doubt facing similar challenges.
You've probably spent an inordinate amount of time taking care of your mom's physical health and daily needs. Having social service professionals take on those responsibilities will free time for both of you to really enjoy each other's company. These will be the kind of future memories you'll treasure.
Helping to place your mother in a new home is love in action. Having done all you can, it is now time for some assistance. Although naturally saddened, feel confident in this decision.
Thank you so much for the question, and I wish you and your family the best. As always, please send questions and comments to ASK NOAH at
.
Have a profitable and peaceful week,
Noah
Noah Kass is a psychotherapist specializing in addiction, relationship issues and work stressors. He has been Clinical Director at The Dunes: East Hampton and Realization Center in Union Square. Mr. Kass was a frequent guest on MSNBC's "The Dylan Ratigan Show," featured in a segment called "Kass' Couch" and regularly blogs for The Huffington Post.