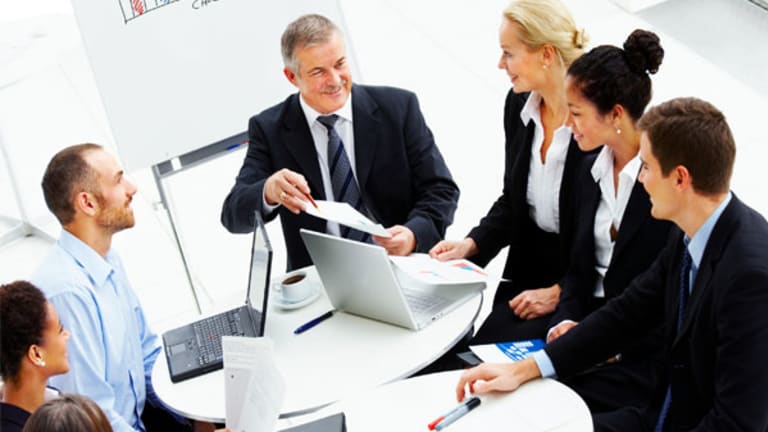 Bank of America story updated to include Sanford Bernstein downgrade in eighth paragraph.
NEW YORK (
) --
Bank of America
(BAC) - Get Bank of America Corp Report
's downgrade on Tuesday by Citigroup created a nice opportunity to get into the stock for anyone who is bullish on America.
That's because Bank of America's success or failure depends almost entirely on that of the U.S. economy.
If the economic fortunes of the U.S. climb back, even slightly, Bank of America ought to be a good investment.
At 41% of book value, Bank of America is the cheapest bank stock in the S&P 500, according to
Bloomberg
data. That is one third the price of
Wells Fargo
(WFC) - Get Wells Fargo & Company Report
and less than a quarter of the value of
USBancorp
(USB) - Get U.S. Bancorp Report
, which trades at 178% of book.
True, Bank of America was cheaper in December, when it traded at just 28% of book, but it is still ridiculously cheap by historical standards. In December 2010, even after the mortgage-related problems that have caused investors to pummel Bank of America's stock to its current low levels had been in the news for two months, Bank of America traded at 64% of book.
In December 2007, before
Bear Stearns
blew up but when pretty much every giant bank other than
Goldman Sachs
(GS) - Get Goldman Sachs Group, Inc. (GS) Report
was preparing to report multi-billion dollar losses, Bank of America traded at 1.29% of book. In December 2002, Bank of America traded at more than double its book value, a valuation that was not at all unusual for the bank in the late 90s and early 2000s.
On a price-to-earnings basis, only
JPMorgan Chase
(JPM) - Get JPMorgan Chase & Co. (JPM) Report
is cheaper than Bank of America when it comes to S&P 500 bank stocks. Bank of America trades at 7.86 times trailing earnings, versus 7.45 for JPMorgan. On a price-to-forward earnings basis, however, Bank of America is again the cheapest at 6.76, according to
Bloomberg
data.
Sanford Bernstein analyst sees things differently, however. According to his calculations, Bank of America is one of the most expensive bank stocks on a price-to-2012 earnings basis at 12.5 times earnings. That's one of the reasons he downgraded the shares Wednesday. Still, he acknowledges the shares are cheap at just over 60% of tangible book value.
Why is the bank so cheap? Partly because all banks are cheap. Regulators aren't even close to forgetting about the panicky days of late 2008 and early 2009, and while big banks like Bank of America and Citigroup may have paid back all the bailout money they received from the government's Troubled Asset Relief Program at a tidy profit, many jobs and homes were lost in the process, and no one wants to see another bailout.
As a result, regulators are demanding banks be much safer, which means they are likely to be far less profitable when the economy starts humming again. Still, does Bank of America really deserve to trade at just 40% of what the bank, its accountants and its regulators all say the bank is worth? Assuming the U.S. economy recovers, it would be hard to answer that question in the affirmative.
So will the U.S. economy recover? Certainly unemployment is moving in the right direction, falling to 8.3% in January. Four week jobless claims are at their lowest levels since April 2008. Fourth quarter GDP of 2.8% isn't a barn-burner, but it isn't bad. There is some debate about whether housing has hit bottom, but how much further could it really have to fall?
Well, if Greece defaults--a lot. Management at Goldman Sachs was very much concerned about a
just over two weeks ago, and not a whole lot has changed since then. If you think a massive bank run across Europe won't hit the U.S. economy plenty hard, you are living in another era.
But if the Eurozone manages to hold itself together, a U.S. recovery seems quite plausible. Should that occur, it's hard to see how Bank of America doesn't bounce back very swiftly. The market has given it the biggest discount, even following a more than 43% rally year to date, so the shares are
very likely to bounce back the highest
.
--
Written by Dan Freed in New York
.
Follow this writer on Twitter.
Readers Also Like:
10 Companies in the 'Ultimate Stock Pickers' Portfolio
10 Stocks of Top-Performing Funds in 2012
Disclosure: TheStreet's editorial policy prohibits staff editors, reporters and analysts from holding positions in any individual stocks.