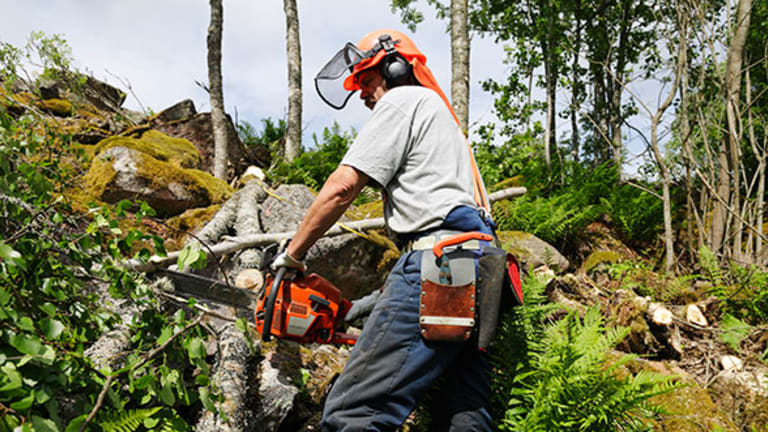 Louisiana Pacific Is Strong and Will Get Stronger
This building products stock is at a 52-week high and will continue higher on a strong housing market.
This building products stock is at a 52-week high and will continue higher on a strong housing market.
Louisiana Pacific (LPX) - Get Report  is a stock to buy and hold. Here's why.
Shares of the lumber and building products maker are currently up 1.4% after reaching a 52-week high earlier Thursday following the company's second-quarter earnings beat.
More important, the company posted net income of $31.7 million, reversing a disappointing loss in last year's second quarter, which now puts the stock close to three-year highs. Shares are up 30% in the past six months.
Why shouldn't you take profits now? Because the housing market is on fire, thanks to historically low interest rates. This means lumber for new home construction will be in high demand. This bodes well for Louisiana Pacific's ability to deliver higher revenue and profits in the quarters ahead. 
With the stock now trading above its consensus price target of $20, analysts will have to raise their estimates to account for the difference. The chart, courtesy of TradingView, now shows $22.50, or 10% higher, is the next target.
From the chart, you can see LPX bounced between $16.50 and $18.40 for about three months before its post-Brexit breakout in the first week of July. Investors were accumulating shares in anticipation of Thursday's strong report. The company delivered. But analysts, fearing higher interest rates, continue to underestimate LPX's strong position in the building products market.
Just how wrong have analysts been? LPX earned 1 centy per share in the fourth quarter when estimates expected loss. In the first quarter it beat estimates by 5 cents. During the just-reported quarter, its Oriented Strand Board business grew 20%, while siding revenue jumped 26%. So not only is LPX beating analysts' targets, the company is also taking market share -- in important sign, especially in an environment where housing starts remain strong.
All told, if there were any doubt about the stong housing recovery, Louisiana Pacific's results should put these concerns to rest. Despite its shares trading at 52-week highs, LPX, which should reach $22.50 in six months, remains a solid way to play housing.
This article is commentary by an independent contributor. At the time of publication, the author held no positions in the stocks mentioned.