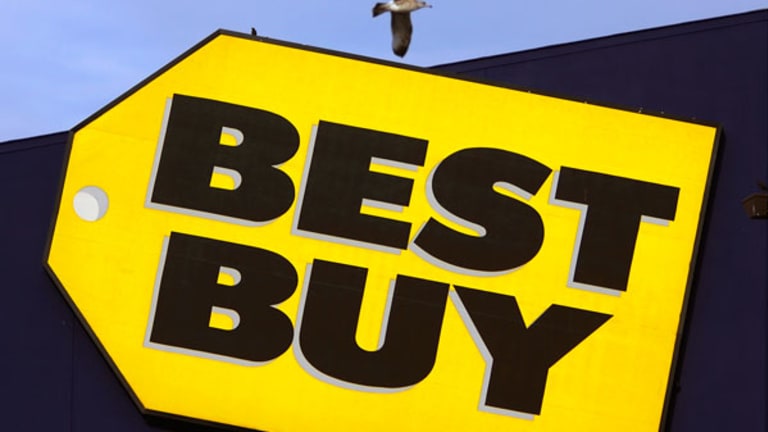 Losers Return to Best Buy to Oversee Second Death Spiral
Best Buy needs a board to oversee the board and an advisory board to keep tabs on both.
NEW YORK (TheStreet) -- The stock's up. Everybody's happy at Best Buy (BBY) - Get Free Report. Or not?
Things are not as they seem. Best Buy continues to crumble internally. And how could it do anything but? It's simply not possible for the rank and file or any executive with a pulse to believe that Hubert Joly's "turnaround" resembles anything real.
Making an online price match policy permanent and cutting costs is hardly innovation. It's a stopgap when you have
got nothing
to incite long and lasting change. So, what do you do when you haven't a clue where to turn? You bring back Billy Martin.
What a complete joke. The SEC should require a board of directors to oversee the Board of Directors and an advisory board to keep tabs on both. Because, a dead cat bounce notwithstanding, the current Best Buy regime, made up of cast-offs and a consultant-in-chief, will ultimately fleece long-term shareholders. It's sad to watch, particularly when I am one of the lone voices calling out the ineptitude.
So, yeah, ICYMI, Richard Schulze, after a deal to take the company private fell through, returns as chairman emeritus of the board. Sadly, that's probably not the same type of figurehead role universities give professors when they're so old they pass dust. Expect Schulze to play puppet master to Best Buy CEO Hubert Joly.
To make matters worse, Schulze has nominated -- it's a mere formality -- the former BBY CEO and COO, Brad Anderson and Al Lenzmeier, to the board as well. In short, he is reassembling the team that oversaw the butt-whipping
Amazon.com
(AMZN) - Get Free Report
administered to Best Buy throughout the early 2000s.
To make matters even worse
, few people want to talk about one of the alleged reasons why Schulze left BBY's board early last June: He,
according to the The New York Times
report, knew about former CEO Brian Dunn's "inappropriate relationship with a female employee . . . but did not tell the Board about it."
But, hey, that's all in the past now. They might as well just bring Dunn back too.
What a complete farce leading to another pathetically mitigated disaster.
I'll have more on the
why
behind my outrage this week, but it's not like I'm merely sitting here complaining. I have multiple ways for Best Buy to actually do something meaningful to right the ship.
Like this one from February:
Why Best Buy Should Love and Embrace Amazon.com
.
--
Written by Rocco Pendola in Santa Monica, Calif.
Rocco Pendola is
TheStreet's
Director of Social Media. Pendola's daily contributions to
TheStreet
frequently appear on
CNBC
and at various top online properties, such as
Forbes
.