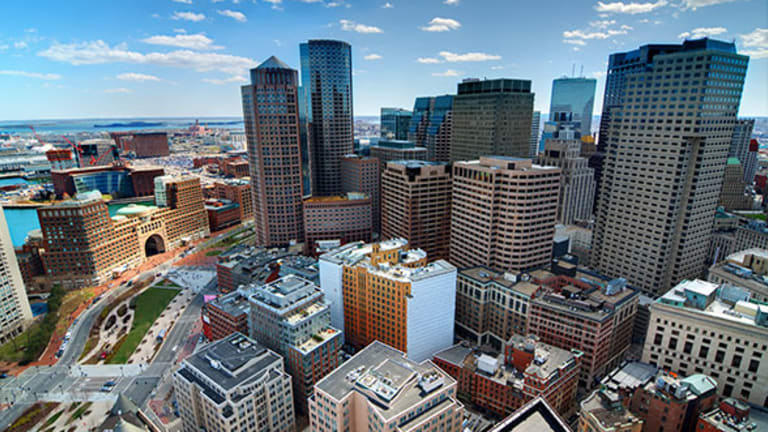 Looking to Real Estate as a Hedge? Check Out These 5 U.S. Cities
Amid market volatility and concerns about China and oil prices, investors may seek refuge. Boston; New Orleans; Providence, R.I.; Sacramento; and San Diego could be prime beneficiaries.
With everything that has happened in China and the lingering impact of fluctuating oil prices, investors may look to real estate to hedge their bets against uncertainty -- and for good reason, as few investment vehicles can compete with real estate amid volatility.
As a result, real estate and real estate investment trusts should become see an influx of investor capital.
Certain cities, however, have positioned themselves better than others to take full advantage of the extra investor attention. In fact, there are five metropolitan areas that investors should watch this year.
They are Boston; New Orleans; Providence, R.I.; San Diego; and Sacramento, Calif.
Each of these cities has demonstrated an increased propensity for growth in more areas than one. Household formation, job sector health and low unemployment are all trending in a positive direction.
Of particular importance, however, is the growing demand to own a home in these cities, as evidenced by how fast properties are selling. On average, homes in these cities are selling 16 days faster than the national average.
Meanwhile, stocks, for the most part, have fallen short of meeting the lofty expectations set by investors when they closed the books on 2015. In January, however, disappointment turned into panic, and the market that month certainly tested the resolve of investors around the country.
The S&P 500's lost more than 5% for the first four weeks of the New Year, while the Dow Jones Industrial Average and the Nasdaq Composite declined 5.5% and 8%, respectively, during the same period.
Consequently, the performance of the stock market typically coincides with lower interest rates, a fundamental indicator that traditionally favors real estate investors. Let's just say it isn't a coincidence that the real estate sector is in a better position than the stock market at the moment.
Any time money becomes relatively cheap to borrow, investment opportunities become that much more attractive. To that point, nothing offers investors more purchasing power than "cheap" money.
I fully expect the historically low rates to continue to promote healthy activity within the housing sector. At the very least, more investors will take advantage of the rates to diversify their portfolios with real estate assets.
But where, in particular, are low interest rates going to help housing the most? Better yet, where will leveraged real estate investment dollars coincide with the best returns?
If January was any indication as to where investors should shift their attention, California should see an influx of real estate investor capital flow its way.
According to Realtor.com, 12 of the top 20 hottest housing markets are in the Golden State. 
In fact, of the top six cities on Realtor.com's "Hot List," Dallas, was the only metropolitan area not found in California. San Francisco, San Jose, Vallejo, San Diego and Sacramento round out the rest of the top six cities.
But a hot market isn't necessarily indicative of the best place to invest, at least with leveraged money. I am more interested in those markets that are inclined to go up.
I know it is far from revolutionary, but the concept has more weight in an economy whose benchmark index has seen better days. Purchasing real estate in an area primed for growth with money borrowed at a low rate can only increase an investor's bottom line.
Conversely, leveraged money in an area with little growth potential isn't going to go nearly as far.
Those markets with growth either equal to or greater than the national average look exciting. Any attempt to leverage money in a market with growth potential can increase the purchasing power of investors exponentially.
For all intents and purposes, demand is surging and is only expected to increase as more people take notice of how well local real estate is performing.
"Some markets have been hot and are remaining hot [such as Boston, Sacramento and San Diego]," said Jonathan Smoke, chief economist at Realtor.com.
"Some are just now seeing signs of recovery based on substantially better economic conditions forecast for next year [such as New Orleans and Providence]. Some are spillover markets from very hot markets [such as Providence and Sacramento], and most have one or more key demographic driving demand," Smoke said.
It shouldn't take long for investors to notice that these markets offer some of the best growth potential in the country. Combine that with how low rates are and a rejuvenated interest in real estate, and it is a recipe for success.
This article is commentary by an independent contributor.