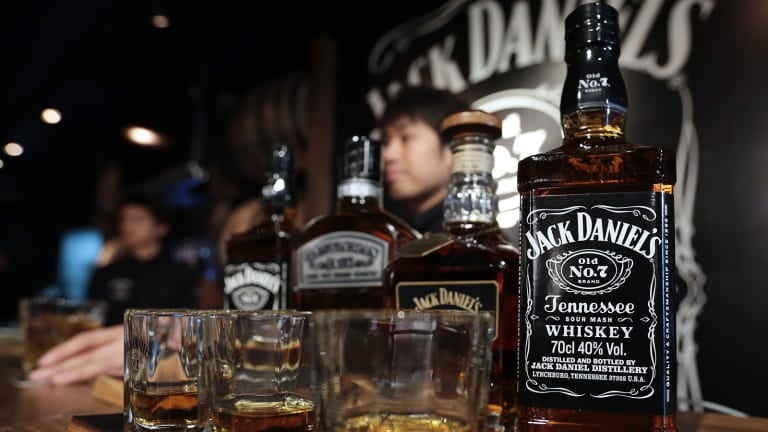 Publish date:
Looking for a 'Recession-Proof' Stock? Jack Daniel's Will Get You Through
If you're looking for a stock that can get you through tough times, Jack Daniels could be a good bet.
If you're looking for a stock that can get you through tough times, Jack Daniels could be a good bet.
Brown-Forman (BF.B) , the giant distilled spirits maker, purveys everything from Tennessee whiskey to table wine to champagne. And right now, the booze business is booming.
The equity and energy markets have been moving in tandem lately, subjecting investors to convulsive rides on almost every trading day. At the same time, signs are emerging that an economic slowdown is in the cards. Some analysts are even calling for a bear market and recession.
In these uncertain times, you should seek solace in booze -- not necessarily as a drink, but as an investment. The distilled spirits industry tends to weather economic downturns, which makes it a good "defensive growth" play now.
data by
Brown-Forman is scheduled to report earnings for the third-quarter of fiscal 2016 on Wednesday, March 2. As we'll make clear, Brown-Forman is among a group of sturdy growth stocks poised to beat the bear in 2016.
Brown-Forman is one of the largest U.S.-based makers and marketers of spirits and wines. The company produces several brands such as Jack Daniel's sour mash Tennessee whiskey, Woodford Reserve, Canadian Mist, Sonoma-Cutrer, Korbel, Finlandia, and several more.
Because of its widely familiar brand labels, Brown-Forman has been able to successfully raise prices on its premium products in recent quarters without seeing a concomitant drop in sales, thereby boosting margins.
Based in Louisville Kentucky, Brown-Forman sells about 30 brands in more than 160 countries throughout the world. Sales outside the U.S. account for about 60% of revenue. The company markets its popular products into North America, France, Germany, Italy, Spain, Poland, Australia, Mexico, Japan, Korea, Russia, Turkey, the Czech Republic, South Africa, and Brazil.
Brown-Forman has been slashing overhead, expanding into developing nations and raising prices -- a three-pronged strategy that's boosting both the top and bottom lines. With great fanfare last year, the company successfully introduced Jack Daniel's Tennessee Fire throughout the U.S. The company also is aggressively marketing its cinnamon-flavored whiskey, which is popular with women and a younger demographic.
Brown-Forman is methodically expanding into emerging markets without overreaching and taking on debt. Before the company enhances its presence in any new region, it first performs market testing and gauges potential demand.
With a trailing 12-month (TTM) price-to-earnings (P/E) ratio of 30.90, Brown-Forman's stock may appear a bit pricey compared to the TTM P/Es of major competitors Diageo (18.33) and Constellation Brands (28.10) and to the industry (19.4). But in the context of its growth prospects, the modest premium is not substantially out of whack.
Indeed, Brown-Forman boasts an impressive history of growth. In 1965, it sold 600,000 cases of jack Daniel's; by 2015 that number had grown to 15 million. During the same period, the company's market capitalization grew from $110 million to $20.24 billion.
When the company releases operating results on March 2, the analyst consensus is that the company will report earnings per share (EPS) of 93 cents, compared to 82 cents in the same period a year ago, for a year-over-year increase of nearly 14%. In the second quarter, reported earnings racked up a year-over-year increase of 4%. If you pass on this stock, well, you don't know Jack.
As we've just explained, Brown-Forman looks like a solid "recession-proof" play right now. We've also found a small-cap biotech "rocket stock" that's about to take off. UCLA researchers are stunned by a Nobel Prize-winning cancer breakthrough that's proven in clinical trials to eliminate lethal forms of cancer with a single dose. One small company owns the patent to this life-saving treatment. Now trading at about $5 a share, the stock of this innovative company is projected to surge 2,700% on an imminent FDA announcement. To download the full report, click here.
This article is commentary by an independent contributor. At the time of publication, the author held no positions in the stocks mentioned.