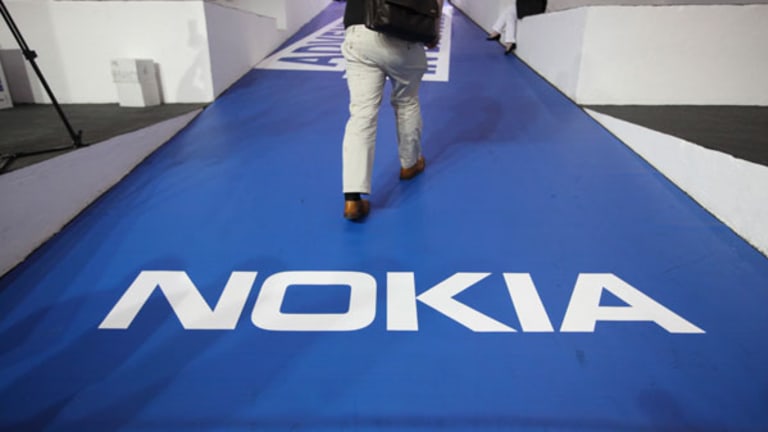 Looking At Nokia's Options After Siemens
Regardless of where Nokia goes from here, shareholders should do well.
NEW YORK (TheStreet) -- On Monday, I talked aboutNokia's (NOK) - Get Nokia Oyj Report recent decision to buy the 50% portion it did not already own from its joint venture with Siemens (SI) - Get Silvergate Capital Corp. Class A Report.
Nokia has offered Siemens of 1.7 billion euro ($2.22 billion) for Siemens' 50% stake in their joint venture called
Nokia Siemens Network
. Pending regulatory approval, the deal is expected to close in this year's third quarter. Nokia will own 100% of the business, which is expected to take on a new name.
Before we continue, allow me to address a point: There are now reports suggesting that Nokia's 1.7 billion euro offer to Siemens is actually under what would be fair market value for the NSN business. Nokia is perceived to be taking advantage of its partner. I disagree.
As I pointed out recently, this deal was not a surprise. It was just a matter of time before it (or a deal similar) was announced, even though NSN had grown quickly to become a worthwhile threat to the services offered by
Ericsson
(ERIC) - Get Telefonaktiebolaget LM Ericsson Report
and
Huawei
. Siemens, which has been going through restructuring plans of its own, had made it known on more than one occasion that it wanted out of the partnership.
Because of the growth that NSN experienced over the past couple of years, Siemens anticipated there would be more interest from would-be buyers for its share of the business. The market didn't oblige. Given
Cisco's
(CSCO) - Get Cisco Systems, Inc. Report
recent shopping spree, Cisco's name was mentioned as an obligatory candidate. Cisco remained silent. Although
Alcatel-Lucent
(ALU)
would have brought seamless synergies to NSN, it also would have been a
, given ALU's own cost-cutting plans.
Read: Red Hat May Be a Buy After Turning the Corner
Complicating matters was the fact that the NSN business is coming off a pretty terrible quarter, during which NSN suffered a surprising 5% drop in first-quarter sales (reported in April), which also declined 30% sequentially.
Now, I'm just speculating here, but it wouldn't surprise me to know that customers developed some anxiety over Siemens' perceived lack of commitment to the NSN business.
Consequently, during these past three months no one stepped up to offer Siemens a better deal. Surprisingly, neither Ericsson nor Huawei showed any interest, either. So without any leverage, Siemens had no choice but to accept Nokia's offer on the basis of Siemens' own miscalculation and public statements.
What's more, given the fact that Nokia already has real insight into the value of the NSN business, there was likely no point in negotiating. Let's also not discount how quickly Siemens wanted out of the business. In fact, I would argue that Nokia did Siemens a favor since Siemens can now move on with the rest of its restructuring plans and can focus on its core operations.
But that's not all. Huawei has recently made an interesting leadership move -- appointing Colin Giles, who is a former executive vice president at Nokia, as its new executive vice president of smarphone marketing and sales. This is interesting because only two weeks ago Richard Yu, chairman of Huawei's consumer business group, raised some eyebrows after he confirmed in a
Financial Times
interview, that his company was interested in acquiring Nokia.
On the subject of Nokia, Yu said:
"We are considering these sorts of acquisitions; maybe the combination has some synergies but depends on the willingness of Nokia. We are open-minded."
Read: Student Loan Crisis Goes on Summer Break
Huawei later defused the subject, stating that Yu was speaking out of context. I'll take them at their word, but this is not the first time these sorts of statements regarding Nokia have been raised. Huawei has made it known it wants to grow its mobile devices capabilities to challenge both
Apple
(AAPL) - Get Apple Inc. Report
and
Samsung
. What has often stunted Huawei's progress towards Nokia, though, has been Nokia's insistence on sticking with
Microsoft's
(MSFT) - Get Microsoft Corporation Report
Windows-based platform. Huawei has referred to Windows as "weak."
Working in Nokia's favor is the company suddenly looks more attractive as the "best third option" behind Apple and Samsung, especially since
BlackBerry
undefined
has drastically
. Regarding a Nokia acquisition, even if it's not Huawei, which already has a strong presence in smartphones, let's not rule out
Lenovo
, which has been working to
from personal computers.
Whichever company steps in would need to do it quickly as Nokia is getting progressively more expensive, up 36% over the past two months. It's interesting how the tides have quickly shifted. Several months ago we were discussing Nokia's impending death. Today, the company has become one of the hottest commodities on the market.
What Nokia decides to do from here is anyone's guess. But I do believe that shareholders are poised to earn a much better return than what they have received at any point during Stephen Elop's tenure as CEO.
At the time of publication, the author was long AAPL.
Follow @saintssense
This article was written by an independent contributor, separate from TheStreet's regular news coverage.
Richard Saintvilus is a private investor with an information technology and engineering background and the founder and producer of the investor Web site
. He has been investing and trading for over 15 years. He employs conservative strategies in assessing equities and appraising value while minimizing downside risk. His decisions are based in part on management, growth prospects, return on equity and price-to-earnings as well as macroeconomic factors. He is an investor who seeks opportunities whether on the long or short side and believes in changing positions as information changes.