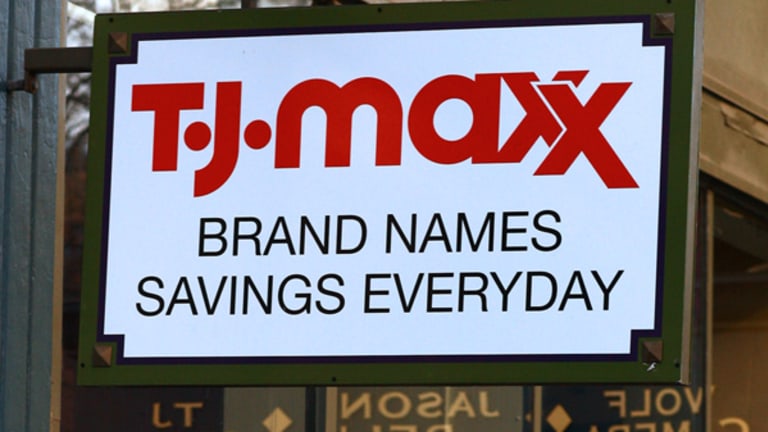 T.J. Maxx Is Crushing It and Now Rivals Are Busy Trying to Copy Its Success
With sales at traditional stores under pressure, Macy's, Kohl's and Nordstrom are focusing on the off-price channel to get new customers.
Updated to include share price performance. 
Battling weak traffic to their hulking full-price mall locations, the nation's department stores may have found a way to unlock some growth.
The answer? Attract thrifty consumers to more-trafficked strip shopping centers by opening off-price stores that sell much cheaper apparel and home goods.
Given the performance of Macy's (M) - Get Free Report , Nordstrom (JWN) - Get Free Report and Kohl's (KSS) - Get Free Report in the first quarter, the pivot to imitate TJX's (TJX) - Get Free Report T.J. Maxx stores is unsurprising.
The country's biggest off-price retailer reported first-quarter earnings of 76 cents a share, handily beating Wall Street estimates of 71 cents a share. Total sales clocked in at $7.54 billion, compared to forecasts of $7.29 billion. Same-store sales in the U.S. at the Marmaxx division (Marshall's and T.J. Maxx) rose 6%, and spiked 9% at HomeGoods, way stronger than other bricks-and-mortar concepts in the first quarter.
On a May 17 call with analysts, TJX executives said the company had sales strength in apparel, accessories and its home categories, and traffic to its stores actually increased. "We are confident we are growing our customer base and gaining market share," said Ernie Herrman, CEO of TJX on the call. 
TJX also lifted its full-year sales and profit expectations, in stark contrast to rivals that have issued disturbing warnings to investors lately. TJX now sees full-year earnings of $3.35 a share to $3.42 a share and a 2% to 3% same-store sales increase, compared to previous guidance of $3.29 a share to $3.38 a share and same-store sales growth of 1% to 2%.
The second-quarter is "off to a solid start", said executives. Shares of TJ Maxx have gained about 15% over the last year, easily out-performing Nordstrom (-49%), Macy's (-53%) and Kohl's (-45%). 
By contrast, Kohl's first-quarter earnings fell a disturbing 50% year over year to 31 cents a share, badly missing forecasts for 37 cents. Total revenue dropped 3.7% from the prior year to $3.97 billion, compared to Wall Street estimates of $4.13 billion. Kohl's same-store sales, or sales from stores open longer than a year, nosedived 3.9%. Store traffic declined by 4.8%.
Luxury department store Nordstrom didn't fare much better, delivering a stunning first-quarter earnings miss and ugly guidance reduction. The company reported first-quarter earnings of 26 cents a share vs. forecasts of 46 cents a share. Sales tallied $3.19 billion, compared to estimates for $3.28 billion. Comparable-store sales fell 1.7%. For the year, Nordstrom now expects earnings of $2.50 to $2.70 a share, down from prior estimates of $3.10 to $3.65 a share. 
And Macy's first-quarter sales fell 7.4% year over year to $5.77 billion, missing forecasts for $5.94 billion. Same-store sales declined for the fifth straight quarter, falling 5.6% compared to estimates for a 3.8% decline. Store traffic fell an alarming 7%. Macy's slashed its full-year same-store sales guidance to a decline of 3% to 4% vs. a previous estimate for a 1% drop. For the year, Macy's now sees earnings of $3.15 to $3.40 a share, down from the $3.80 to $3.90 a share estimated in February.
"TJX has done a remarkable job," said TheStreet's founder Jim Cramer, adding that TJX is a big winner from the problems at Nordstrom, Kohl's and Macy's.
"[Department stores] have that excess inventory and the excess inventory tends to be bought by these companies and then they mark them up. Remember, this is all about who can mark up and who can't mark up," he said. The department stores are having trouble marking up, while TJX isn't, Cramer added.
The relatively new off-price concepts at all three department stores were bright spots for sales in the quarter. You can'tblame the department stores for talking up their off-price efforts, given T.J. Maxx's continued success and stock price performance. 
TheStreet took a look at the budding off-price businesses of Macy's, Kohl's and Nordstrom. 
1. Macy's Backstage
Macy's launched its Backstage off-price concept last fall via six free-standing stores. The store's merchandise, which includes home decor, shoes, sunglasses, baby gear, bedding and packaged snacks, is selected by a separate "off-price organization," according to Macy's. 
More recently, the company has shifted its focus to opening the Backstage concept inside of its full-price Macy's stores. Macy's opened the first two of these store-within-a-store formats in its stores in Nanuet, N.Y., and Waterbury, Conn., during the first quarter. It has opened four more so far in the second quarter, and plans on setting up nine further locations later this year. If the strategy works, said Macy's, it may roll it out 250 to 300 Backstage stores in its full-price locations. 
"Backstage had a good quarter," said Macy's CFO Karen Hoguet on a call with analysts May 11. "We are hoping these stores bring in new customers as well as add share of wallet of existing customers. So far, both objectives are being reached, but it is premature to claim success."
2. Kohl's Off/Aisle
Kohl's Off/Aisle concept closely resembles Macy's Backstage. Merchandise for Off/Aisle stores is sourced from various avenues -- some is purchased by Kohl's solely for Off/Aisle, some is overstock goods and returned items from Kohl's stores and its website.
Kohl's opened its first Off/Aisle store in Cherry Hill, N.J., in June 2015. The second two stores opened in March this year in Wauwatosa, Wis, and Waukesha, Wis. According to a company spokeswoman, Kohl's has no plans to open any additional Off/Aisle stores this year.
"We're pleased with the initial results, and we'll monitor any effects on cannibalization, which we would expect to be very small," said Kohl's Chairman and CEO Kevin Mansell on a call with analysts on May 12. 
Kohl's attempts to drum up new business aren't limited to opening off-price stores. The company will make its first foray into the outlet space with the opening of 12 Fila sportswear stores in various outlets later this month.
3. Nordstrom Rack
Nordstrom Rack is the most established off-price concept TheStreet reviewed.
Nordstrom operates 200 Rack stores, which sell discounted luxury merchandise that is bought directly from the same vendors carried at Nordstrom's full-price stores. It also receives merchandise that didn't sell or was returned from Nordstrom's full-price stores. Rack pulled in about $3.5 billion in sales for Nordstrom last year, a 9.3% year-over-year increase; it represents about 25% of Nordstrom's overall business.
Rack was a bright spot in what was a dreadful start to the year for Nordstrom. Excluding online sales, same-store sales at Rack declined 0.8% in the first-quarter compared to a 7.7% decline at full-price stores. Nordstrom plans to open 15 more Rack locations this fall. 
"We've been pleased with our six stores that have opened so far this year. Their sales exceeded our expectations by more than 10%," said Nordstrom Co-President and Director Blake Nordstrom to analysts on a May 12 call.  He continued, "Nordstrom Rack represents an important channel for us to serve more customers and increase cross-shopping. Last year, 5 million new customers shopped at the Rack. This is meaningful because over one-third of our Rack customers will over time also shop in our full-price business."
Given Nordstrom's weak sales trends at its full-price stores for well over a year, it's unclear whether cross-shopping is happening -- the Rack is much more popular.