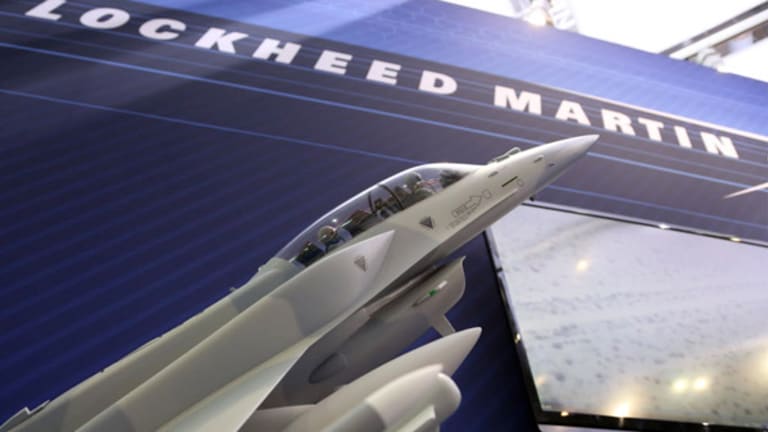 Lockheed Martin Poised for Long-Term Growth on Rise in Terrorism
For investors looking for a company that is plugged into an unstoppable (and unfortunate) trend and also offers an attractive dividend yield, this diversified defense contractor may fit the bill.
Looking for a company with both growth opportunities and a solid dividend yield?
Lockheed Martin (LMT) - Get Lockheed Martin Corporation Report , the largest defense contractor in the world, may fit the bill.
The company not only offers defense-related equipment and services to use domestically as well as around the world during a time when terrorism shows no signs of abating, but it is also a leader in the space race. And Lockheed Martin's 2.96% dividend yield alone is a good reason to own the stock.
Shares of Lockheed Martin are trading at about $220, near their 52-week high of $227. Institutions own 84% of the company's shares, keeping the stock price insulated from wild swings in the market.
The list of terrorist attacks was so long last year that Wikipedia needed to split the list into two pages. Recent attacks in Belgium, Pakistan and the United States demonstrate that defense-related services will be a continued priority for a very long time, and a large diversified defense firm such as Lockheed Martin will surely benefit.
Lockheed Martin derives 88% of its revenue from defense, and it topped the 2015 defense contractor revenue list taking in more than $40 billion, $10 billion more than closest competitor, Boeing.
As a U.S.-based defense firm, Lockheed Martin receives a significant number of contracted projects from U.S.-based defense procurement arms, funded by the U.S. Treasury. So an investment in Lockheed Martin is an investment in the United States.
With budgets firmly in place and projected defense needs increasing, Lockheed Martin has a solid credit and procurement pipeline, making it a superb investment over the long haul.
Lockheed Martin literally brings out the big guns in its major project divisions.
The F-35 and Littoral Combat Ship programs may be controversial, but they bring home the bacon for the shareholders. With aerial-strike operations making a Middle Eastern comeback, Lockheed Martin offers alternatives to boots on the ground.
The stalker unmanned aerial system, also known as a UAS or a drone, and the tactical missile program deliver defense teams the ability to safely monitor and strike targets from operations centers rather than battlefields. The recurring nature of these procurements will keep Lockheed Martin in the black because strikes against ISIS and other terror groups continue to increase.
When field and special operations units are required, Lockheed Martin has the troops covered here, as well.
You see Jim Cramer on TV. Now, see where he invests his money and why Lockheed Martin stock is a core holding of his multimillion-dollar portfolio. Want to be alerted before Jim Cramer buys or sells LMT? Learn more now.
The Sikorsky helicopter division purchased last year from United Technologies delivers the most up-to-date extraction and delivery systems. The Lockheed Martin energy division produces the power and water needed to operate in the field or in deep underwater subs.
Meanwhile, think the space race has nothing to do with defense? Think again.
Lockheed Martin is dominating the space race and is under contract to develop the supersonic X plane for NASA and the Space Fence radar system. These advanced systems will allow high-speed, high-altitude surveillance and radar that are much more precise with lower energy requirements.
Wars are won by those operating from the highest elevated position, and you can't get higher than space.
Lockheed Martin also covers defense forces at home as well. The recently granted information technology contract from the Department of Veterans Affairs means that Lockheed Martin will speed veteran recovery by developing systems to take care of service veterans.
Meanwhile, trade offsets are an obscure financial contracting mechanism, rarely understood by investors, and they have gone through many phases of structure but exist to assist foreign countries in building their internal capacities and industries. Although no companies execute offsets well, these offer an opportunity for contractors to pick up extra revenue.
Recently, Lockheed Martin partnered with Advanced Electronics to open a sniper ATP support center in Saudi Arabia for example. Although this implementation is a small success, it will help Lockheed Martin build Saudi support for future procurement within the kingdom.
Many defense contractors fail at offset completion, and failed offset agreements come with penalties that harm procurement relationships and shareholders alike.
The first defense chief financial officer to understand these murky contract contingencies as a business development opportunity rather than a hindrance will open up procurement markets in foreign countries faster than competitors can adapt. Lockheed Martin has an opportunity to reap massive future benefits through improved offset policy.
Certain parts of Lockheed Martin have become too large, and management realized that the best way to reduce long-term entitlement costs is to contract small companies and lay off direct employees. Lockheed Martin recently announced a voluntary layoff program for 1,000 staff members.
This attention to detail should improve Lockheed Martin's profitability and stock price.
As the need for defense increases worldwide, it makes sense that as the largest provider of defense services, Lockheed Martin will grow along with this need. Increased revenue and solid accredited customers offer investors enormous growth potential and dividend stability.
An 85% Accurate Trader gives his personal guarantee. He turned $50,000 into $5 million trading this way, and for a limited time, he is guaranteeing you at least $67,548 per year in profitable trades if you follow this simple step-by-step process. Click here to see how easy it is to collect thousands of dollars in "free money" every month.
This article is commentary by an independent contributor. At the time of publication, the author held no positions in the stocks mentioned.