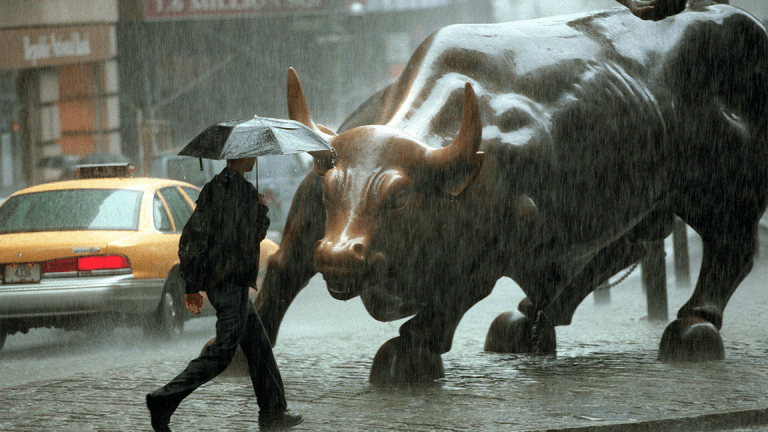 Tuesday Investor Blog: Is the Bull Market in Stocks Being Ripped to Shreds?
Bring your A-game in these markets or go home. Just keeping it real. Here is what you need to know on Tuesday.
You focused on your 12 stock trading screens after Monday's rout? Good. Now focus on TheStreet's live blog below. 
After Hours
Nothing like an after-hours debate on beaten up tech stock Facebook (FB) - Get Facebook, Inc. Class A Report . Watch yours truly and TheStreet's Kinsey Grant debate, in 47 seconds.
Credit Suisse Gets Bullish
Love stocks? Well, then these comments from Credit Suisse are for you champ. Here is why the investment bank is still upbeat on the markets.
1. Earnings revisions remain strong Market gains have not kept pace with earnings revisions. The breadth of global growth suggests only a marginal roll-over in earnings revisions and leaves earnings revisions consistent with further gains for equities.
2. The ERP is too high Relative to either the warranted level (dictated by business and credit cycle risk), its history, and average value at previous equity market peaks, the ERP remains elevated.
3. Monetary conditions remain loose Liquidity and financial conditions are now close to neutral but monetary conditions are still abnormally loose.
4. Credit spreads remain well-behaved We find that the most consistently reliable 'canary in the coal mine' for equities is the high yield credit market; eight of the last nine equity market peaks saw credit spreads meaningfully widen before equities peaked.
5. Little sign of excess fund flows into equities Relative to bond fund flows, there has been no sign of a meaningful acceleration in equity fund flows, which we would expect to see ahead of a market top.
6. No clear corporate excess or new paradigm thinking Often, the later stages of the cycle see some signs of corporate excess, either in terms of M&A or over-investment. Neither of these forms of excess seems to be present currently. There seems to be little in the way of positive new paradigm thinking. Meanwhile, investment-led growth, as we are seeing now, without over-investment tends to be good for equities.
Credit Suisse Gets Bearish ... LOL
Talk about covering your tale. In the same note, Credit Suisse lists reasons why investors should be bearish. They are equally as compelling as the reasons to to be bullish listed above. 
1. Have we hit full employment? The FOMC believes we have already reached full employment (NAIRU of 4.6%), but we think the NAIRU is lower, at a level closer to 3.5%. This is important since 80% of post1970 bear markets have occurred once unemployment has fallen below NAIRU.
2. Many valuation metrics are at extremes Most 'conventional' valuation metrics are extreme. However, we think investors should look at the equity risk premium (ERP).
3. Corporate leverage is back at highs As a share of GDP, US non-financial corporate debt is back to its previous peak. However, FCF less dividends and buybacks is still positive, while the earnings yield is above the corporate bond yield, making de-equitisation EPS accretive. Buybacks are also outperforming.
4. A more aggressive tightening path from the Fed may become priced in Our economists forecast the FOMC to tighten four times this year. For the first time, this is more than the FOMC's forecasts currently indicate but the key issue for us is whether the very large gap between the terminal Fed Funds Rate and the terminal growth rate assumed closes, or whether the Fed wants to return to a 'tight' policy (and thus drop its focus on 'gradual' tightening).
5. The second longest post-war expansion Apart from 1987, all markets falls of more than 20% in the past 50 years have coincided with recession, and this recovery is already the second longest on record. However, recoveries do not die of old age. Our recession probability indicators are not yet giving cause for concern. While equities might be 43% above their previous peak, compared to an average of 32%, a third of bull markets since 1921 have seen higher returns.
6. Tactical indicators gave a sell signal in late January Our aggregate tactical indicator indicated extreme bullishness in late January. However, this indicator has worked as a much better measure for timing market bottoms than tops. Moreover, the sell signal was driven by the sentiment indicators yet equity fund flows did not accelerate in line with sentiment.
Facebook Gets Nailed
Facebook shares are down nearly 10% inside of two days following a 3% hit on Tuesday. Driving the stock down Tuesday is news of an FTC probe into how Facebook handles personal data. 
Here is a video on TheStreet decoding Facebook's stock action this week. 
Folks on Twitter reacted strongly to our discussion that Facebook's stock could plunge 50% (see video you are looking at on the right side of your screen right now). 
Pretty Chart Alert
Credit Suisse dominating our minds on Tuesday. Fun chart below on market peaks and unemployment. You're welcome. 
Remember Price-to-Earnings Ratios?
Who cares right? Well, maybe you should care given how elevated multiples are at the moment. No wonder Warren Buffett can't find any companies to buy. 
Hot Topics 
TheStreet's RealMoney columnists are game on right now on "Columnist Conversation." One post that sticks out: a bullish call by William Blair on eSports king Activision Blizzard (ATVI) - Get Activision Blizzard, Inc. Report . This has been a home-run name for Jim Cramer's Action Alerts Plus. 
Says William Blair on Activision Blizzard:
Inbound calls from investors on the optionality of e-sports for Activision Blizzard have been increasing given the rollout of the Overwatch League (OWL). We now estimate OWL by itself could add $312 million to $531 million of revenue by 2021 and an additional $137 million to $242 million of net income, translating to about $0.17 to $0.29 of incremental EPS (versus the 2020 Street estimate of $3.35). Given that there are several big unknowns surrounding the future growth trajectory of the league, we believe this year's pilot season is important to monitor as we continue through 2018. We highlight to investors that Overwatch is a single game start, and OWL could lay the foundation for more leagues to be created surrounding the company's IP.
Micron Better Crush Earnings Estimates
Semiconductor Micron Technologies  (MU) - Get Micron Technology, Inc. (MU) Report has seen its shares explode 40% this year on bullish growth expectations by Wall Street. But reading the note below from Credit Suisse into earnings Thursday suggests taking profits into the print would be wise. While the language looks complicated, just know that Wall Street may be so upbeat on Micron that even an impressive earnings beat won't be enough to propel the stock higher. 
Valuation Supports $70 PT: While MU trades at 2.5x NTM EV/Sales, INLINE with all-time highs and implying a stock more fairly than undervalued, and P/E valuation ignores cyclicality and the ~$2 gap between FCF/sh and EPS, we see upside to $70 or 7x EV/FCF vs. the 10 yr median of 6.7x and 9.0x when FCF is top decile and quartile respectively. Further upside is warranted as investor confidence in structural drivers unfolds. Downside looks limited as MU trades at ~10x a downturn-based EPS of ~$6, assuming DRAM/NAND ASPs decline 65/35%, in-line with prior downturns.
Markets in the Spring
Shout to my friends at S&P Global for this helpful data on the market. And happy first day of spring ... April is historically a good month for stocks. 
Monthly average performance of the S&P 500 since 1928 is below. February and May are the only negative months historically.
Pepsi in Play as a Takeover?
Wow. Action Alerts Plus holding PepsiCo (PEP) - Get PepsiCo, Inc. Report could be in play, suggests Macquarie. The price tag won't be cheap: the analyst's sum-of-the-parts analysis pegs PepsiCo's business being worth $217 billion. PepsiCo's market cap at last check was $156 billion.  
There has long been media conversation around a potential bid for PepsiCo by either Kraft Heinz (KHC, NR) or Anheuser Busch Inbev (ABI, OP), both 3G-backed companies with a history of making large acquisitions. Keurig has said its pending purchase of DPS creates a platform for further expansion in US beverages, so we believe it would look closely at PEP's NAB business. We believe the right acquirer could create value by separating PEP's snack and beverage operations. A single focused, leading snacks company could command a hefty premium. PEP's snacks business (led by FLNA) owns 7 of the top 10 salty snack brands in the US and has leadership globally. While PEP's NA beverage business has been bleeding share, its global beverage share has held steady at ~10%. Using our sum-of-the parts valuation, we estimate an acquirer could pay ~$217bn for the combined PEP (a 15.9x EV/EBITDA multiple), though don't rule out the possibility of a NAB deal alone (with potential re-franchising).
Kraft Heinz (KHC) - Get Kraft Heinz Company (KHC) Report (backed by 3G Capital) would seem like a logical bidder. Berkshire Hathaway's (BRK.A) - Get BRK.A Report Warren Buffett, a long-time holder of Coca-Cola (KO) - Get Coca-Cola Company Report , said recently he will leave the Kraft Heinz board in April as he streamlines his schedule. Berkshire's Greg Abel, a potential Buffett successor at Berkshire, remains on the Berkshire board.
TheStreet recently had Kraft Heinz CEO Bernardo Hees on-camera. Watch his comments on acquisitions below. 
Let the speculation begin. 
Huh Snap?
This just in from a Snap (SNAP) - Get Snap, Inc. Class A Report SEC filing. Looking at their quarters in 2017, wouldn't want to release their annual report either...
Snap, Inc. submitted an application under Rule 24b-2 requesting confidential treatment for information it excluded from the Exhibits to a Form 10-K filed on February 22, 2018.
Biotech M&A About to Happen?
Jefferies is on hot on biotech M&A happening this year, perhaps in droves. The investment bank highlights these names: (AMRN) - Get Amarin Corporation Plc Sponsored ADR Report , (IMMU) - Get Immunomedics, Inc. Report , (SPPI) - Get Spectrum Pharmaceuticals, Inc. Report , (TXMD) - Get TherapeuticsMD, Inc. Report , (TGTX) - Get TG Therapeutics, Inc. Report , (URGN) - Get UroGen Pharma Ltd. Report , (AVXS) , (NBIX) - Get Neurocrine Biosciences, Inc. Report , (DOVA) - Get Dova Pharmaceuticals, Inc. Report , (RIGL) - Get Rigel Pharmaceuticals, Inc. Report .
It's Fed Time
It's game time for new Fed chair Jerome Powell on Wednesday. TheStreet has you covered, just click the below box to read awesomeness.