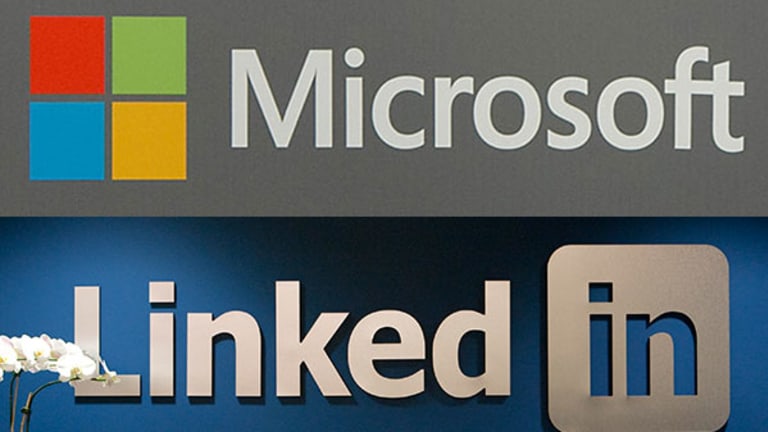 LinkedIn Is Still Looking to Buy Other Companies -- Tech Roundup
LinkedIn purchased PointDrive for an undisclosed sum, while China-based smartphone maker Huawei reported smartphone shipments climbed 25% for the first half of 2016.
LinkedIn (LNKD) may have been acquired by Microsoft (MSFT) - Get Report for over $26 billion but that's not stopping the company from pressing forward with its own acquisitions. The social and professional networking company acquired PointDrive for an undisclosed amount Tuesday.
The Chicago-based startup specializes in offering a platform that allows sales teams to "share visual content with prospective clients to help seal the deal," according to TechCrunch.
In fact, the system works so well that LinkedIn is a customer. When the company realized it was one of its most valued platforms, LinkedIn bought it.
So how does this fit within LinkedIn? Quite well, actually. The company's Sales Solutions unit saw sales climbed 55% year over year last quarter, and this is expected to expand that business. Which means it should benefit Microsoft, too.
Shares of LinkedIn closed at $192.55 Tuesday, up 0.3%.
China-based smartphone maker Huaweireported that first-half 2016 smartphone shipments climbed 25% year over year.
This creates an interesting scenario. Apple (AAPL) - Get Report reports earnings after the close Tuesday and is expected to show a year-over-year drop in its iPhone sales, overall revenue and profits. The question is, by how much? Ultimately, that will depends on the iPhone.
There's also concerns Apple is losing momentum in China -- a country in which Huawei and others are doing well. In the first quarter, Huawei accounted for more than 10% of global smartphone shipments and also held the top spot in China.
Revenue for the first six months of the year climbed 41% to $11.6 billion and while it's just a fraction of Apple's overall revenues, it still presents a problem at a time where iPhone innovation can't seem to come fast enough.
Investors likely won't get any insight into the new iPhone on Tuesday, but they're hoping the company will be able to reaccelerate sales in the second half of the year after it introduces its new iPhone in September.
Shares of Apple closed at $96.67 Tuesday, down 0.7% ahead of earnings.
You can read TheStreet's Apple live blog here.
Solar drones and planes are finding their ways into our skies. Just last week, Facebook (FB) - Get Reportlaunched its solar-powered drone, which the company planes to fly around the world in a self-sustaining manner while beaming down internet connectivity to those below.
That's ambitious. But clearly not impossible, as a pair of Swiss pilots successfully navigated a fully solar-powered plane around the globe when it landed in Abu Dhabi this morning.
The trip began on March 9, 2015, and flew for more than 23 days. The other days were used for planning, repairs and maintenance. The plane used solar power during the day to power itself and glided throughout the night. Sounds semi-terrifying. Also, the plane's speed was not that of what we have become used to.
In fact, on its final leg home (from Cairo to Abu Dhabi), it's average speed was just 34.5 miles per hour. The trans-Pacific portion of the flight took five days to complete, which also set the record for the longest solo flight.
One of the pilots, Bertrand Piccard appears bullish on the clean-energy plane industry, saying he expects that "within 10 years, we'll see electric airplanes transporting 50 passengers on short to medium haul flights."
The other pilot was Andre Borschberg.
Shares of Facebook closed at $121.22 Tuesday, down 0.3%.
Apple and Facebook are holds in Jim Cramer'sAction Alerts PLUS Charitable Trust Portfolio. Want to be alerted before Cramer buys or sells AAPL or FB?Learn more now.
This article is commentary by an independent contributor. At the time of publication, the author held no positions in the stocks mentioned.