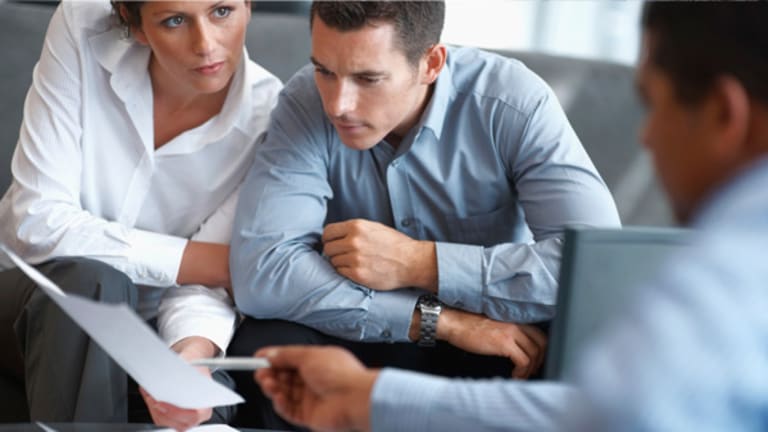 LinkedIn -- Best Friends Money Can Buy
Investors buy into the business of social networking, but growth may be at risk if LinkedIn sells out its membership.
NEW YORK (
) --
LinkedIn's
(LNKD)
IPO finally gives tech investors a bit of the social networking bubble to put their money on.
But LinkedIn's strength -- access to a network of business hardchargers -- is also the company's vulnerability as it hopes to sell that access at top dollar.
LinkedIn swung to a profit last year, netting $15.4 million in income on sales of $243 million. So not only is the "
Facebook
for professionals" more than just a trendy player in the social networking arena, it has a business model that seems to work.
LinkedIn's astonishing IPO success --
up more than 90% initially Thursday
-- carries with it an implicit endorsement for the whole class of social ventures including Facebook,
Twitter
,
Groupon
,
FourSquare
and others.
Wall Street is obviously eager to cash in one what it sees as a second wave of contemporary
Googles
(GOOG) - Get Alphabet Inc. Class C Report
,
Yahoos
(YHOO)
and
Amazons
(AMZN) - Get Amazon.com, Inc. Report
.
But a closer look at LinkedIn shows a company that may be moving out of its rapid-user growth phase -- that super-charges stock values -- to a profit-growth stage that, while huge, has less appeal for momentum investors.
Growth in LinkedIn's registered users has more than tripled in the past two years to 102 million as of March. Not bad for the Mountain View, Calif. virtual business-card exchange shop that has been operating for eight years.
But given the peaking excitement around social networking and the transition to a profit push, the next 100 million may be the hardest.
Blame the upsell.
To open the revenue spigots, LinkedIn hopes to sell people with products to pitch and ventures to fund access to its members' information. For $25 to $100 a month, people can buy varying levels of access to LinkedIn's membership database.
It's a brilliant product to sell to hungry entrepreneurs. But for LinkedIn's high-powered members, the fear is that the floodgates will open and their accounts will be inundated with spam and cold calls they may not have signed on for.
Imagine if Facebook decided that with its 600 million users, it had reached critical mass and decided to cash in on its vast resource of user information by selling access on monthly basis? Provide enough annoyance, and people might go elsewhere to network.
--Written by Scott Moritz in New York.To contact this writer, click here: Scott Moritz, or email: scott.moritz@thestreet.com.Follow Scott on Twitter at MoritzDispatch