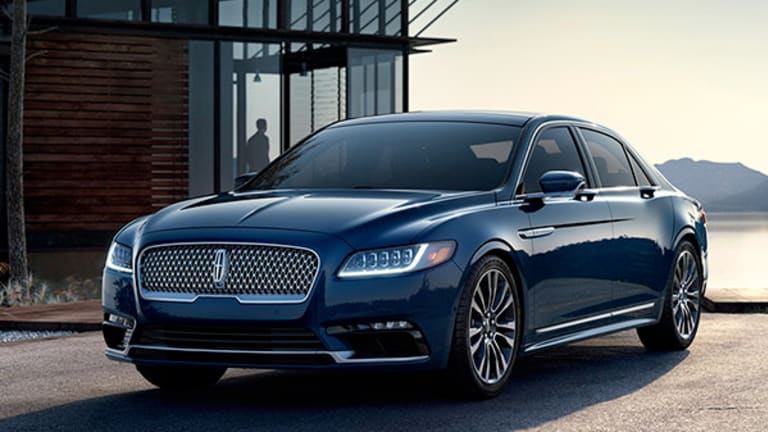 Lincoln to Underwrite Pickup, Loaner Car Service for 2017 Models
Time is luxury. That's why Lincoln is providing free pickup and delivery service for owners whose cars need servicing.
Time is luxury. That's why Lincoln is providing free pickup and delivery service for owners whose cars need servicing.
Ford Motor (F) - Get Report  has unveiled a free pickup and loaner service for Lincoln owners starting with 2017 models.
Under terms of the offer, Lincoln owners can specify a time and place -- home, office, even a Little League baseball field -- and Lincoln will pick up the vehicle that needs service and leave a comparable loaner vehicle for use until the original is fixed, washed and ready to be returned.
Many franchised dealers for BMW, Lexus, Mercedes-Benz, Cadillac and other luxury brands offer the same or similar service, which is partially subsidized by the manufacturer. However, a Lincoln spokesman said his company's service is the first sponsored by a vehicle manufacturer and available at all dealerships.
Andrew Frick, North American sales and service director for Lincoln, said the new service "provides an exclusive and personally crafted experience that enhances (customers') lifestyle and saves them what is a true luxury item -- their time."
"It is a very smart move," said Michelle Krebs, an analyst with AutoTrader. "Customer service and experience increasingly are a differentiator, especially among automakers. Time is the new luxury feature, and this helps Lincoln deliver time and convenience to its customers."
Ford has struggled for a decade with its luxury-vehicle strategy, jettisoning brands including Volvo, Jaguar and Land Rover during the global financial crisis in order to raise capital and improve the automaker's overall creditworthiness. Lincoln was once a moneymaker, so Ford decided to rejuvenate it.
Later this year, Ford intends to introduce an all-new Lincoln-Continental sedan. A prototype shown in January at the North American International Auto Show in Detroit won many strong reviews. A few months later in New York, Ford showed the prototype of an all-new Lincoln Navigator large SUV, which also commanded many compliments.
Currently, Lincoln lags behind top German luxury brands and cross-town rival Cadillac, the prestige brand of General Motors (GM) - Get Report.Operating a strong luxury brand is a critical goal for global automakers because high-priced cars are disproportionately profitable.
Through the first five months of 2016, Lincoln sold 44,488 vehicles in the U.S., compared with 58,968 for Cadillac and 146,981 for Daimler AG's Mercedes-Benz, the top U.S. seller of luxury vehicles. Average transaction prices in May were $45,718 for Lincoln, $58,915 for Cadillac and $56,953 for Mercedes-Benz.
Since Lincoln announced the renovation of the brand in 2012, the company has introduced four models and announced a number of initiatives aimed at creating a premium experience for luxury-oriented customers, such as creation of a concierge shopping service.
Ford has deliberately omitted the costly step that GM took when it decided to develop a rear-wheel-drive sedan -- the Cadillac CTS -- aimed at matching or surpassing, in technical specifications, German vehicles like the BMW 3 Series or the Lexus LS460 large sedan from Toyota  (TM) - Get Report .
Doron Levin is the host of "In the Driver Seat," broadcast on SiriusXM Insight 121, Saturday at noon, encore Sunday at 9 a.m.
This article is commentary by an independent contributor. At the time of publication, the author held no positions in the stocks mentioned.