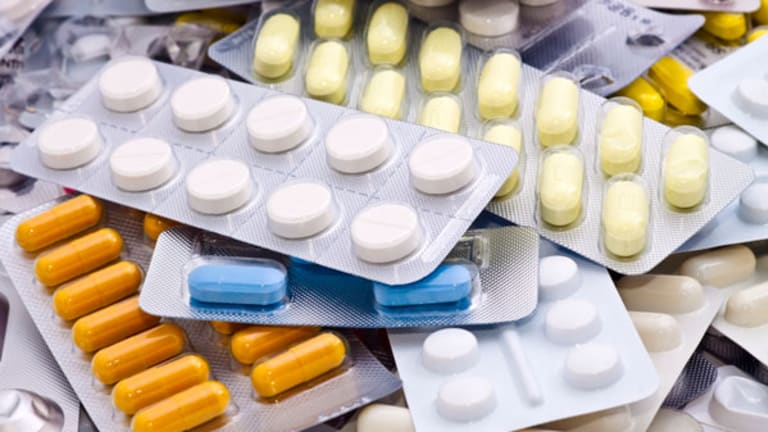 Lilly's Pipeline Fears Are Overblown
The company pays one of the best dividends in the sector at an annual yield of 4%.
NEW YORK (TheStreet) -- Shares of Eli Lilly (LLY) , which are down more than 15% over the past six months, are still under pressure following a recent downgrade from Jefferies analyst Jeffrey Holdford. Not only was the stock reduced to underperform from hold but Holdford cut the price of the stock from $49 per share to $40, which suggests a possible 20% downside from current levels.
Among other things, Holdford cited Lilly's pipeline, which is seen as weak and able to support neither the company's current dividend nor future cash flow allocations. Truth be told, while I haven't been Lilly's biggest fan, I don't subscribe to this recent assessment. It's not that I disagree with Holdford's concerns, they're just not new. As noted, with the stock already down more than 15% since April, I believe Lilly's poor pipeline situation, which has long been an unwanted stigma, has already taken its toll.
That said, I don't want to make light of what can potentially hinder the company's growth. Not unlike, say,
Pfizer
(PFE)
or
Merck
(MRK)
, Lilly has considerable exposure to what is known in Big Pharma as the "patent cliff." For instance, as the 2013 winds down, Lilly's top-selling antidepressant drug Cymbalta, which accounts for more than 25% of the company's revenue, goes off patent. What this means is that generic rivals to Cymbalta can then become worthwhile threats. But that's just one of several concerns.
Shortly after Cymbalta goes off patent, Evista, which is Lilly's strong breast cancer reduction drug, will follow. Given that Evista generates close to $1 billion in revenue, this means that almost two-thirds of Lilly's 2013 revenue will be -- essentially -- up for grabs within a few years. Again, this patent-cliff situation was well known prior to the start of the year. But the stock still managed -- at one point -- to post gains of close to 22%.
The Street understood that Lilly was not alone. And drug giants are known to overcome pipeline fears. It goes with the territory. Shares of Merck, for instance, are up more than 16%, even after the company lost the patent to Singulair, which is its top-selling asthma drug.
Some analysts have argued that Pfizer hasn't been the same since the company lost cholesterol treatment drug Lipitor. But not only are shares of Pfizer up more than 24% year-to-date, but the stock is sitting near its 52-week high. Essentially, while losing patents to generics always causes anxiety, it's far from a death sentence. But this is where management has to earn its pay.
On Wednesday, Lilly will release its third-quarter earnings results. To the extent management can convince the Street that the company can maintain its revenue and profit margins with new/existing products, I believe these shares may yet be cheap, much less support a 20% downside as suggested by Jefferies.
The Street will be looking for a 33% year-over-year increase in earnings. The consensus estimate is $1.05 per share, which is a 26-cent-per-share year-over-year jump from earnings of 79 cents per share. It's also worth noting here; despite Jefferies' downgrade, Street estimates have risen by 9 cents over the past three months.
Lilly is expected to grow revenue 6% year over year to $5.44 billion, which brings me to another point. Given that Lilly has averaged 1% year-over-year revenue declines over the past four quarters, the fact that the Street is still looking for a 6% revenue growth this quarter is encouraging. This -- in my opinion -- fails to support Jefferies' concerns regarding Lilly's pipeline. Not to mention, during that same span, Lilly has posted an average year-over-year profit of 12%.
Now I'm not suggesting that this is a flawless company. I do appreciate the risks that come with patents expiring on two key drugs. But I'm also well aware that management recently reaffirmed its goal of achieving $20 billion in revenue for fiscal year 2014.
I don't know too many management teams that go out of their way to put unnecessary pressure on themselves if they don't truly believe they can deliver, especially in this environment where fear runs rampant regarding the potential impact from the affordable care act (Obamacare). To that end, I would be a buyer of Lilly on any weakness. While I do believe the stock is fairly valued at around $49 per share, the company pays one of the best dividends in the sector at an annual yield of 4%.
At the time of publication, the author held no position in any of the stocks mentioned
.
Follow @saintssense
This article was written by an independent contributor, separate from TheStreet's regular news coverage.
Richard Saintvilus is a co-founder of
where he serves as CEO and editor-in-chief. After 20 years in the IT industry, including 5 years as a high school computer teacher, Saintvilus decided his second act would be as a stock analyst - bringing logic from an investor's point of view. His goal is to remove the complicated aspect of investing and present it to readers in a way that makes sense.
His background in engineering has provided him with strong analytical skills. That, along with 15 years of trading and investing, has given him the tools needed to assess equities and appraise value. Richard is a Warren Buffett disciple who bases investment decisions on the quality of a company's management, growth aspects, return on equity, and price-to-earnings ratio.
His work has been featured on CNBC, Yahoo! Finance, MSN Money, Forbes, Motley Fool and numerous other outlets.
Follow @saintssense