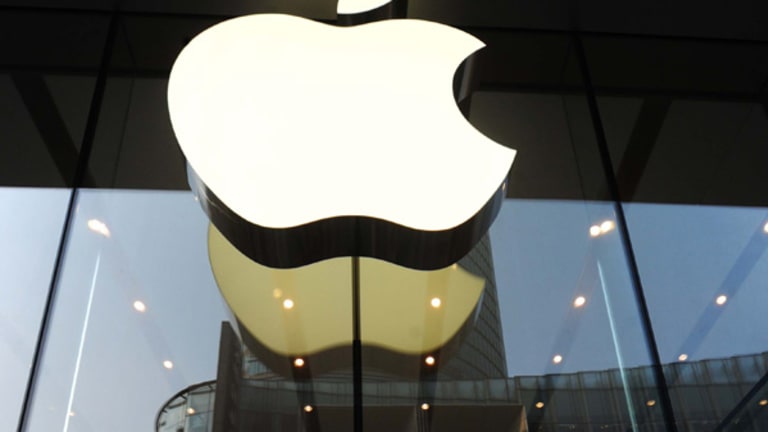 Like Steve Jobs, Tim Cook Doesn't Care About Apple Stock
It's unlike Apple to react to external, media- and rumor-driven hysteria that hurts the stock. So don't expect a word before earnings.
NEW YORK (TheStreet) -- In addition to asking what they should do with Apple (AAPL) - Get Apple Inc. Report stock, the constant crashing causes people to panic. Panic triggers really bad ideas.
As explained in the above-linked article, never make sweet love to a stock. For as unjust (
pardon the melodrama!
) as AAPL under $500, let alone $600 or $700 feels, have some respect for the market's power. Sentiment and the trend is not your friend right now.
I don't know if you -- this specific person I feel like I know, but have never met -- should buy, sell or hold, but you probably should heed
the general words of caution I spewed in April 2012
about falling head over heels for a stock.
Have a plan
before
all hell breaks loose. Because, when it does, it's tough to think straight.
Don't expect Apple to do anything about the stock's sharp fall. Do you think Steve Jobs would have cared or Tim Cook currently cares about what groupthink sentiment is doing to AAPL? Do you think either of these guys have time for that tripe? No way. And if Investor Relations starts whining, Cook would say the same thing Jobs likely would have:
I don't give a damn about the stock; I've got a company to run!
.
But scan the Twitterverse. You'll find a considerable number of people who want a special or increased dividend. Others expect a show of force via a massive stock buyback to prop up shares. We even have people saying Apple should issue a statement rebuking
The Wall Street Journal report about alleged "weak demand" for iPhone 5
. Others demand an earnings pre-announcement.
Would any of this fit with the Apple we know and make sweet love to?
This is what I don't understand. So many of us put so much faith in the Apple mystique. We blather endlessly about how the way Apple swings its member sets it apart from mere mortals. Yet, when things get ugly, some of us call for drastic action. That's got to give the bears one giant belly laugh.
Remember, all of this "news" that drags AAPL down -- not one bit of it, as far as we know, comes from Apple itself. In other words, all we know is that
Apple Stores were packed over the holidays
, the iPad mini appears to have succeeded in the face of considerable skepticism and Apple just snagged
more than 50% of the U.S. smartphone market
for the first time ever.
Most everything else is noise until Apple reports. And, even after we get holiday quarter results, there's no telling what the stock will do. I realize that's unsettling, but, at the end of the day, if you're in the stock, all you can reasonably do is what's best for you and your family. Hopefully, putting it that way brings some clarity to thought.
Don't panic. You have no control over what's happening out there. It's the Wild West. You have to make decisions based on your circumstances, but, if it was me making the call, I would day/swing trade AAPL using tight stops (like I did in October 2012), but not hold a substantial position as an investment.
Let the dust settle after earnings and go from there. If hell stops breaking loose, think about getting back in. You'll have time; when this train
really
takes off, it makes several stops along the way to pick up new shareholders or investors scaling into a position. And if it doesn't, no harm and no foul.
Other very good, less volatile long-term investments exist. (Look at big media stocks; for example,
News Corp
(NWSA) - Get News Corporation Class A Report
is up 12% since
).
Just don't sit around waiting for Apple to bail you out of your perceived jam. It's not going to happen. And, if you love the company, but keep your feelings about the stock in check, you should be happy about that. It shows Tim Cook has not lost all of the Steve Jobs
.
Cook doesn't manage to the stock price any more than Jobs did. Sure, he issued a dividend. I don't agree with the move, but it wasn't like the guy threw a pool party for rank-and-file shareholders.
If I know anything about how a heavy-hitter CEO's mind works, I know Tim Cook believes if he stays the course, his AAPL shares, which vest in four and nine years, will be worth more if he doesn't panic in the face of today's external, media- and rumor-driven hysteria.
--Written by Rocco Pendola in Santa Monica, Calif.
Rocco Pendola is
TheStreet's
Director of Social Media. Pendola's daily contributions to
TheStreet
frequently appear on
CNBC
and at various top online properties, such as
Forbes
.