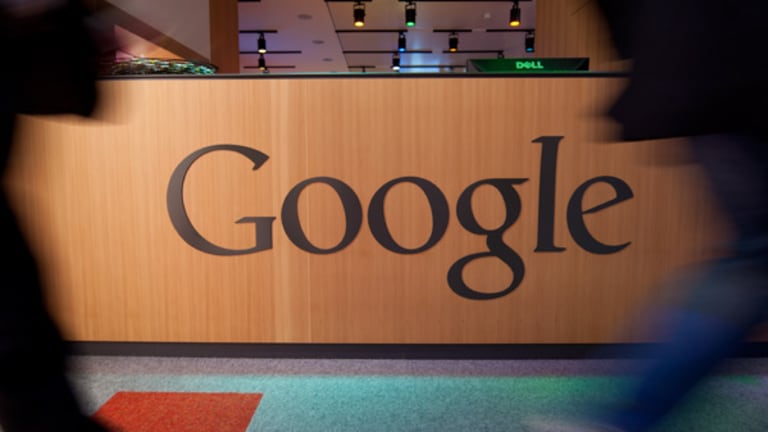 Life With Google Chromebook: Mac/Windows Killer
The only thing better than great tech support? Never needing tech support.
NEW YORK (TheStreet) -- What's better than the best customer support in the world? No needfor customer support, that's what.
And that is the story of the best PC in the world, the
Google
(GOOG) - Get Alphabet Inc. Class C Report
Chromebook.
Once upon a time, in the 1990s, I wasted probably 100-plus hours per yearon various forms of PC support and maintenance. Booting up the PCtook at least two minutes, there were updates to all sorts of programs,and the troubleshooting took place over the phone with some
Dell
(DELL) - Get Dell Technologies Inc Class C Report
replocated in India.
It was an eternal nightmare. And a time-sink.
Then came the
Apple
(AAPL) - Get Apple Inc. Report
stores, with their Genius bars. It took a fewyears before I made the jump, but I eventually switched a majority ofmy PCs from Windows to Apple. Every time there was a problem -- andGod knows, there's one every few days -- I just take the elevator andwalk around the corner to the Apple store down the street.
The Apple store's Genius bar may not be perfect, but it was a
huge
upgrade from being on hold for two hours before talking to Dell's Indiantech support person. I couldn't have been happier. Every time I hada computer problem, I felt like I had been picked up on thebattlefield by a Marine helicopter and medivaced to a fine hospital,a.k.a., the Apple store's Genius bar.
I wasn't the only one who switched to Apple because of their superiortech support. As I looked around me at strangers and friends alike,it was evident that the Apple model was winning. The primary painpoint for PC ownership was the constant need for various classes oftech support, and the Apple Genius Bar was the best game in town.
So I bought the stock -- Apple. The investment thesis was the Genius Bar.
Then came December 2010. Google sent me its first Chrome OS laptop totest. I got it right away: This was the simplest device on Earth touse. It made Android and Apple's iOS seem complicated in comparison.
This first iteration wasn't perfect. It didn't have off-line accessto Gmail, Docs and Calendar. The hardware was a bit under-powered,especially for multi-media such as telephony and YouTube.
Over time, though, Google fixed the initial modest shortcomings ofthe Chrome OS. Now, the product has become so good that it's leading thelaptop sales charts on Amazon, and Google can't keep up with demand.Try ordering a Google Chrome PC and see if you're lucky getting onesoon!
In these two most recent years, I have continued to go to the Applestore for all the frequent and unpredictable support my Mac needs. Inaddition, the Microsoft store also opened, also a few blocks away.From this standpoint, things have only gotten better -- basically,Microsoft caught up with Apple, as far as my needs are concerned.
In other words, my Mac and Windows PCs now have the best doctors money can buy. Every time they get sick, they get quick, good andunbureaucratic care.
But that's like saying that if I have cancer or a bad heart, I can popinto the Mayo Clinic because I live five blocks away. I'd rather notbe sick to begin with.
Which brings me back to the Google Chrome PCs.
With the Google PCs, there's no need for any tech support. In overtwo years, I have never encountered anything that would cause me toengage tech support -- on the phone or in person.
It's like never being sick, never having a disease, never having to goto the doctor. If that's not like winning the lottery, I don't knowwhat is.
This may be a bit hard to understand if you have never spent anyquality time with a Google Chrome PC, using it in your regularwork-flow for a number of days or weeks. It kind of sounds likemagic. What's the catch?
Yes, it's true -- a Chromebook can't do everything. It can't runiTunes. It can't run
Skype
. It can't . . . well, it can't run all sortsof other oddball programs.
But it can do everything I do on the Web, which at this point ispretty much everything I do. When was the last time I venturedoutside a Web browser for Gmail, Google Calendar and GoogleDocs/Drive? Yeah, a couple of years ago.
The Google PC boots right away, as if it had been just put to "sleep"mode on a Microsoft or Apple device. You don't have to worry aboutupgrades; it upgrades itself. You don't have to worry about savingyour stuff; that's automatic. You basically don't have to worryanything. Just log in with your Google account, and everything isthere.
And by "there" I mean on
all
your Google Chrome PC devices. There isno longer any need to lug that laptop from home to the office andback. Everything is instantly replicated across all machines, so youcan have a Chromebook on every table, office, and home -- and you canjust pick up where you left off.
Yes, I know Microsoft and Apple are now trying to narrow this gap withOffice 365 and iCloud. But they're still not on par with Google interms of how elegantly and seamlessly this works. Maybe some day,that will change -- but now Google remains way ahead in the way itscloud infrastructure interfaces with its Chrome and Android devices.
In the meantime, Google Chrome laptops are $200 to $450 and falling.Microsoft Windows 8 touchscreen PCs start at $500 and MacBooks startat $1,000. You can buy a few extra Chromebooks for the same price.
Google is sitting on a gold mine here. They need to expand the ChromeOS device portfolio with even better hardware: Better battery life,bigger and better screens, and so forth -- even tablets andsmartphones. Take a look at the best Windows Ultrabooks and theMacBook Air, and offer consumers premium Chromebooks.
For example, people are now buying a few $200 to $250 Chromebooks, giving them to their children and elderly family members, ensuring that theydon't have to spend any time on tech support, ever. Going forward,they'll be willing to spend more than $250 to $450 on
premium
Chrome OS hardware. Perhaps they'd pay $500 to $600 for truly awesome 13-to-14 inchChromebooks with 10-plus hours of battery life. Larry Page says battery lifesucks now, so they had better take a hint from the boss.
Back to the central point, where I began this article: Having thebest PC tech support is the second best thing on Earth. The onlything that's better is not needing any tech support to begin with.And that's Chrome OS in a nutshell.
Google is sitting in the catbird seat for this great new paradigm incomputing: Trouble-free PCs. Will it be able to exploit this openingin the competitive landscape?
At the time of publication, the author was long GOOG andAAPL and short MSFT.
This article is commentary by an independent contributor, separate from TheStreet's regular news coverage.
This contributor reads:
On Twitter, this contributor follows: