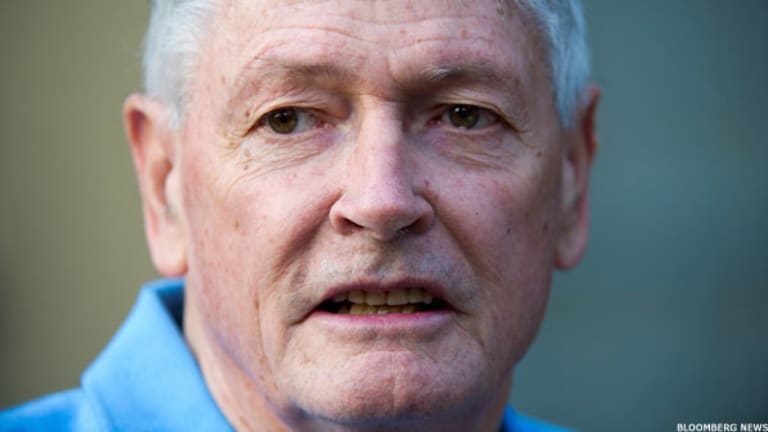 Liberty to Get Back in the Cable Game With 25% Stake in Charter
Liberty Chairman Malone has a strong track record in cable. Under his management TCI became the largest cable provider in the U.S. -- but that was in 1999.
NEW YORK (TheStreet) -- Charter Communications (CHTR) , in early Tuesday trading, was at $99.03, up 99 cents, or 1.01%. It popped Monday, hitting a new 52-week high of $99.50 off an open of $89.17, after reports the company is nearing a deal to sell a 25% stake to John Malone's Liberty Mediaundefined for roughly $2.5 billion.
"A deal would mark Mr. Malone's first acquisition of a U.S. cable system since selling Tele-Communications Inc. to
AT&T
(T)
in 1999. Charter is the eighth biggest pay-TV provider, with about four million subscribers,"
writes the Wall Street Journal
. "Under the management of Mr. Malone, TCI became the biggest U.S. cable operator."
In other words, Malone has the chops to see this through, or at least the track record. The thing is that when Malone brought TCI up the cable rankings, it was 1999. Maybe this is why enthusiasm seems to be lacking for Liberty. The company's share price opened at $109.99 and was trading as low as $108.46 by midday Monday. Liberty recovered somewhat, and it still boasts a one-year target estimate of $130.63, which is impressive given that it is trading at less than 10 times its earnings.
Moreover, the last 14 years have brought a ton of changes in the way people watch television and what they are willing to pay for service. Today,
Netflix
(NFLX)
has more than 27 million subscribers to its streaming service (as of Dec. 31
) -- that is more than six times the number of subscribers Charter currently has.
Now, granted, there are lots of people who have both Netflix subscriptions and cable service, but it points to a trend -- people are willing to pay for what they want, but no more.
The market is increasingly turning toward a "post-bundle TV world," as
put it. Recently,
Cablevision
(CVC)
filed a lawsuit against
Viacom
(VIAB)
"accusing it of antitrust violations for forcing it to carry and pay for more than a dozen 'lesser-watched' channels in order to offer the popular ones like Nickelodeon and MTV. Viacom disputes the allegation," the article says. But, those lesser-watched channels play a specific role in keeping costs down.
"A la carte -- maybe a little counterintuitively -- raises prices and reduces choice because it increases the costs," said Mike Fricklas, general counsel at Viacom, explaining that "now you have to worry about whether they are subscribing and watching." He said a lot of money would be siphoned out of programming investment and into marketing dollars because there wouldn't be assured distribution.
Further, improved Internet distribution of video is going to "force the change."
A "post-bundle TV world" may be a few years out, but this is an issue that is going to be prevalent over the next couple years and certainly within most investors' time horizon. Already, Netflix is beginning to track the Internet speed offered by different providers, something
it calls the "ISP Speed Index"
. And, it is certainly an issue that Malone will face in trying to push Charter up the rankings as he had TCI so many years ago.
Then, there is another issue facing Malone -- scope of offerings. Liberty Media has its hands in a lot of pies. According to
the company's Web site
, its subsidiaries include the Atlanta
National League Baseball Club
and
TruePosition
; it holds interests in
Sirius XM Radio
(SIRI)
,
Live Nation
and
Barnes & Noble
(BKS)
and minority stakes in
Time Warner
(TWX)
,
Time Warner Cable
(TWC)
and Viacom.
An impressive portfolio, but the range of interests is vast, and not in the same direction.
Malone is equally as involved in a range of activities. "He currently serves on the board of directors for the Bank of New York, the CATO Institute, Discovery Communications Inc., Discovery Holding Company, Expedia and The Nature Conservancy,"
according to the Wall Street Journal
. "Additionally, Mr. Malone is chairman emeritus of the board for Cable Television Laboratories Inc. and chairman of Liberty Global Inc."
Like Liberty, Malone's interests are broad. Does he have the time left over from his various pursuits to invest in bringing Charter from being eighth in the pay TV market to first, like he did with TCI? I'm not sure.
My recommendation is to short Charter now, while momentum is up, and cash in probably around the end of the week. Charter could be a good buy, but this momentum is based on reports of a deal, so odds are the boost is going to ebb away before too long.
In the meantime, I say keep an eye on Liberty. The negative momentum around the stock right now could make for a good point at which to buy in. Even buying in at $110, if Liberty reaches its target $130, that's a one-year gain of over 18% -- not too shabby.
At the time of publication, the author held no positions in any of the stocks mentioned.
Written by Renee Butler in Seattle.
Follow @ReneeAnnButler
This article is commentary by an independent contributor, separate from TheStreet's regular news coverage.
Renee Butler is a freelance financial journalist based in Seattle. She has written hundreds of articles and blog posts on hedge funds, the financial markets, investing trends and company developments. Her articles have appeared on MSNBC, MarketWatch, the Motley Fool, The Street and Seeking Alpha, among others. Butler is a member of the National Press Club and the Society of Professional Journalists, and holds advanced degrees in business, financial management, psychology and sociology.