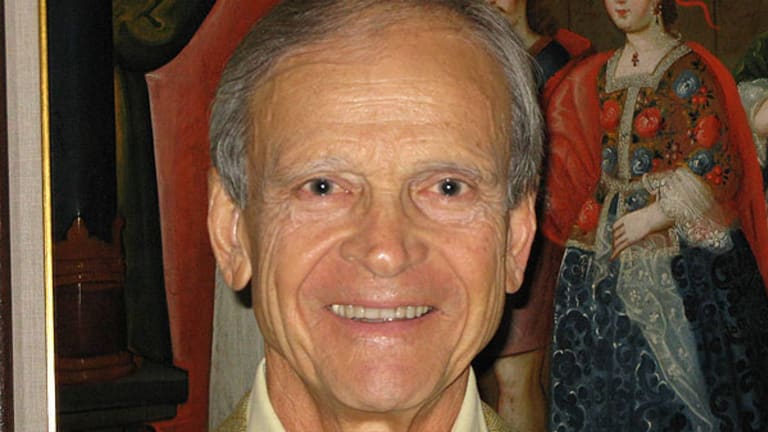 Let Oscar Munoz Run United, Says Frank Lorenzo, Who Built Continental
Frank Lorenzo, who built Continental Airlines and holds stock in United Continental, isn't impressed by Gordon Bethune's bid to be United Continental chairman.
Editors' pick: Originally published March 15.
This story has been corrected to say that two of the Eastern Air Lines unions now back United CEO Oscar Munoz in his battle with hedge funds. The story initially said that Eastern flight attendants were members of the Association of Flight Attendants, when in fact they were represented by the Transport Workers Union.
Gordon Bethune isn't the only former Continental Airlines CEO with a deep interest in the battle by two hedge funds to add a slate of six directors, headed by Bethune, to the United Continental (UAL) - Get United Airlines Holdings, Inc. Report board.
Bethune is widely credited with resurrecting Continental when he was at the helm from 1994 to 2004. But Frank Lorenzo, who built the platform for Bethune's success at Continental and now runs an investment company that holds United stock, said putting Bethune in charge at United would likely interfere with the carrier's nascent recovery.
United is "only now emerging from a difficult merger period and will likely be seeing continued improvement," Lorenzo said in an interview -- conducted both by phone and email -- in which he supports allowing United CEO Oscar Munoz to continue to run the company unimpeded by Bethune's oversight.
"Oscar Munoz has obviously had a difficult start to his tenure as CEO," Lorenzo said. "He should be given the chance to continue developing and implementing his plans for the company."
Two hedge funds, Altimeter Capital and PAR Capital, which hold 7.1% of United shares, said last week that they will run a slate of six nominees for the board, which has 15 members after United added three this week. A shareholder vote is expected to occur at United's 2016 annual meeting, which hasn't yet been scheduled.
"The attempts by these funds in waging a proxy contest has everything to do with their seizing on a difficult period at United to gain control of this major company" and nothing to do with "employee or shareholder betterment," Lorenzo said.
Lorenzo owns an investment firm, Savoy Capital, that owns and controls entities that hold "a meaningful number" of United shares, he said. He declined to quantify the number. Regarding United stock, he said, "We think it has a nice opportunity in the next couple of years, if these guys don't get in and try to start the clock all over again.
"When I first learned that two hedge funds had taken a serious stock position in United, I was pleased," Lorenzo said. "I have often felt that marrying more ownership with management is a healthy thing for public corporations [and] some activist pressure has been constructive. But in the current situation at United, this is hardly the case."
Lorenzo's story has long been intertwined with Bethune's.
Through strategic acquisitions and hardball implementation, Lorenzo built Texas Air, which controlled both Continental and Eastern, into the largest U.S. airline company. Between 1981 and 1990, when Lorenzo left, Continental became a national airline with hubs he created in Houston and Newark. Lorenzo devised strategies on fares, mergers and asset amalgamation that came to be accepted throughout the U.S. airline industry.
But a series of uncompromising battles with labor, combined with an uneasy relationship with media, kept Lorenzo from being viewed as the transformational executive that he was.
By contrast, Bethune, who arrived at Continental in 1994, was an inspirational leader, was comfortable with reporters, and was able to boost spending following Lorenzo's cost-cutting. To a degree, he received credit for Lorenzo's achievements.
"He stabilized the company, he bought a lot of airplanes, and he gave it esprit de corps," Lorenzo said. "But he created the impression of a classic turnaround where everything was a mess when he started, and that wasn't the case."
Lorenzo, who at 74 is the same age as Bethune, said United "needs a fresh push from an energetic 56-year-old guy and that is what they have."
Munoz "already has employee and union support and has had a distinguished and very-relevant-to-UAL level of experience" while running CSX (CSX) - Get CSX Corporation Report , Lorenzo said. "Designating Bethune as non-executive chairman would effectively destroy the effectiveness of Munoz and his team.
"Starting from scratch with a management team, which is what a Bethune chairmanship would lead to, would be a terrible disservice to the company's employees and shareholders and to the traveling public," he said.
On Monday, the top four United labor unions joined Munoz for a summit meeting. Afterwards, the unions reiterated their backing for Munoz. Two of the unions -- the International Association of Machinists and the Air Line Pilots Unions -- were among the three unions that in March 1989 staged the most historic strike in the history of the airline industry at Eastern Air Lines, which Lorenzo controlled.
Who would have thought we'd one day see Frank Lorenzo and the two unions join -- apparently unknowingly -- in fighting for the same cause?
This article is commentary by an independent contributor. At the time of publication, the author held no positions in the stocks mentioned.