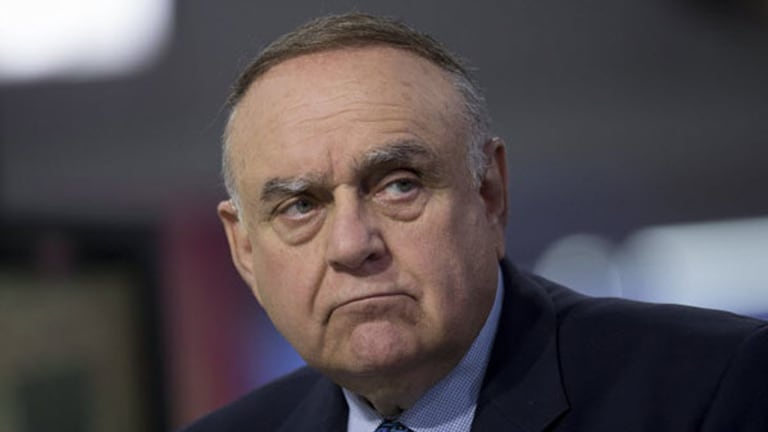 Leon Cooperman's Firm Is Under Investigation and This Is Where He Is Investing His Money
Investigators looking into Leon Cooperman's Omega Advisors have quite a bit to wade through -- the billionaire has upwards of 90 securities in his public equity portfolio alone.
Investigators looking into Leon Cooperman's Omega Advisors have quite a bit to wade through -- the billionaire has upwards of 90 securities in his public equity portfolio alone.
NEW YORK (TheStreet) -- Leon Cooperman could be in hot water.
His firm, Omega Advisors, has been subpoenaed by the U.S. Attorney's Office in New Jersey and the SEC. The billionaire informed his clients of the news earlier this week in a letter first reported by CNBC. He clarified that inquiries are in the early stages, and no one at Omega has been accused of any wrongdoing.
Investigators are seeking information on the fund's trading of certain securities, but details on the specific transactions in question have not been revealed. They've got a number of securities to wade through, even in public equity holdings alone.
In his most recent 13F filing, corresponding to the fourth quarter of 2014, Cooperman lists 91 holdings on the Omega Advisors Inc. books.
According to data compiled by iBillionaire, Cooperman's public equity portfolio has a $36 billion average market cap and 3.22% average dividend yield. It is spread across nine sectors, the heaviest weighted being financials (28.43% of his portfolio), consumer discretionary (18.6%), energy (14.3%), health (10.96%) and technology (10.19%).
Of the positions disclosed at the end of the fourth quarter, none exceed a 5% allocation among Cooperman's public equity holdings.
Cooperman's top stake is Actavis (ACT) - Get Report, of which he holds 943,572 shares, valued at more than $240 million as of December 31. The pharmaceutical giant has likely been a moneymaker for the billionaire in recent months, as its stock price has climbed 17% year-to-date. It completed the acquisition of Botox maker Allergan earlier this month, and many believe its shares will continue climbing.
Financial companies are Cooperman's second, third and fourth biggest holdings -- though he downsized his stakes in each during the fourth quarter.
Citigroup (C) - Get Report is No. 2, with a 3.83% allocation in Cooperman's fund, even after he sold off about 915,200 shares at the end of the year. He still holds 4.25 million shares. AIG (AIG) - Get Report is his third most significant stake. He holds 4.01 million shares, a position valued at $224.7 million at the end of the fourth quarter. Next is Navient (NAVI) - Get Report, of which the billionaire owns 9.58 million shares, valued at nearly $206.9 million.
At last year's SALT Conference in Las Vegas, Cooperman chatted about financials and made direct reference to both Citigroup and AIG in an interview with CNBC. "So, I think things that are depressed, like a Citicorp, which has got a great franchise, you're buying it below tangible book value, I think ultimately will work," he said. "We think AIG over the next three years gets to a 10 percent ROE, and that gets you into the mid-$60s stock price."
Rounding out Cooperman's top five holdings is satellite radio company Sirius XM (SIRI) - Get Report, which has a 3.37% allocation in the billionaire's public equity portfolio. At the end of last quarter, he had a $200 million stake.
Performance-wise, Actavis and Sirius have boosted Cooperman's portfolio in 2015. His financial picks, however, have weighed him down.
Energy has been a sore spot for the billionaire lately as well. In a recent letter to investors, he addressed the issue. "Clearly, we missed the mark with our energy call. Our supply/demand assessment did not signal the extent of the oil price correction," he wrote. "While we have, as noted, reduced our energy exposure, we still have a low-teens representation because we believe that at currently levels, our energy names offer exceptionally good value."
Atlas Energy Group (ATLS) , Nordic American Offshore (NAO) and Anadarko Petroleum (APC) - Get Report are energy stocks Cooperman has held onto despite the sector's decline. He has, however, sold out of some big names, including Transocean (RIG) - Get Report, Halliburton (HAL) - Get Report and Linn Energy (LINE) , which previously had a combined 3% allocation in his public equity fund.
Cooperman also threw in the towel on Sprint (S) - Get Report during the fourth quarter, a company about which he was especially optimistic back in 2013. The stock was his biggest loser of 2014.
Before today, it had looked as though things were starting to turn around for Cooperman in 2015. CNBC reports that Omega's main fund is up 2.93% net of fees this year through February.
Will this subpoena business prove more than a minor hiccup? Time will tell. But the billionaire is used to running into bumps in the road. "In this business, if you don't make mistakes, you're either a liar or you don't take many swings at the ball," he said in an interview late last year.
This article is commentary by an independent contributor. At the time of publication, the author held no positions in the stocks mentioned.
iBillionaire provides access to the investment data and strategies of the world's most successful, self-made billionaires. It is available for
and
.