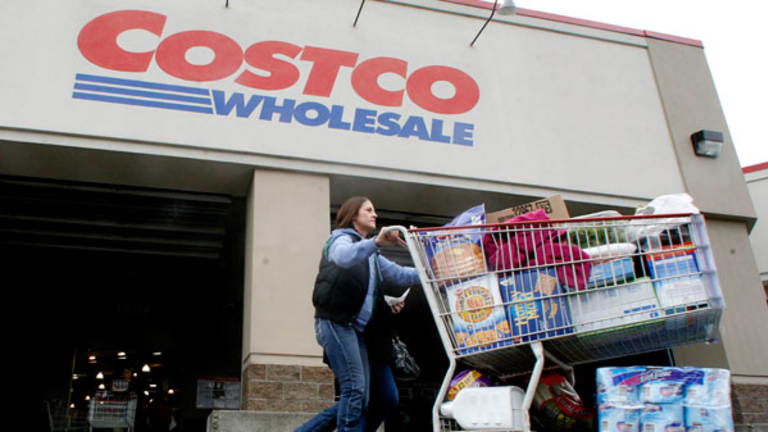 Lemmings Grasp Special Dividends Ahead of Fiscal Cliff
New laws and regulations look great to bureaucrats who design them but fail in practice.
NEW YORK (TheStreet) -- New tax laws and regulations often force those affected to find creative ways around them.
We are seeing the early manifestations of this as scores of companies declare special cash dividends to be paid in 2012, ahead of the expected increases in taxes on qualified dividends.
In some cases, depending on income, the tax rate is scheduled to nearly triple from 15% to 43.4%, and some companies are rushing to push cash out to shareholders.
The granddaddy of them all, so far, is
Costco's
(COST) - Get Costco Wholesale Corporation Report
$7 special dividend, which will cost the company $3.024 billion, by my calculation. But that will still leave the company with more than $1.8 billion in cash and short-term securities.
Oracle
(ORCL) - Get Oracle Corporation Report
is taking a different approach, announced yesterday, by accelerating its normal six-cents a share dividend for the next three quarters, paying it all out at once prior to year end.
But my favorite special cash dividend story is that of
Tellabs
(TLAB)
, a company I
profiled two weeks ago after it fell below net current asset value.
The company, which ended the latest quarter with $1.143 billion in cash on the books -- nearly equal to its market cap, has declared a special $1 a share cash dividend. Tellabs will distribute about $367 million to shareholders and will still be left with more than $775 million in cash and short-term investments, or about $2.11 per share. Shares jumped more than 20% after the special dividend was announced.
I expect that we'll see more special dividend announcements in the coming days, but the changes in tax law will no doubt have more far-reaching implications. Admittedly, we still don't know for sure what, if any deals will be done by year-end in order to avoid the fiscal cliff. I presume that a deal will be reached and some type of compromise will be made.
But let's assume that the increased taxes on dividends are here to stay, for those making more than $250,000. If that is the case, I'd expect ceasing of the proliferation of cash dividends that we've experienced since rates were lowered. In that case, the more efficient way for companies to return capital to shareholders will be via stock buybacks. Investors can choose to sell their shares, or not, and pay capital gains tax rates.
I've long argued that cash dividends don't theoretically make a lot of sense; in essence they are a waste of capital. Here's why: Company A pays taxes on its earnings then distributes a portion of those earnings to shareholders in the form of cash dividends. Shareholders then pay taxes on those dividends.
In essence, Company A's earnings are taxed twice; once at the corporate level, then again at the shareholder level. Through the payment of dividends, more capital is "wasted" because some of it flows to the government in the form of taxes.
The problem with the above argument is that it fails to consider the fact that many investors love dividends; it's the old "bird in the hand" argument.
At a 15% tax rate, investors loved dividends even more. But I suspect that for those facing much higher tax rates, keeping less of what is paid in dividends will now take a different view. So will companies.
The problem with new laws and regulations is that they often look great in theory to the bureaucrats who design them, but they fail in practice.
I wonder how much revenue that the new tax laws will actually raise as it applies to dividends. Investors will find alternatives; companies will make adjustments. The lawmakers will be stunned when new revenue falls short of projections.
At the time of publication the author held no positions in any of the stocks mentioned.
This article is commentary by an independent contributor, separate from TheStreet's regular news coverage.
Jonathan Heller, CFA, is president of KEJ Financial Advisors, his fee-only financial planning company. Jon spent 17 years at Bloomberg Financial Markets in various roles, from 1989 until 2005. He ran Bloomberg's Equity Fundamental Research Department from 1994 until 1998, when he assumed responsibility for Bloomberg's Equity Data Research Department. In 2001, he joined Bloomberg's Publishing group as senior markets editor and writer for Bloomberg Personal Finance Magazine, and an associate editor and contributor for Bloomberg Markets Magazine. In 2005, he joined SEI Investments as director of investment communications within SEI's Investment Management Unit.
Jon is also the founder of the
, a site dedicated to deep-value investing. He has an undergraduate degree from Grove City College and an MBA from Rider University, where he has also served on the adjunct faculty; he is also a CFA charter holder.