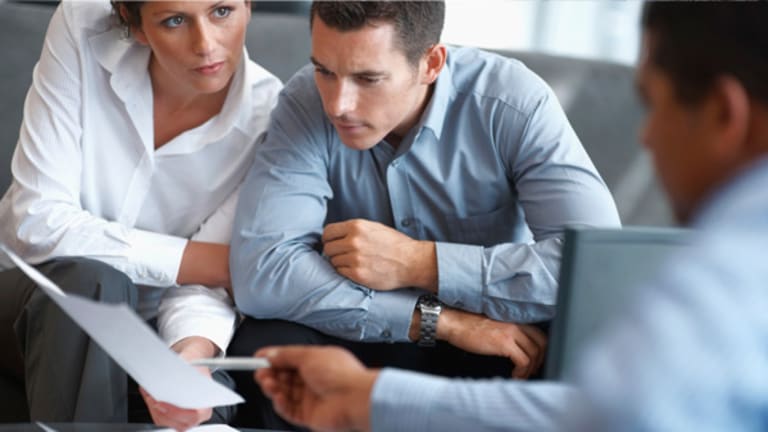 Lehman Blame Game Still Played Four Years, $12.8 Trillion Later
Better Markets says that the 'Wall Street-caused financial crisis' has cost the U.S. economy $12.8 trillion.
NEW YORK (
) -- When it comes to the financial crisis, time does not heal all wounds.
Just in time for the four-year anniversary of the bankruptcy of
Lehman Brothers
, market watchdog Better Markets published a report saying that the "Wall Street-caused financial crisis" has cost $12.8 trillion, while placing little blame on anybody else.
While the timing of the release for the Lehman anniversary is apt, the Better Markets report also ties into the presidential election, as the authors continually pound "Wall Street," while leaving no blame for Washington policymakers, including those who pressured
Fannie Mae
(FNMA)
and
Freddie Mac
(FMCC)
to lower their credit standards in the name of "affordable housing."
Better Markets says that "the Great Repression was triggered by a combination of wild speculation and risky bets on Wall Street." While there certainly was "wild speculation," it was not only on Wall Street. The speculation occurred among players involved in all aspects of real estate.
There were declining credit standards -- including low- or no-documentation lending. In addition, a growing home loan securitization market helped by the ratings agencies who placed high investment-grade ratings on some dicey mortgage paper. Oh, and by the way, questionable underwriting by community banks who lent to home developers without requiring the borrowers to have any "skin in the game," including banks' promotion of "option-payment" mortgage loans featuring "negative amortization," and the "bubble mentality" that real estate prices would never decline, all fed the crisis.
Sure, there's plenty of blame for Wall Street, but
Fannie Mae
(FNMA)
and
Freddie Mac
(FMCC)
-- which in 2010 "owned or guaranteed roughly half of all outstanding mortgages in the United States,
while financing 63 percent of the new mortgages originated that year," according to the Congressional Budget Office -- operated under federal charters, with implied government guarantees, and were heavily pressured by Washington lawmakers to lower their credit standards in the name of "affordable housing."
The thinking in Washington seems to have been that the best way to help lower-income consumers afford housing was to make it easier for them to borrow money, by forcing lenders to make some pretty risky loans.
Even the
U.S. Treasury
and the Department of Housing and Urban Development in their February 2011 report to Congress on Reforming America's
Market said that "misbehavior, misjudgments, and missed opportunities -- on Wall Street, on Main Street, and in Washington -- all came together to push the economy to the brink of collapse."
Among the causes of the crisis cited by the Treasury and HUD were "poor consumer protections" that "allowed risky, low-quality mortgage products and predatory lending to proliferate;" and "inadequate and outdated regulatory regime failed to keep the system in check," and allowed "securitizers and investors... essentially
to opt-out of the parts of the system with heavier regulation and use whatever underwriting practices they saw fit;" a "a complex securitization chain lacked transparency, standardization, and accountability;" "inadequate capital in the system left financial institutions unprepared to absorb losses;" and a loan "servicing industry
that was ill-equipped to serve the needs of borrowers, lenders, and investors once housing prices fell."
So there's plenty of blame for Wall Street here too, but Washington and the regulators must share some of the blame for inadequate oversight as they and the two government agencies even placed some blame on consumers.
Bank regulators -- namely the Federal Deposit Insurance Corp. and the Office of the Comptroller of the Currency -- have been repeatedly blamed by their own inspectors general for not taking serious action sooner, to force the management of troubled banks to address deficiencies in lending standards, capital levels and liquidity management.
The Bailout's Cost
In explaining its $12.8 trillion cost estimate for the Great Recession caused by the bursting of the real estate bubble, Better Markets says the enormous figure includes "the sum of actual GDP loss and GDP loss avoided because of emergency spending and actions by the
Federal Reserve Board
... for the period 2008-2018."
The organization also says in its report that "real household wealth declined from $74 trillion in July 2007 to $55 trillion in January 2009, representing $19 trillion of evaporated wealth" and that "although household wealth has regained some ground, the decline is still very substantial and has grave distributional effects, including permanent, lifetime losses suffered by many Americans."
While the government was holding $189.4 billion in preferred stock in Fannie Mae and Freddie Mac as of June 30, Better Markets quoted the Congressional Budget Office as saying that the bailout of the two government-sponsored mortgage giants had cost an estimated total of $359 billion, as of March 2011.
Better Markets pretty much quashes any pushback on any aspect of the Wall Street Reform and Consumer Protection Act while calling itself "the public's voice in the fight to reform and strengthen our financial system so it never needs a taxpayer bailout or threatens to plunge our economy into chaos again."
The government's capital infusions through the Troubled Assets Relief Program -- most of which has been repaid, with the Treasury on Thursday saying the government's profit on TARP was already $21 billion -- proves the point that banks needed additional capital. The "big four" banks, including
JPMorgan Chase
(JPM) - Get Report
,
Bank of America
(BAC) - Get Report
,
Wells Fargo
(WFC) - Get Report
and
Citigroup
(C) - Get Report
all raised common equity before repaying TARP.
Too Bigger to Fail
There can be no argument that the regulatory regime needed to be beefed up, with supervision of banks and other systemically important financial firms taking an all-encompassing risk-based approach, with the regulators being better-funded, and with the dysfunctional Office of Thrift Supervision being rightly folded into the OCC.
But Dodd-Frank does not end "too big to fail," and having stronger capital ratios will not prevent another financial crisis of some type causing a liquidity lockup. An immediate shortage of liquidity -- not capital -- is what drove the Federal Reserve-brokered fire sale of
Bear Stearns
to JPMorgan Chase in March 2008, and the bankruptcy of Lehman Brothers.
While the next financial bubble is not likely to be in U.S. residential real estate, human nature causes market bubbles to occur again and again, and with the large banks controlling an even larger portion of the U.S. banking market than they did before the crisis, sooner or later the government will face another Faustian bailout bargain.
According to a table prepared by SNL Financial and recently cited by
The Wall Street Journal
, the largest four U.S. banks have a larger combined market share than they did 10 years ago. The SNL data is limited to bank holding companies with deposits funding at least 25% of total assets.
JPMorgan Chase had $2.3 trillion in total assets as of June 30, nearly tripling in size over the past 10 years, including the purchase of the failed Washington Mutual from FDIC in September 2008, and the purchase of Bear Stearns in March of 2008. Among the largest 50 U.S. banks, JPMorgan had an 18.33% share of assets as of June 30, increasing from 12.51% in June 2002.
Bank of America had $2.2 trillion in assets as of June 30, also more than tripling its balance sheet from ten years earlier. The company is at the forefront of the legacy mortgage mess, from its disastrous purchase of Countrywide Financial in July 2008. In the wake of the Lehman Brothers bankruptcy, Bank of America also acquired Merrill Lynch in September 2008. The company's share of total assets among the largest 50 U.S. banks increased to 17.31% as of June 30, from 10.89% in June 2002.
Citigroup had $1.9 trillion in total assets as of June 30, more than doubling in size from 10 years earlier. Citigroup's TARP bailout was unusual among the largest banks, as the government's preferred stake in the company was converted into common shares, which were later sold by the U.S. Treasury. Citi's share of assets among the top 50 U.S. banks declined to 15.34% as of June 30, from 18.08% 10 years earlier, according to SNL Financial.
Wells Fargo had $1.3 trillion in total assets as of June 30, which was nearly four times as large as the company's balance sheet was 10 years earlier. The company more than doubled in size when it acquired Wachovia late in 2008, after the Charlotte, N.C. lender's liquidity crisis forced the FDIC to push a sale to Citigroup, which Wells Fargo later trumped with a higher bid. Wells Fargo's share of assets among the top 50 U.S. banks was 10.70% as of June 30, increasing from 5.76% in June 2002.
Better Markets
Better Markets was founded by and is funded by Michael Masters, who also founded Masters Capital Management, LLC. Masters is also a partner with Wilbur Ross in Masters Capital Nanotechnology, which is a venture capital fund.
Better Markets CEO Dennis Kelleher previously served in several senior Senate staff positions, including chief Counsel and senior leadership advisor to the Chairman of the Senate Democratic Policy Committee, where he was involved in Dodd-Frank discussions "at the leadership and floor level."
Kelleher agrees that many players were to blame for the financial crisis, but says that "they all didn't do so equally, and that in an unbiased hierarchy of fault, we place Wall Street -- meaning the too-big-to-fail banks not exclusively located on Wall Street -- at the top."
Kelleher says that "no one action will be sufficient to protect the American people, but history teaches us that we need multiple layers of protection for the financial system, the economy and taxpayers. That's what Dodd-Frank tries to do."
"I don't think Dodd-Frank is perfect," he says, "but it is the law of the land and it is the best that a democracy could produce at that point in time. If it is implemented in good faith as intended, it should work."
When asked if the largest banks should simply be broken up, Kelleher says that if Dodd-Frank is implemented as intended, the big banks do not have to be broken up, because they will no longer be a threat to the financial system or our economy, as they won't be systemically significant."
"Our view is that there should be no part of the financial system that is so big, so risky, or so interconnected that its failure should collapse the system or our economy," he says, adding that "if there was a crisis today, they would all get bailed out again. The hope is that over the next three to five years, all the layers of protection will be in place to prevent that from happening. "
Implementing Dodd-Frank
One opponent of certain aspects of the Dodd-Frank banking reform legislation is Frank Sorrentino III, the CEO of
North Jersey Community Bank
of Englewood Cliffs N.J., which didn't apply to participate in TARP. The bank had $822 million in total assets as of June 30, with eight branches.
Sorrentino says "there are parts of Dodd-Frank that I think are appropriate and there are parts that aren't appropriate for community banks."
Regulators are taking several years to implement rules required by Dodd-Frank, with banks and the public granted comment periods before rules are finalized, and the industry's feedback to the regulators is part of the process.
"We can't just label something as bad and say that the legislation is good," says Sorrentino. "That is not how the world works. We have a very complex banking system in this country, and there is a direct correlation in that we have one of the best economies in the world."
"Our financial system, if you do the math, is a good system," Sorrentino says, "but there are lots of different kinds of banks in our system, and you can't just write one rule to apply to all of them. You can't just paint with a broad brush and say that banks are bad. It is somewhat childish."
Regarding the financial crisis blame game, Sorrentino says "I agree that everyone has some culpability in what happened in 2007, including the borrower."
-- Written by Philip van Doorn in Jupiter, Fla.
>Contact by
.
Philip W. van Doorn is a member of TheStreet's banking and finance team, commenting on industry and regulatory trends. He previously served as the senior analyst for TheStreet.com Ratings, responsible for assigning financial strength ratings to banks and savings and loan institutions. Mr. van Doorn previously served as a loan operations officer at Riverside National Bank in Fort Pierce, Fla., and as a credit analyst at the Federal Home Loan Bank of New York, where he monitored banks in New York, New Jersey and Puerto Rico. Mr. van Doorn has additional experience in the mutual fund and computer software industries. He holds a bachelor of science in business administration from Long Island University.