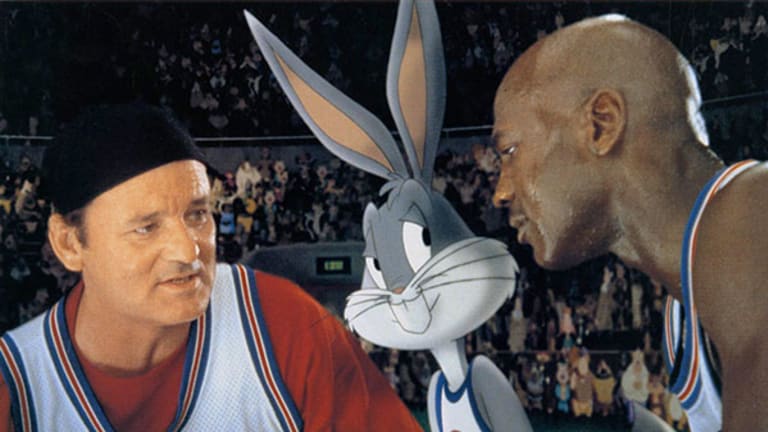 'Lego Movie' Shines But Is it Enough to Lift Time Warner?
The 'Lego Movie' is doing great, but it is enough to en energize to Time Warner, which has lost ground in 2014.
NEW YORK (TheStreet) -- Like that Rascally Rabbit, Time Warner (TWX) just keeps popping up.
Reports are hot and heavy about a sequel to Space Jam while Time Warner has confirmed there will be a sequel to the very successful Lego Movie. Shares of Time Warner have lost 6.5% in 2014 compared to the S&P 500 undefined which is just about flat on the year. Time Warner was adding 0.6% on Monday to $65.11.
Yet with a powerful slate of movies and television shows combined with the spin-off of Time Inc.'s troubled magazine business, investors should consider buying Time Warner on pullbacks, and holding for the long term.
Lego Movie has been a lovely success. The movie is currently winning the weekend revenue race having already crossed the $200 million mark, according to Rentrak. As of Sunday, Feb. 23, Lego Movie had a total box office haul of $276 million of which $183 million came from domestic theaters with the remainder from international markets. 
Read: Mark Zuckerberg Thinks $19B for WhatsApp Is Cheap
Those huge numbers are particularly impressive considering that the film cost about $60 million to produce. A sequel is scheduled to hit theaters in May 2017. Lego Movie had the second-biggest February opening weekend on record. Moving the sequel to the summer blockbuster season should position the movie to surpass the original.
Building on the success of the animated Lego Movie, Warner Brothers is reportedly ready to film a sequel to another animation hit, the beloved 1996 movie Space Jam. The original saw Michael Jordan team up with Bugs Bunny for a box office take of $27.5 million. Space Jam went on to gross $90.4 million in North America and $140 million worldwide.
The sequel to Space Jam is said to star LeBron James, according to Deadline.com. Other NBA stars would likely play small roles in the movie. The original starred Michael Jordan and featured other NBA players, including Larry Bird, Charles Barkley, Patrick Ewing, Mugsy Bogues, Larry Johnson and Shawn Bradley.
Lego Movie 2 and Space Jam 2 probably won't gross billions of dollars for Time Warner. But both movies do showcase the long-term potential of this media play.
Time Warner is spinning off its publishing unit o better concentrate on its movie and television assets. Those properties will include its DC Comics-based movies, the new Peter Pan movie Pan and its animated slate. Lego Movie should provide a nice boost to current earnings.
In 2013, Warner Brothers ranked No. 1, with $1.86 billion in domestic box-office gross. This was good for a 17.1% market share of movies released. Thus far, Warner Brothers sits in second place for 2014 with an 18.7% market share.
Read: 5 Big Global Sports for Your Winter Olympics Hangover
The current year's box office slat looks equally compelling with upcoming releases like Godzilla, Horrible Bosses 2, Interstellar and The Hobbit: There and Back Again.
Time Warner's pullback may provide a nice entry point.
At the time of publication, the author held no positions in any of the stocks mentioned.
This article represents the opinion of a contributor and not necessarily that of TheStreet or its editorial staff.