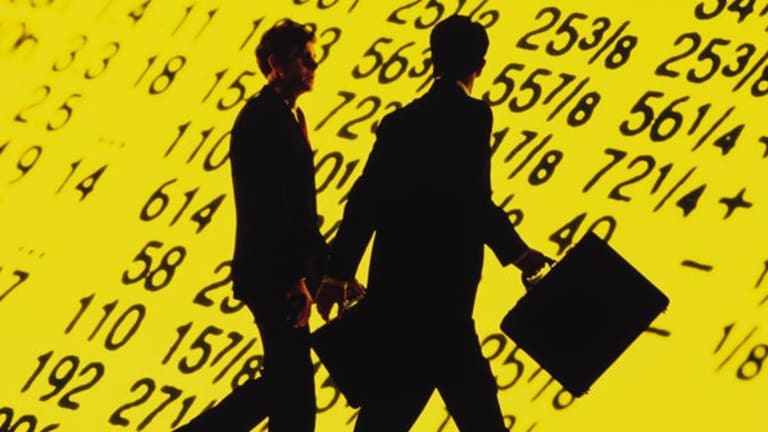 LeapFrogging in the Wrong Direction, for Now
LeapFrog disappoints, but may be an attractive acquisition candidate.
NEW YORK (TheStreet) -- Technology-based learning company LeapFrog (LF) lived up to its name yesterday and took a leap. Unfortunately for shareholders, it was a leap in the wrong direction.
In an early January column, I reported the company's re-emergence on one of my deep-value stock screens. The stock had recently pulled back, as the company reduced expectations for its fourth-quarter earnings release.
On Wednesday, after the market closed, the company announced those results. The markets slapped LeapFrog with a 9% haircut that drove shares to a two-year low.
[Read: How Long Can Lenovo's Strategy Last?]
The fourth quarter was much worse than expected, with revenue falling to $186.7 million, down almost 24% from the same quarter a year earlier. More importantly, the result was also well below the $216 million consensus estimate. Earnings per share, without a $63.6 million tax benefit, were break-even, well below the 14 cent consensus estimate.
LeapFrog management blamed the results on the shortened holiday shopping season, discounting by retailers and the inability to keep key products in stock. It appears as though management's previous warnings were a bit too optimistic.
The other dose of bad news was the resulting increase in inventory and lowered guidance for 2014. The company now expects revenue for the year to be in the $554 million to $580 million range and earnings in the range of 18 to 25 cents per share.
As disappointed as the markets were with these results, there are still some positives. Especially in light of the depressed stock price, I think the position in LeapFrog I established late yesterday is warranted. The company ended the quarter with $168 million, or about $2.40 per share, in cash and no debt.
Despite a $14 million increase in inventories since the fourth quarter of 2012, the company's balance sheet is actually stronger. Shares now trade at just 1.09 time tangible book value per share.
[Read: How to Profit From the Mobile-Game Craze]
Leave it to a deep-value investor to buy when most others are selling.

LF data by YCharts
LeapFrog appeared on my radar last month due to the fact that it traded at a very low multiple of its net current asset value (1.92). With an improved balance sheet and a drop in the stock price, it now trades at just 1.4 times net current asset value.
The company announced a stock buyback program yesterday, authorizing the repurchase of up to $30 million in stock between now and Dec. 31, 2014. Admittedly, the announcement of a stock repurchase plan is meaningless unless the company follows through. But if the buyback occurs, LeapFrog will have put its money where its mouth is. The company certainly has the financial resources to make the buybacks a reality.
[Read: Six-Figure Jobs in 2014 Seek Special Tech Talent]
There is little doubt that LeapFrog will be volatile in the near-term, and the first quarter or two are likely to be challenging for the company. However, with a solid balance sheet, the company should be able to weather the storm.
With the company's enterprise value below $300 million, including a relatively large cash position, LeapFrog might make an interesting acquisition candidate for a larger company wishing to pick up a well-established brand on the cheap.
It is worth noting, however, that the company does have a dual share class structure, with Class B shares having superior voting rights. Given that the Milken family owns nearly all of the Class B shares and holds more than 40% of the voting power, they would most certainly need to be in favor of any proposed deal.
At the time of publication, the author was long LF.
This article represents the opinion of a contributor and not necessarily that of TheStreet or its editorial staff.
Jonathan Heller, CFA,CFP® is president of KEJ Financial Advisors, his fee-only financial planning company. Jon spent 17 years at Bloomberg Financial Markets in various roles, from 1989 until 2005. He ran Bloomberg's Equity Fundamental Research Department from 1994 until 1998, when he assumed responsibility for Bloomberg's Equity Data Research Department. In 2001, he joined Bloomberg's Publishing group as senior markets editor and writer for Bloomberg Personal Finance Magazine, and an associate editor and contributor for Bloomberg Markets Magazine. In 2005, he joined SEI Investments as director of investment communications within SEI's Investment Management Unit.
  Jon is also the founder of the
, a site dedicated to deep-value investing. He has an undergraduate degree from Grove City College and an MBA from Rider University, where he has also served on the adjunct faculty; he is also a CFA charter holder.