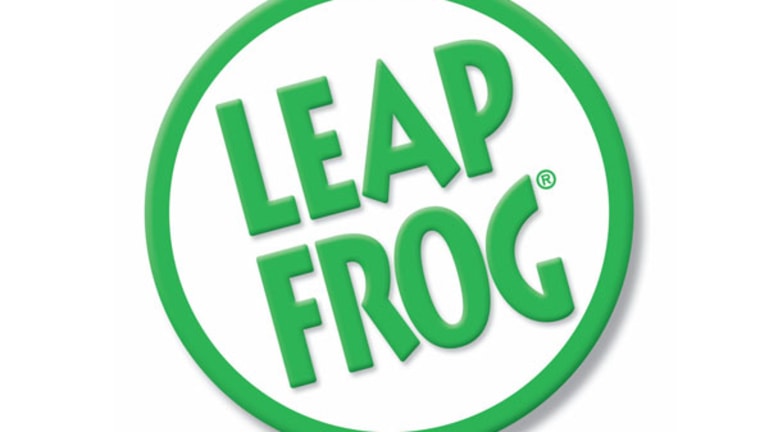 Leap Out of LeapFrog Stock Before You Get Cooked
LeapFrog is making a modern day buggy whip and will leave your portfolio with marks.
NEW YORK (TheStreet) -- LeapFrog (LF) is a fantastic company, but you should avoid its stock, which has become an earnings trap. The situation is so dire that I may sell short the stock depending on the price action after the company reports earnings on May 5.
At first glance, the stock might appear attractive. After all, this company has a well-known brand name, makes quality, feel-good products for children and provides fantastic service. The stock has a low trailing price-to-earnings ratio and no debt. What's not to love?
The company's primary revenue driver is a child's tablet that is facing greater price competition from Amazon's (AMZN) - Get Report Kindle, Google (GOOG) - Get Report Android-based tablets, and a coming wave of Microsoft (MSFT) - Get Report tablets. Apple (AAPL) - Get Report dominates the premium tablet market, and LeapFrog is stuck in the middle.
Child-proof Android-based tablets are on sale at Walmart's (WMT) - Get ReportSam's Club for less than $140. If Apple enters the children's tablet market, it's game over for LeapFrog. Even if Apple isn't successful, a press release with a Cupertino, Calif. datline is likely to cause LeapFrog shares to fall 20% or more within days.
The functionality and speed of tablets at every price point continues to improve, creating an arms race that is unwinnable for LeapFrog. Adding to the challenge is a growing army of app developers focused on creating the best and lowest-priced content they can. As of LeapFrog's latest annual filing, less than 50 app developers create content for a total of about 1,200-1,300 titles available for the cmopany's various offerings.
By contrast, Google Play and Apple's App Store each have more than 1 million apps. Microsoft Mobile is lagging with 240,000 but is adding hundreds per day. Granted, context is essential, and LeapFrog's apps are designed for one specific audience -- children -- while Android and Apple apps span every conceivable use.
That said, it's not difficult to find quality educational games for other tablets that most parents will approve and children will enjoy. Also, and more germane to LeapFrog's investment thesis, the above mentioned competitors offer a greater variety of games. Net sales declined more than 20% during LeapFrog's 2013 fourth quarter compared to the previous quarter. Revenue also declined year over year.
At the same time, total worldwide tablet sales increased from 117 million in 2012, to about 195 million in 2013. The logical conclusion is a growing disparity in the amount of content available between LeapFrog's devices and competitors'.
LeapFrog will soon reach a tipping point when developers determine a critical mass of users is no longer available. The developers will then either significantly reduce resources to produce new content or leave altogether. Microsoft and BlackBerry (BBRY) are experiencing the same challenge.
Consumers decide not to buy because of a lack of apps, and appmakers decide to abandon a platform because there aren't enough users to warrant an investment. Once a critical mass of users is lost, it's incredibly difficult to regain.
If platform devices must be sold at a loss to entice content buying, the company may fall into the same trap Lexmark (LXK) fell into about a decade ago. Lexmark and other ink-jet printer manufacturers embraced the razor-razorblade sales model assuming they could sell printers at a loss, and make it up through ink-jet sales.
My son Michael plays with his LeapPad2 when Mom is using her Kindle, but when offered a choice, he prefers playing with the Kindle and will set the LeapPad2 to the side. A scientific study on children's preferences? Of course not, but LeapFrog products must have greater attraction to command a premium price.
Lexmark and others quickly found that overpriced ink-jet cartridges don't sell as expected because low-cost generics and refill kits displaced the name-brand and more expensive ones. Think of 99-cent apps as the displacer for $10 and more LeapFrog content.
A logical question to ask is why hasn't LeapFrog integrated its offerings into one or more of the existing ecosystems? LeapFrog loses control and possible licensing fees without the software content operating on its devices. Disney (DIS) - Get Report, Mattel (MAT) - Get Report, and other large name-brand content providers probably won't feel a need to pay a premium licensing fee to LeapFrog to use the LeapFrog name on an Android or Apple app.
Also, the average selling price of content within the LeapFrog ecosystem is much higher. LeapFrog will have to compete on quality and price in a world where the freemium model is gaining ground.
Despite the headwinds and coming storm, the company is still profitable, which allows management options that it might not otherwise have. It can continue to sell toys and products other than proprietary tablet-like devices. Amazon's Kindle is based on Android with Amazon's own "icing" on top. A device using the same model may slow the revenue decay.
Otherwise, about 79% of net sales are attributed to multimedia learning platforms. Based on BlackBerry's market share collapse, I anticipate LeapPad-like device/content annual revenue declines of at least 25% for the next two or three years and declining at a more aggressive rate thereafter.
Not everyone agrees with my dire forecast. If I was to name three people that I would not want to bet against, Michael Milken would be on the list. He also happens to be a exceptionally large LeapFrog shareholder. I have followed Milken for more than 20 years, and I know his Milken Family Foundation donates to education causes.
I believe his investment has more to do with his overall belief in providing educational opportunities for children than receiving a financial return. Milken and family members control about 40% of the voting shares as of the last annual statement.
LeapFrog may also have one last trick up its sleeve for investors. At the right price, it becomes an attractive asset for a larger toy or similar company. A takeover price is a downward-moving target, though. If sales continue to soften -- and I believe revenue is on a one-way road lower -- any takeover offer will reflect the reality of expectations.
The problem with hoping a buyer offers significantly more than the current trading price is that buyers also know what market environment the company is in. If you're a toy executive interested in buying LeapFrog, you have little motivation to pay a premium now when the odds predict a lower offer price needed in six months or a year from now.
Unless you're willing to sit and wait for a buyer that may or may not materialize before the company slips back into the red, exiting before the holiday season is advantageous. The last filing's profit appears better than what you can expect because of realized tax credits.
After stripping away tax credits, the operational earnings multiple is near 20 when it should be less than 10 considering revenue and income growth. If we assume earnings of 21 cents for 2014 (the median analyst estimate), add discounted cash on the books, the price target is about $4.50 per share. Add the Milken and possible buyout premium and a case can be made for $5 or maybe $5.50 on a good day. If the company doesn't achieve expectations or a negative headline surprise hits the wire (Apple entry, for example), a sub-$4 price may happen faster than an angry Gerber baby can bring up green beans.
At the time of publication, Weinstein had no positions in securities mentioned.
This article represents the opinion of a contributor and not necessarily that of TheStreet or its editorial staff.