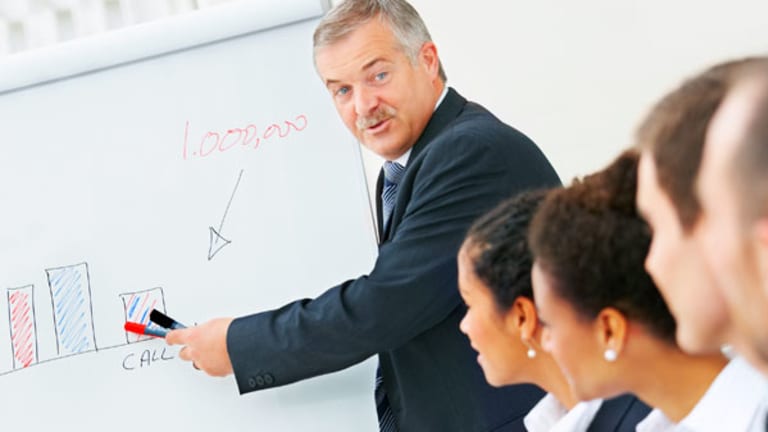 Publish date:
Leadership Matters: Why Domino's Dominates
Leadership lessons from Domino's Pizza CEO David A. Brandon.
Leadership lessons from Domino's Pizza CEO David A. Brandon.
Please check back every Monday for more Leadership Matters columns by "Dr. Todd," founder of IMPACT Consulting and Development.
Hopefully you are not hungry at this moment because I'm going to ask you to do a visualization exercise. Imagine you are standing on a mountain top, looking down on the flatlands and you see (probably to your surprise) 100 acres of pizza. That's 174,240 square feet (over 16,000 square meters) of flat, round, square, pepperoni, cheese (anchovy?) goodness. We're talking about three football fields (2.25 soccer fields for our metric friends.
That's a lot of pizza. It is also equivalent to the amount of pizza sold daily in the U.S. from over 71,000 pizza outlets. This is the competitive landscape that
Domino's Pizza
(DPZ) - Get Domino's Pizza, Inc. Report
CEO David A. Brandon has to deal with.
Last week I wrote that innovation is no longer an option, but is now a necessity. Brandon is an example of a leader who clearly gets this. To the point that today's business has to focus more completely on the customer, it is no surprise that Domino's not only beats rivals
Papa John's
(PZZA) - Get Papa John's International, Inc. Report
and
Pizza Hut
(YUM) - Get Yum! Brands, Inc. (YUM) Report
in the Annual American Customer Satisfaction Index, but this year also took the top spot from
Starbucks
(SBUX) - Get Starbucks Corporation Report
and
Wendy's
(WEN) - Get Wendy's Company Report
in the limited service restaurant category.
I met Brandon at the Mackinac Policy Conference in Mackinac, Michigan sponsored by the Detroit Regional Chamber of Commerce (Mackinac is nowhere near Detroit, go figure). You may have seen Brandon in a recent ad where he burned a cease-and-desist letter from
Subway
related to an advertisement stating Domino's sandwiches beat those of Subway in a taste-test. A former college athlete, Brandon is charismatic and fully engaging when he talks about the innovations of the pizza business.
Domino's is a truly global business with locations in over 60 countries and employing around 175,000 people at any given moment. It may just be pizza, but it has a huge economic impact. In an area where one has to wonder, how can you possibly innovate, Brandon discovered a niche in the fact that there were no substantial hot sandwich delivery services and added this to the Domino's line-up. In 9 months, this line became one of their most successful.
They have also recently introduced an innovative menu item called the pasta bowl. Although a carb-in-a-carb, this dish stands out in a saturated market because it is so uncommon in a delivery business such as Domino's. Finally, Domino's has the "Pizza Tracker" for those who can't stand wondering if they really will get their pizza in 30 minutes. If you place your order online, you get a pop-up meter that tells you when they have received your order, when it goes into the oven, when it comes out, the name of the delivery driver and the moment it leaves the door.
Of course the point for leaders in this discussion is not that pasta tastes great when served like French Onion soup, but that Brandon has taken a time of cost-cutting and efficiency focus and made it a time of innovation at Domino's. Your business and mine cannot sell anything more mundane than pizza, yet Dave Brandon has found a way to motivate his leaders and his franchisees to take seize the day.
I asked him how he had accomplished this and he responded that his primary role as leader of Domino's is to sell his vision. He has done this through three simple steps:
1. Have a vision of a winning future. Brandon says that his primary job at Domino's is to be a communicator and coach. In order to accomplish this role, he has to have a simple, understandable and exciting vision. He emphasizes 5 key principles: Putting people first, demanding integrity, striving for customer loyalty, delivering with smart hustle and positive energy and winning by improving results every day. His corporate staff, franchisees and franchise employees have no problem understanding what it takes to be the world-leader in pizza delivery because there is nothing complicated about the vision and actions to get there.
2. Consistency. Brandon was a college football athlete and says that he learned about consistency from his University of Michigan coach, the late "Bo" Schembechler. "If the instruction is to do one thing one time and another the next time, people get confused because you're confused," Brandon told me. He said there was one rule he has always remembered. If you forget the play at the line of scrimmage, "do something when the whistle blows. Hit somebody. If there's nobody to hit, just keep running and maybe you'll accidently do something great." This philosophy is a large part of Brandon's success. When concerned about what's going on, do something and find momentum.
3. Over-communicate. This is always a cautious category because leaders often overload followers with information. Too much information is not the same as too much communication. Over-communication means sharing your vision even after you are sure you already have. It means talking to as many people as possible at every level. And it means taking the time to listen to the people who are your customers or have direct contact with your customers.
If you are trying to figure out how to improve your metrics in a time of economic challenge, consider a page from Brandon's playbook. "I build great teams of talented people who are motivated to achieve significant goals."
Whether you make pizza, car parts or provide business services, the principle is the same. The accountability of the leader is to creating an environment for success. There are some who believe Brandon is queuing up for a political career. If that's true, this principle of team-building may be one of his greatest assets.
Leadership Development Specialist, L. Todd Thomas ("Dr. Todd") PhD, M.S, M.A, is Founder of
IMPACT Consulting and Development
. Dr. Todd holds a PhD in Human Communication, Masters in Educational Psychology and a Masters in Interpersonal Communication. He was a professor at North Carolina State University and Indiana University before leaving for the corporate world. He led Organizational Learning at Rockwell Avionics and was the executive responsible for Organizational and Executive Development at Daimler Financial Services for 10 years. Dr. Todd has coached and consulted with over 3000 leaders from 40 different countries spanning 4 continents. He is a speaker, seminar leader and the author of "Leading in a Flat World: How Good Leaders Become Greatly Valued." Other titles include "Life Lessons for Leaders" and "Stop Wasting Your Time: Creating High-IMPACT Meetings" as well as the "Leadership Integrity Quotient(tm)" leadership assessment.