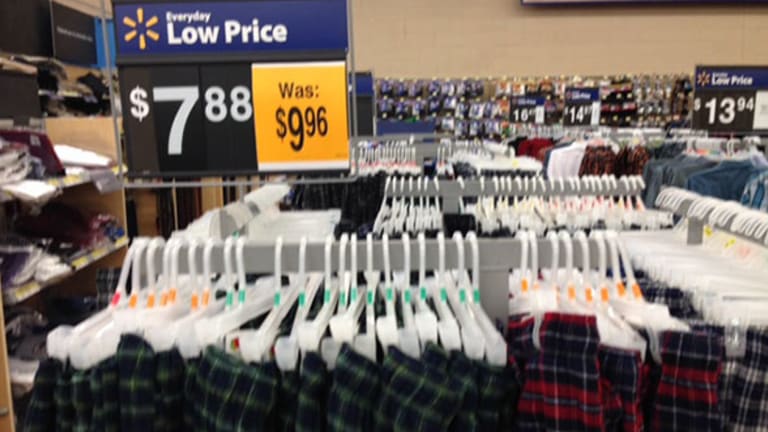 Last-Minute Holiday Sales Look Encouraging for U.S. Retailers
A strengthening U.S. economy likely made this holiday season a relatively merry one for retailers.

NEW YORK ( TheStreet) -- Preliminary data and anecdotal evidence suggest that a strengthening U.S. economy likely made this holiday season a relatively merry one for retailers. 


According to the International Council of Shopping Centers, sales gained momentum throughout December, while the National Retail Federation is predicting a 4.1% increase in sales during November and December, the biggest jump since 2011. Super Saturday, the last big shopping day before Christmas, was the busiest day of the season, with Consumer Growth Partners estimating that sales on the day totaled $23 billion, compared to the $20 billion spent on Black Friday. 

Meanwhile, recent visits to several retailers in the New York area revealed strong sales for certain electronics and apparel items.
"The overall store is slow, but we can't keep big-screen, high-definition TVs in stock," said one associate at New York based electronics chain P.C. Richard on the Sunday before Christmas. He added that pricey wearable devices by Jawbone, Garmin and Fitbit, which could fetch up to $150, were also selling briskly. The Sony Playstation 4, priced at $349.99, was also out of stock.
The observations dovetail with those made by TheStreet at New York area Best Buy stores on Black Friday and through Christmas Eve. The top out-of-stock items included $179.99 Beats by Dre Solo 2 headphones, wearable devices, the Motorola 360 smartwatch, and seven-inch tablets by Samsung that run about $220 after-tax. Furthermore, the high-definition Sony and Samsung areas were consistently well-trafficked, with new 4K screens costing as much as $8,000 apiece.
For apparel retailers, the truth on the holiday season could be seen by what wasn't on the racks. At 15 J.C. Penney  (JCP) - Get J. C. Penney Company, Inc. Reportstore visits in the New York area two days before Christmas, missing small and medium sizes on racks in multiple women's apparel departments suggest consumers didn't wait for the best discounts. The retailer's Cooks by J.C. Penney cookware sets that were stuffed in the stores on Black Friday were hard to come by, as were electronics-infused holiday toys located in the aisles of home department. Both are a telltale sign that consumers, flush with savings from cheaper gas prices, bought merchandise at first markdown, or one offering 20% off instead of 50% off. In the heavily promoted apparel and home goods departments, those are positives that bode well for consumer demand in spring of next year.
At visits to Dick's Sporting GoodsDKS, sell-outs of the highest-priced Nike (NKE) - Get NIKE, Inc. Class B Report and Under Armour (UA) - Get Under Armour, Inc. Class C Report workout apparel were common. New running gloves and hats from each, which on average go for a pricey $30, were consistently out of stock.
Macy'sM may have experienced continued sluggish sales of Levi's denim as hinted at by steep discounts in the lead up to Christmas, but Michael Kors (KORS) handbags were nicely picked over. So were expensive female leather boots.
Must Read:
Whole Foods CEO on How it will Beat Rivals in 2015 
The stock market may agree that expensive, tech-oriented gifts and premium apparel were en vogue this season. Ultimately, this could lead to some surprisingly strong holiday sales reports from retailers in early January and guidance raises on the fourth quarter. Shares of Best Buy, Apple, and Dick's Sporting Goods have risen 16.5%, 14.5% and 13.5%, respectively in the past three months. Macy's shares have clocked in with a gain of 8.5% during that span, while J.C. Penney shares have slid 35% on fears it will be forced to reduce the long-term growth targets it shared at its October analyst day.
This article is commentary by an independent contributor. At the time of publication, the author held no positions in the stocks mentioned.