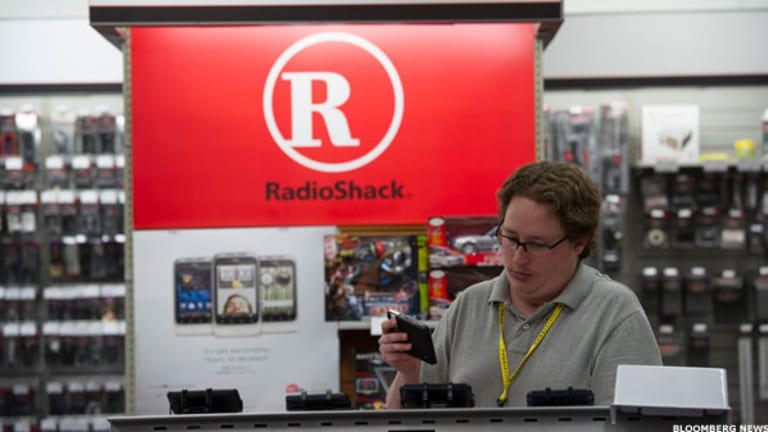 Last Chance for RadioShack
A $835 million loan from GE Capital may be the last gasp for a company swimming upstream.
NEW YORK (TheStreet) -- Shares of struggling electronics retailer RadioShack got a boost toward the end of trading yesterday following reports that the company secured an $835 million loan from GE Capital.
Shares of RadioShack, which opened the day at $3.31, traded as high as $3.88, and finished the day at $3.52, up 7% on more than four times the normal average volume. Perhaps surprisingly, RadioShack shares are up more than 66% year to date, but are likely to give some of that back today following this morning's third-quarter earnings release.
RSH
data by
Just released third-quarter results were not pretty. Revenue fell 10.3% to $805.4 million, well below the $892 million consensus estimate. The company lost $112 million, or $1.11 per share, much worse than the 35 cent consensus loss estimate, but that did include an estimated $47 million in costs related to the removal of "duplicate and unproductive products" from inventory. Comparable same-store sales fell 8.4%, and the gross margin fell to 30.1% from 38% for the same quarter last year.
Total debt (prior to the GE Capital financing) was $499 million, down from $713 million at the end of last quarter, as the company paid off the remaining $214 million balance on its 2013 convertible notes, which matured in August. The company ended the quarter with $316 million in cash.
If the company has a chance of turning the corner, securing financing was a critical step. RadioShack has lost money for seven consecutive quarters, and many believe that it is on its way toward bankruptcy. Besides cutting the company's borrowing costs, the new financing could send a positive signal to the markets and key vendors that it's not over yet for RadioShack. Today's results, however, may somewhat dilute the positive sentiment brought about by the new financing. But we'll see; the market has a mind of its own
There's no doubt that a turnaround is a tall order. Revenue has been on the decline for several years, as competition from the Internet and discount retailers has kept customers out of company stores. The electronics retailing business has become commoditized and is littered with the carcasses of chains that have ultimately failed, among the more notable being Circuit City's 2009 liquidation. RadioShack is swimming upstream, and to stop the bleeding will require strong and savvy leadership.
That task falls to CEO Joe Magnacca, who assumed that role just nine months ago. Magnacca has warned that it will take several quarters to put his turnaround plan in place. To that end, company has been testing out a new store format, and expects to have 100 such stores open by year-end.
The new financing has bought RadioShack some time and is a positive step. The question is whether today's results represented the "kitchen sink" quarter; in other words the rock bottom, the worst it's going to get. The next question is whether the the company will be able to entice customers back into its stores.
At the time of publication, Heller was long RadioShack.
This article is commentary by an independent contributor, separate from TheStreet's regular news coverage.
At the time of publication, Heller was long XXXX.
Jonathan Heller, CFA, is president of KEJ Financial Advisors, his fee-only financial planning company. Jon spent 17 years at Bloomberg Financial Markets in various roles, from 1989 until 2005. He ran Bloomberg's Equity Fundamental Research Department from 1994 until 1998, when he assumed responsibility for Bloomberg's Equity Data Research Department. In 2001, he joined Bloomberg's Publishing group as senior markets editor and writer for Bloomberg Personal Finance Magazine, and an associate editor and contributor for Bloomberg Markets Magazine. In 2005, he joined SEI Investments as director of investment communications within SEI's Investment Management Unit.
Jon is also the founder of the
, a site dedicated to deep-value investing. He has an undergraduate degree from Grove City College and an MBA from Rider University, where he has also served on the adjunct faculty; he is also a CFA charter holder.