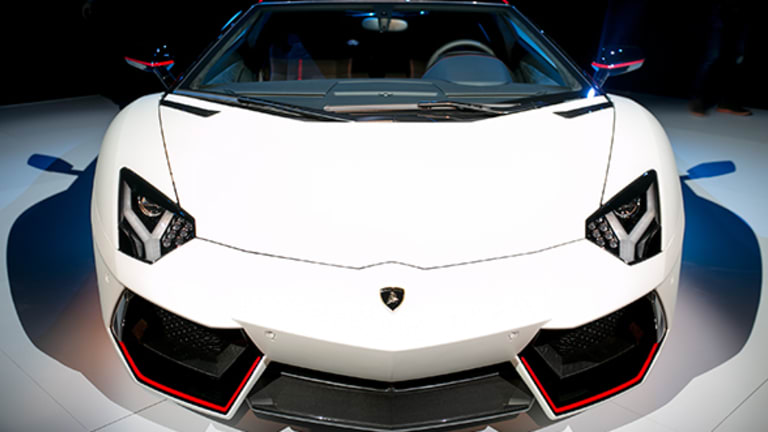 Lamborghini's SUV Fits Volkswagen's Multibrand Strategy
Lamborghini's about to announce a deal to build a new SUV, the Urus, in Italy. But why would an automaker known for sexy sports cars produce a spiffed-up station wagon?
NEW YORK (TheStreet) -- Volkswagen's (VLKAY) Lamborghini brand is about to announce an agreement to build the new Urus SUV in Italy, underpinned by financial incentives from the Italian government of about 80 million euros ($87 million) and a commitment by the company to employ 500 workers for the project. 
One might wonder: Why would Lamborghini, known for sexy, low-slung sports cars like the Huracan and Aventador, embark on plan to produce a spiffed up ... station wagon?
Wolfsburg, Germany-based VW is already developing a platoon of mass-market SUVs and crossovers for North America and elsewhere, because demand for such vehicles is hot. So the automaker isn't about to let itself get caught without something in that class for ultra-high-end buyers. 
Lamborghini is the latest super-luxury brand to bow to the appetites of customers willing to spend six figures for what amounts to a leather-and-chrome-laden SUV -- or crossover, if you prefer -- powered by a high-performance engine. Those who argued that exotic makes such as Porsche and Maserati should stick solely to low-slung roadsters and sporty sedans have already lost the debate. 
VW's goal is to be the No. 1-selling global automaker, which will require it to accelerate past current champ Toyota. (TM) - Get Report. The 3,000 or so Lamborghini SUVs that VW hopes to sell each year once production starts in 2018 won't close the gap much: VW already sells in the neighborhood of 10 million passenger vehicles under eight brands. 
Selling slightly differentiated cars under its different brands is at the core of VW's gameplan. Its multibrand strategy unfolded during the tenure of Ferdinand Piech, who stepped down from his post as chairman of the automaker's supervisory board in April following a boardroom row over the future of Martin Winterkorn, VW's CEO. He was said by many to be the final arbiter of which new models the automaker built. 
Winterkorn has said he will restructure VW and unveil the results by October at the latest. Until then, many questions about the automaker's governance structure and strategy remain unanswered. A key point will be how much his former mentor's brand strategy remains intact, and how far it might be stretched over Lamborghini and the other brands. 
In the past month, VW shares have fallen almost 6%, compared with Germany's DAX Index, which has declined 2.2%. 
In a bygone era, before VW owned Lamborghini, the Italian carmaker designed and built a military-style vehicle -- some might call it an SUV -- called the LM002 which sold poorly and was dropped. The automotive journalist Brock Yates described it as "the closest thing to a street-legal Tiger tank known to man."
Lamborghini displayed a Urus concept SUV at the Beijing Auto Show in 2012, but little more was said about the project until the recent report that VW and Italy had made a deal to build it.
There's likely profit to be made by building the Urus (the name refers to an ancient bovine species) if customers indeed are clamoring. Luxury automobiles command high prices, and incremental development costs aren't onerous since VW can use mechanical components designed for its four other large SUVs with similar proportions -- Volkswagen Touareg, Porsche Cayenne, Audi Q7 and Bentley Bentayga. 
The reception for Lambroghini's SUV should be interesting to consumers and car enthusiasts, though less so than what Winterkorn may reveal about VW within the next few months.
This article is commentary by an independent contributor. At the time of publication, the author held no positions in the stocks mentioned.