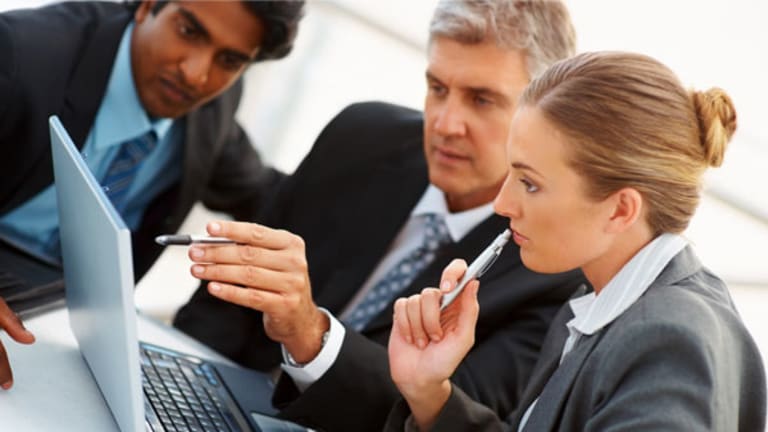 Lagarde Makes Sense for the IMF: Opinion
Christine Lagarde is well-versed in the problems besetting Greece and other poorer EU countries.
The following commentary comes from an independent investor or market observer as part of TheStreet's guest contributor program, which is separate from the company's news coverage.
NEW YORK (
) -- France's Finance Minister,
makes good sense to head the International Monetary Fund. She is experienced and well qualified, and for now, leadership of the IMF should be kept in European hands.
Christine Lagarde, France's Finance Minister
The IMF is one of three institutions established after World War II to manage government policies affecting global commerce and foster market-based trade and investment flows. These include the General Agreement on Tariffs and Trade, which evolved into the World Trade Organization in 1995; the International Monetary Fund; and the World Bank.
The WTO and IMF establish rules for tariffs and other government policies affecting trade in goods and services, foreign investment and exchange rates among currencies. The World Bank was established to provide long-term financial and technical assistance to developing countries.
After World War II, the Americans got the head of the World Bank and the Europeans the IMF. At the WTO, established in 1995, the top spot is open to all comers, and a Thai, Supachai Panitchpakdi, led the organization from 2002 to 2005.
The Asian push for an opportunity to lead the IMF or World Bank makes some sense. Led by China and India, Asia is experiencing astonishing growth. However, the means are as important as the ends. By their behavior, China and a few other large Asian governments, which would have principle weight in selecting an Asian to lead the IMF, have shown they are not qualified to exert such influence.
Quite simply, a leader picked by Asia's larger high-performing economies likely would be bad for free markets and the long-term progress of the global economy, because so much of Asia's growth has been fostered by violating the norms of free trade and market-determined exchange rates laid out in the rules and prescriptions for government policy in WTO and IMF agreements.
Those nations have too often systematically blocked Western products from their markets. They have required foreign businesses to locate production inside their borders to sell in those markets, imposed on foreign investors technology transfer and other requirements offensive to free markets, and maintained significantly undervalued currencies or otherwise regulated exchange-rate transactions to gain unfair advantage over Western competitors.
When these economies were small ,it did not matter much. But huge trade surpluses of Asian countries like China -- which has been particularly obstinate, intransigent and cynical about reforming its trade and exchange rate regime -- have caused destructive imbalances in demand between Asia and the West.
Economists, including
Federal Reserve
Chairman Ben Bernanke and Noble prize winner Paul Krugman, have tagged China's exchange-rate policies for keeping Western economies from recovering from the Great Recession and keeping unemployment too high in the United States and Europe.
Now, Western governments must exercise excessive Keynesianism, and run budget deficits so large as to put their long-term financial viability in jeopardy, just to keep their economies growing slowly.
Also, the financial sector in the United States and Europe is in much need of further reform, but many banks are too stressed in the current environment of misaligned exchange rates and slow growth for Western governments to push reform swiftly enough.
If the Asians want to lead in making and enforcing the rules, perhaps they should try playing by the rules. That begins with the bullies in Beijing and other lesser mercantilists around Asia backing off protectionist exchange-rate policies and genuinely opening their markets to Western goods and services.
Asian exchange rates are wildly out of adjustment -- most Asian currencies must be permitted to rise in value -- consistent with balanced trade and investment flows for the global economy to get back on track.
The two principle challenges before the IMF are accomplishing exchange-rate reform -- especially in Asia -- and dealing with the sovereign debt crises in Greece and Portugal that could spread elsewhere.
Christine Lagarde is a proven leader and accomplished financial minister. The euro has been managed by markets, not European Central Bank intervention, thanks to the commitment of Lagarde and other European leaders to market determined exchange rates, even when that commitment was inconvenient. Lagarde is well-versed in the problems besetting Greece and other poorer EU countries.
Were the Asians permitted to capture the IMF bureaucracy, the IMF's role could easily morph into justifying and supporting protectionist exchange-rate policies that greatly impede the progress of the global economy outside Asia.
Christine Lagarde makes sense for the IMF. A candidate endorsed by China and other Asian mercantilists doesn't.
Professor Peter Morici, of the Robert H. Smith School of Business at the University of Maryland, is a recognized expert on economic policy and international economics. Prior to joining the university, he served as director of the Office of Economics at the U.S. International Trade Commission. He is the author of 18 books and monographs and has published widely in leading public policy and business journals, including the Harvard Business Review and Foreign Policy. Morici has lectured and offered executive programs at more than 100 institutions, including Columbia University, the Harvard Business School and Oxford University. His views are frequently featured on CNN, CBS, BBC, FOX, ABC, CNBC, NPR, NPB and national broadcast networks around the world.