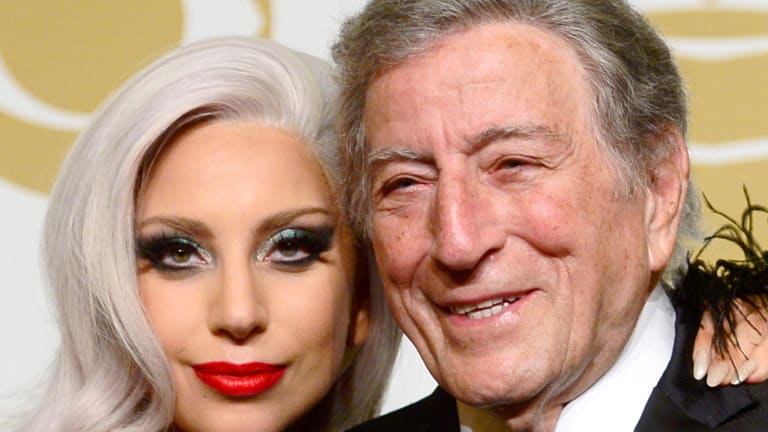 Lady Gaga, Janet Yellen Vie For Limelight; FitBit IPO: 10 Things Happening Next Week
The lineup through June 19 also includes a Brazilian Steakhouse's IPO, a Puerto Rican Day parade in Manhattan and the release of new consumer price numbers in Washington.
NEW YORK (TheStreet) -- Lady Gaga and Tony Bennett, whose first duet was a cover of "The Lady is a Tramp" four years ago, will start a series of concerts at Radio City Music Hall next Friday.
The last event in TheStreet's preview of the week ahead, the concert follows highlights from a quarterly report by European Central Bank President Mario Draghi to a two-day meeting of the Federal Reserve and FitBit's initial public offering.
Here's a closer look at what's coming: 
1. -- New York City's annual National Puerto Rican Day Parade begins at 11 a.m. on Sunday, June 14. The event runs north along Fifth Avenue between 44th and 79th streets and features floats from community organizations and political leaders.
2. -- European Central Bank President Mario Draghi gives his quarterly report to the European Parliament's committee on Economic and Monetary Affairs on Monday, June 15. In his last update, Draghi told the committee that recovery in the Eurozone had strengthened thanks to several factors, including a falling euro and lower oil prices. That was in March -- when the euro had dropped to $1.04 and before oil prices rose back above $60 a barrel -- so watch for changes in the bank's outlook.
3. -- The Federal Open Market Committee meets on Tuesday, June 16 and Wednesday, June 17 in Washington. The committee's decision on interest rates, including a press conference with Chair Janet Yellen, is set for 2:30 p.m. EDT. The Fed isn't expected to increase interest rates until September, and new economic projections from the meeting will indicate whether that remains a reasonable timeline. Traders are already fretting about how an increase might affect the stock market, with some predicting a decline of as much as 9%.
4. -- May data from the Consumer Price Index is due out Tuesday. In April, the index rose at 0.3%, its fastest rate since January 2013. It was the third consecutive month with a gain in consumer-goods prices, bringing inflation closer to the Fed's targets. Watch to see if that trend continues.
5. -- Also expected on Tuesday is data on May housing starts and building permits from the Commerce Department. Starts hit an eight-year high in April, with builders beginning work on 1.14 million homes, an increase of more than 20% from March. The national boom extended to all regions of the U.S. except the South, where building fell 1.8%. An especially brutal winter propelled much of the trend. 
6. -- Prudential Financial's (PRU) New York Investor Day, which runs from 8:30 a.m. to 1 p.m. on Wednesday, June 17, will be accessible via a live webcast on Prudential's website. Among the headline speakers are Chairman and CEO John Strangfeld.
7.-- Fitbit (ticker-to-be FIT), which manufactures monitors for tracking physical fitness, is expected to offer just over 29.8 million shares at between $14 and $16 each on Thursday, June 18. Revenue at the company jumped from $271.1 million in 2013 to $745.4 million in 2014, the company said in a recent SEC filing. Its products include watch-like wristbands that track fitness indicators such as heart rate, sleep cycles and calories burned.
8. -- Despite the IMF's decision to walk away from talks between Greece and its creditors, Prime Minister Alexis Tsipras is working to meet a self-imposed deadline of Thursday, June 18 for a deal on the nation's debt. Negotiators have already blown past several key deadlines so far this year.
9. -- Brazilian steakhouse chain Fogo de Chao (ticker-to-be FOGO) goes public on Friday, June 19. The restaurant, which has a U.S. headquarters in Dallas but was founded in Sao Paulo, Brazil, is projected to offer just over 4.4 million shares at between $16 and $18 each. For 2014, revenue totaled $262.3 million. That's a 20% increase from 2013. The company operates 26 restaurants in the U.S. and staffs each with chefs from Brazil, according to SEC filings announcing its IPO.
10. -- Lady Gaga and Tony Bennett open a series of four concerts at Radio City Music Hall in New York City, starting with one on Friday, June 19. The musical odd couple released an album titled Cheek to Cheek last September, which sold 131,000 copies in the first five days of its release and debuted at No. 1 on the Billboard 200.