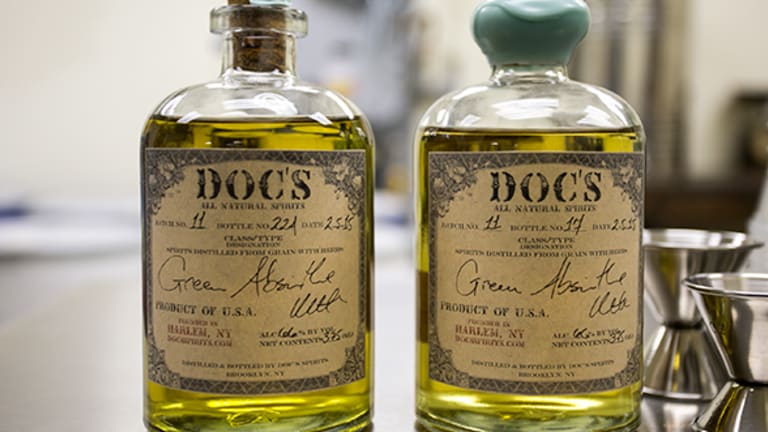 Lack of the Brown Stuff Weighs on Smirnoff Maker Diageo
Tough competition in the U.S. vodka market has crimped North American sales in recent months.
Analysts are braced for more news about tough conditions in the critical U.S. market when Smirnoff and Guinness maker Diageo (DEO)  reports full-year numbers on July 28.
Diageo's first-half results in January showed North American sales had contracted as competition among vodka producers threatened the dominance of Diageo's Smirnoff brand over rivals including Pernod Ricard's (PDRDF) Absolut and Constellation Brands Inc.'s  Svedka.  At the same time Diageo's new flavored vodka launches had yet to deliver the boost that management anticipated.
Berenberg analysts recently stated that weaker-than-expected spirit volume sales at U.S. wholesalers during the second quarter and competition among vodka producers meant that caution was necessary ahead of full-year results updates from the sector.  They singled out U.S. cognac sales as the one likely bright spot in an otherwise tough market for spirits.
The condition of the U.S. market is key for European beverage companies. According to analysts at UBS, the U.S. market represents 30% of total sales for Diageo, 25% for Remy Cointreau (REMYY) and 18% for Pernod Ricard.
On June 10, Remy Cointreau (REMYF) , owner of the Remy Martin cognac brand, reported an 8% increase in revenue for the recent full year. That marked a break in a two-year cycle of declining group revenue. However, almost all of this growth was driven by its Remy Martin cognac brand, while profitability in its liqueurs and spirits division tumbled.
The problem for Diageo is it doesn't have a leading cognac offering to rival Remy Martin or LVMH's Hennessy. However it is heavily exposed to vodka through its Smirnoff brand and has the largest share of the U.S. market for spirits within its peer group. The Smirnoff brand family represents 30% of bottles sold across the group and 22.2% of sales by value. As a result, it could suffer disproportionately from any deterioration in U.S. demand for vodka, or any other spirits.
CEO Ivan Menezes told Bloomberg in January that - unsurprisingly- vodka acquisitions were unlikely. Two months earlier he promised a "more subdued level" of overall M&A than over the previous five years.
The group, which has promised an unspecified "margin expansion" for the full year, is in the midst of repositioning its Smirnoff and Captain Morgan rum brands in order to boost sales in fast growing but less affluent emerging market economies.
In response to pricing questions from Barclays analysts at the 2015 investor conference,  Matt Bruhn, Diageo's global brand director, said: "In a lot of our emerging markets we've been overpriced for many years, and we're going to take fairly significant corrective actions."
Perhaps an adjusted pricing strategy in emerging markets will be what is needed to counteract the effects of continued pressure in the U.S. over the medium term. After all, Chinese white spirits are the fastest growing product category across the group. In the first half, net sales in Asia Pacific, including China, were up 2%, as North American sales contracted by the same amount.
Regardless, on a price to earnings basis, Diageo is among the cheapest of its peer group with a forward multiple of just 20.5 times, which compares well against a sector average of 27.2 times.
Out of the five spirits manufacturers covered by the bank, Diageo is the only one to have received a buy rating from analysts at Berenberg.
The analysts have a price target of GBP23.50  assigned to shares that currently trade at GBP17.93, which implies 31% upside from the current level. They currently advise selling Remy Cointreau shares and holding onto those of Brown-Forman (BF.B) , Pernod Ricard (PDRDY) and Davide Campari-Milano SpA (DVDCY) .  Diageo shares in London on Monday afternoon were down 1.4%.