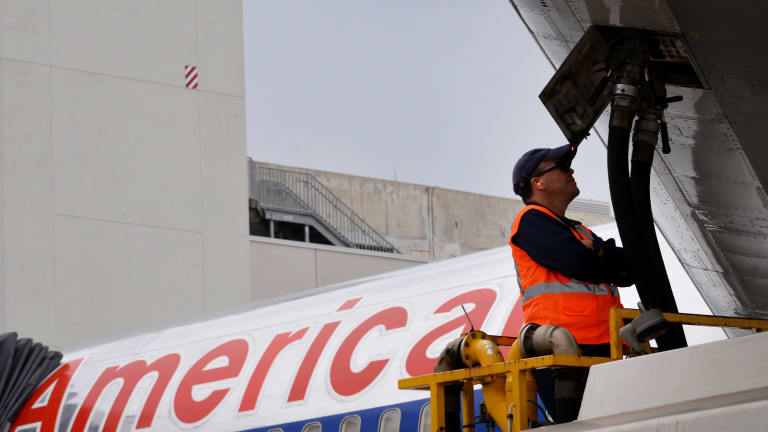 Labor Demands Will Challenge U.S. Airlines in 2016, Analyst Says
With record profit and active negotiations on nearly 20 amendable labor contracts, the airline industry faces mounting labor demands.
Rising demands from labor top the list of challenges for the airline industry as it heads into 2016.
A widespread view is that the industry has fundamentally changed, a result of consolidation, industrywide capacity discipline, lower labor costs and ancillary fees. Additionally, lower fuel prices have added billions of dollars in cost savings.
But as the industry sees record profit, workers who made concessions in the first decade of the 2000s will be seeking repayment.
"As benefits from post-bankruptcy restructuring diminish and contracts are becoming amendable, wage escalation is creating upward pressure on cost structures across the industry," Credit Suisse analyst Julie Yates wrote in a recent report.
"2016 will mark the seventh year of industry profitability, making this the longest up-cycle in the history of the industry," Yates said. "High-teens operating margins are twice those of the prior peak during the late '90s."
Lower labor costs have been contributed to a striking transformation. As American CEO Doug Parker said on the carrier's third-quarter earnings call, in 2005 the cost of Brent oil averaged about $55 a barrel, about the same as in 2015.
But "in 2005, this industry lost $28 billion," Parker said. "In 2015, we're going to make something close to $20 billion. This business is not the same. It's dramatically different. ... If you think this is the old business, you're just not paying attention."
Parker's point was that declining fares, as a response to declining fuel prices, are not something to worry about.

Additionally, two recent analyst reports underscored a continued industry commitment to capacity discipline.
In a report titled "Capacity Outlook Suggests a Chilly Winter," Buckingham Research analyst Dan McKenzie wrote that first- quarter 2016 capacity is set to rise 3.8% from a year earlier, down from 4.1% growth in the current quarter.
However, McKenzie said the capacity increases generally reflect one-time events including Southwest growth at Love Field and efforts by each of the big four carriers to add six to 12 seats in narrowbody cabins. He foresees record profit in 2016 "given the collapse in energy prices" and lists American as his top pick given its ability to boost yields in 2016.
Goldman Sachs analyst Thomas Kim also said he sees a declining rate of capacity gains. He projects capacity growth of 4.4% in 2016. "Notably, low-cost carrier supply seems set to slow, led by significantly slower growth at (Spirit and Southwest)," Kim wrote.
Meanwhile, he estimated, United growth of 1.5% and American growth of 1.9% will be below GDP, while Delta will grow capacity by 3.3%.
This article is commentary by an independent contributor. At the time of publication, the author held no positions in the stocks mentioned.