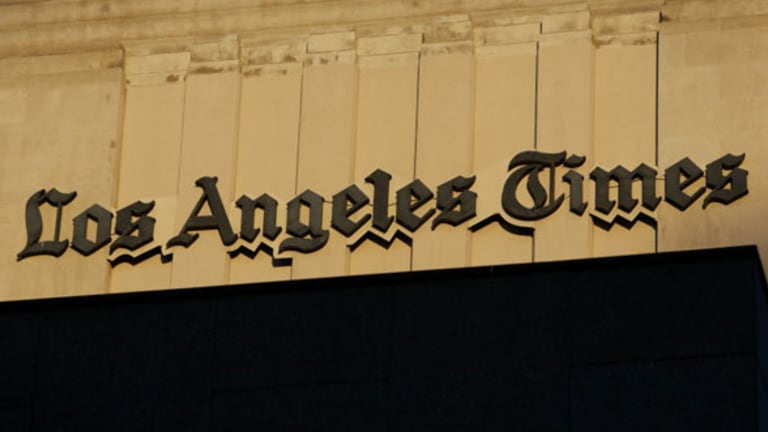 LA Times Tops 100,000 in Digital Subscriptions
Few regional dailies have tracked the bigger number of digital subscriptions now famously won by The New York Times and The Washington Post. Of them, the Los Angeles Times now counts the most.
Pay up. News readers get that message more and more frequently these days, as big news sites tighten up their paywalls, allowing fewer free articles per month. 
While The New York Times and The Washington Post, as well as The New Yorker and The Atlantic, have won the big Trump Bump digital subscription headlines in the first half of the year, the Los Angeles Times has quietly assumed the leadership in digital subscriptions among regional dailies. 
Today, the Times can claim more than 105,000 digital subscriptions, as reader revenue assumes a much more potent role in the business model mix for the daily press. Advertising -- both print, down in double-digits, and digital, struggling against ever-tougher duopolistic domination by Alphabet Inc.'s Google
(GOOGL)
and Facebook Inc.
(FB)
-- remains in a world of hurt. It is reader revenue that offers the best hope to drive the news business forward.
At the Times, the gain has been impressive in the past year, exceeding even its parent Tronc Inc.'s undefined overall 89% year-over-year increase in digital-only subscriptions, to 220,000, through the second quarter. The LA Times is up 100% year-over-year, Mark Campbell, senior vice president of consumer revenue, told me this week.
How does the Times rank? The Boston Globe passed its own milestone on Monday, Sept. 18, reaching 90,000 paying digital only-subs, while the smaller-circulation Star Tribune of Minnesota's Twin Cities "closes in" on an impressive 50,000.
While all the regional numbers are well below the Times' 2 million and the Post's more than 800,000 digital news subscribers, their progress is notable. Digital disruption has greatly widened what had been a small-business potential gulf between national/global news operations, like the Times, Post, The Wall Street Journal and Financial Times, and city-based dailies. Those global publishers now fish for paying readers out of a pool of of potentials that is often five to 20 times wider in terms of monthly digital audience. 
Tronc's Road to Digital Subscription Increase
Campbell came on board at Tronc -- then Tribune Publishing Co. -- at still another inflection point in its strange trajectory, in January 2016. He'd been brought in by Denise Warren, his former boss at The New York Times, who in turn had been brought in by then-CEO Jack Griffin. Warren and Campbell had been there at the creation -- of the Times' 2011-launched paywall that has served as a durable new digital pay model for publishers on both sides of the Atlantic for most of this decade.
Griffin's charge: Bring order to an unruly set of digital subscription processes and marketing that had grown organically among Tribune's then-nine mostly metro properties. Within six weeks of his arrival, though, Campbell got new direction. Investor Michael Ferro had swooped in, taken control of the company and ousted both Griffin and Warren, among others, and made his long-time associate Justin Dearborn the CEO. 
Perhaps surprisingly, through all the turmoil that has characterized the company that became Tronc last year, Campbell has been able to install learned-from-experience systematic strategies and tactics that have helped Tronc catch up in the reader revenue game. Campbell himself credits the support of Ferro and Dearborn, atop the mandate given to him by his hiring bosses, for the year that's been.
Alphabet and Facebook are holdings in Jim Cramer's Action Alerts PLUS Charitable Trust Portfolio. Want to be alerted before Cramer and the AAP team buy or sell GOOGL or FB? Learn more now.
More of What's Trending on TheStreet:
Editors' pick: Originally published Sept. 21.
"[Griffin and Warren] were focused on uniformity, and by the time I had arrived, most of that activity had been in some research to better understand willingness to pay. And what is the right model to deploy, that could be executed uniformly across all of the properties? So when I arrived, a strong research foundation had been set for me to be successful."
Then the Ferro-Dearborn era began.
"They met with me within the first week, and continually during that period to affirm their support for digital subscriptions, to emphasize how important reader revenue is to the future of Tronc, and to commit any type of resources and support that I and my team needed in order to be successful. And that truly has provided a set of trust and resources and encouragement that carried my team and I through these past 18 months."
His team of 30 -- acquisition marketing, retention marketing, creative, operations -- is mainly based in LA. They now work a uniform paywall across Tronc. The meter -- the number of articles available free per month without paying -- is set at five, ratcheted down from 10 or so, as meters have been among many daily publishers.
Catch-up it was, as the company's digital subscription numbers had languished behind many of its peers. Now, though, its numbers are respectable and show promise for the future. Consider the numbers at the Chicago Tribune, Tronc's second-largest property. At the end of the second quarter, the Tribune reported 54,000 digital subscribers, growing at a 70% growth rate. That's a decent number, now picked up by that overall Tronc process improvement and growth rate.
As Campbell's team works ahead, it also integrates its efforts with the Arc platform, provided, under license from The Washington Post.
The Times will implement Arc first among the Tronc papers -- with full launch by about the beginning of 2018, followed by deployment at other Tronc papers. How does Arc -- a full-featured technology -- impact his efforts?
"Arc impacts my ability to convert readers to digital subscribers by [driving greater] engagement," he said. "I believe the conversion to Arc will drive even more readers to deeply engage with our journalism, and therefore reach the meter limit and see my paywall." Seeing the paywall is more of a goal than many may think. Even at five articles a month, you can figure that only 3% to 5% of the Times' monthly 31 million unique visitors will ever hit the article limit. As in most of the publishing world: It is "fly-by" one-and-dones who inflate those big "unique visitor" numbers.
In addition to that Arc conversion, Campbell is preparing for the next Facebook/publisher initiative, soon to launch. "Tronc is participating in the Facebook Instant Article Subscription Test," he said. In the first test, the Times, The San Diego Union-Tribune and the Baltimore Sun will test out the product, one being approached warily by numerous publishers.
What the Times' Threshold Says About Potential
The 100,000 threshold attracts attention, but more deeply, it is the LA Times name that compels attention here. While corporate drama has driven much of the coverage of the Times in the past couple of years, it is the once and future standing of the newspaper that stands out. Once, the Los Angeles Times served as a great super-regional, sometimes-national player, with its bureaus, reach and ambition spread throughout the world. Like all of its peers, it's been diminished by digital business disruption and in its case by unsteady ownership.
Now the question is what can the Los Angeles Times become? Clearly, there's the kernel of new ambition to emulate The Washington Post. Amazon.com Inc.'s (AMZN) Jeff Bezos took that storied news brand, a bit back on its heels, and injected new life and optimism. He and his team have now propelled the paper back to the height of American daily journalism and news impact in the Trump era. 
That's perhaps the aspiration of Ferro and his new Times publisher and CEO, Ross Levinsohn. Countering that yearning: the hard reality that a Times newsroom, now down to about 400 after years of cutting and now at sea waiting for new editorial leadership after the recent purge of top editors, needs what Bezos provided the Post. Money and time. 
Bezos has invested tens of millions of dollars in both the newsroom and technology and provided the "runway" of time, taking an Amazon-like, longer-term approach to building its digital business.
Ferro's Tronc, a single-class public company that has had to make own serial cuts to maintain profits, doesn't look like it can execute that playbook, even if Ferro decided to adopt Bezos' strategy.
Still, that's what at stake here: the possibility of the LA Times rejoining the national elite in news, given the right mix of leadership, funding and strategy. That would good for Los Angeles, for the country and for Tronc.
What's encouraging at this moment: That 105,000 digital subscription number. That number tells us that despite the Times' cutbacks over the years, and the wider sense of civic diminishment, many readers still value what the paper uniquely does for the region.
Clearly, despite the internecine newsroom warfare that, in part, led to the firing of top editor and publisher Davan Maharaj in August, management's ability to maintain a strong-enough news report for its readers paid dividends.
Campbell's professionalization of Tronc's, and the Times', reader revenue strategies play a key role in the march to 100,000. Yet without a strong-enough news product, the LA Times would not have hit that number. If we have learned anything from the success of the Post and Times, it is that combination of strong content and strong marketing spins pay growth ever faster. 
As new publisher Levinsohn considers what he has inherited, he noted to TheStreet "it puts us in an enviable place." Levinsohn, a veteran digital executive, talked about the marriage of technology and content, as the key to the successful businesses of the day from Netflix to Facebook.
I pointed out to him that about 35% of Tronc's total revenue is driven by consumers, print and digital subscription (and a little single-copy) sales. That's well below the 60% that has propelled The New York Times to the precipice of transformation. Does he aspire toward 50% for the LA Times?
"Central to this is diversification [of revenue], he agreed. "What has been proven out over the past couple of years is that if you put quality experiences in front of consumers, they will pay for it, whether in a bundle, skinny bundles, over-the-top, subscription or whatever."
It is revenue, ultimately, that will prove out digital subscription strategies here, rather than raw customer count numbers. While The Boston Globe may have 10,000 or so fewer digital subscribers, it leads the regional news industry in pricing. Boldly, it moved to $1 per day two years ago. That strategy now brings in many more dollars for the Globe than the more industry-standard 50-to-60-cents model it replaced.
Both the LA Times and Tronc find themselves earlier in the pay business. As is fairly standard in the industry, the Times hooks subscribers with 99-cent deals, for four to 12 weeks. Then, it tries to move them to $1.99 a week for the rest of the year. And then, in the second year, the price moves to $3.99 a week. That's $200 a year, or 54 cents a day, compared with the Globe's $365. Further, given the recency of much of the Times' growth, its churn -- or cancellation by subscribers -- would be higher than a more mature operation such as the Globe's. 
Those in the industry, and those investing in Tronc, will want to look at the company's overall circulation revenue progress as an indication of the company's actual strategic process. In the second quarter, digital circulation grew 8.5% on a small base, up $1.5 million. (Print circulation revenue was essentially flat.)
As the Times looks forward into the next year of reader revenue growth, it must find a way to increase audience generally. 
In August, 31.6 million unique visitors came to the LA Times. That compares with 37 million a year earlier. That's a 14% drop. Finding that top 1% to 2% of the audience that's willing to subscribe is the key, but attracting more samplers is a must in a long-term strategy.
Let's take an even wider view of the print/digital transition. While the Times serves 100,000 digital subscribers, it has lost about that same number of print buyers over the past two years.
In weekday print circulation, it's down to 273,000 from 361,000 in the first quarter of 2015. In Sunday print circulation, it's down to 581,000 from 693,000 in 2015. The economics of that gain/loss are complex, and represent the 2020 reckoning calculus for the Times and and 1,350 daily newspaper peers.