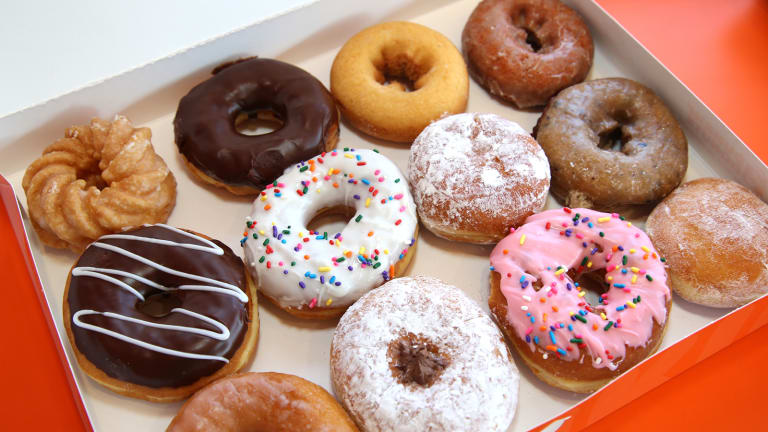 Publish date:
Krispy Kreme, Dunkin' Donuts Giving Away Free Doughnuts on Friday
The donut giants are hoping the annual promotion will help get customers into stores and spending more.
The donut giants are hoping the annual promotion will help get customers into stores and spending more.
NEW YORK (TheStreet) -- Dust that powdered sugar off your tie: Krispy Kreme (KKD) and Dunkin' Brands' (DNKN) - Get Dunkin' Brands Group, Inc. Report Dunkin' Donuts stores will be giving away their sweet treats for free on Friday, June 5 to celebrate National Doughnut Day.
They're hoping that the popular promotion will help steer hungry customers into stores to spend their savings from lower gas prices and slightly higher wages.
"It's a good way for consumers to spend that pent-up desire to eat out at restaurants," said Darren Tristano, executive vice president at Technomic, a Chicago-based research and consulting firm specializing in the food industry. 
Krispy Kreme will be giving away one doughnut per customer in every state save Connecticut, where it has only one location, while Dunkin' will sweeten the purchase of any beverage with a free doughnut, while supplies last. Both companies have offered the promotion for about a decade.
Doughnut sales in the U.S. have been strong recently, surprising given consumers' increasing focus on calorie counts and healthy ingredients.
Krispy Kreme's system-wide domestic same-store sales rose 3.6% in the chain's most recent quarter, helped by the introduction of a new premium triple-chocolate doughnut. Interestingly, solid sales were seen even as Krispy Kreme offered fewer discounts.
"We scaled back promotional incentives in the fourth quarter to balance our top line growth with improved shop operating margins," said Krispy Kreme president and CEO Anthony Thompson on a Mar. 11 earnings call.
The company's stock is down 12% this year, however, as investors expected even better profits. 
Meanwhile, Dunkin' Brands has also continued to pad its sales via premium items.
Last fall, Dunkin' launched its croissant donuts for a limited-time and their widespread popularity led the company to make them permanent additions to the menu  Dunkin' also introduced cheesecake squares several months ago. These premium products "are providing growth," said Dunkin' execs on a first quarter earnings call in April.
Dunkin Donut's first-quarter U.S. same-restaurant sales rose 2.7% in the first quarter, improving from a 1.2% rise a year earlier. Dunkin's stock is up 22.7% so far this year. 
National Doughnut Day goes back to World War I, when Salvation Army "doughnut lassies" fried fresh donuts for soldiers fighting in France during WWI. The first National Doughnut Day commemorating their service was in 1938. 
Krispy Kreme spokesperson Lafeea Watson said the company was expecting a big turnout Friday.
"We'll make as many as the demand requires, so if we see 250,000 people, we'll give out 250,000 donuts," she said.
Last year, she said the North Carolina-based firm saw 100,000 customers walk in its doors for National Doughnut Day, and the number has grown upwards of 30 percent each year since it started.
This year, they will expand the promotion to international locations including the United Kingdom, Australia, and Taiwan.
Additional reporting by Brian Sozzi.