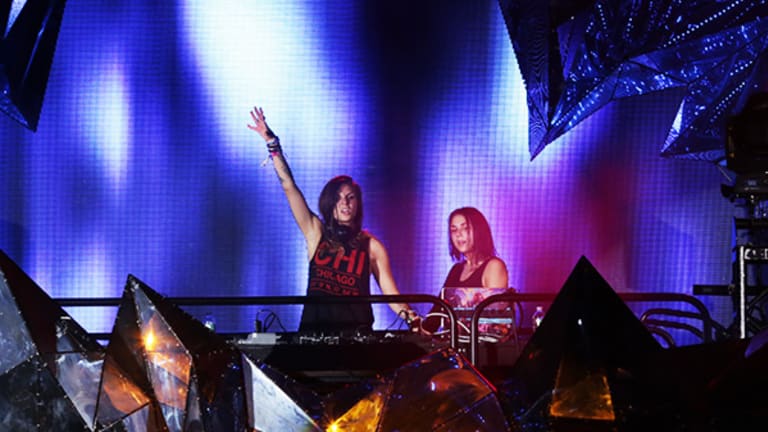 Krewella and The Verge Tour Invades Quiet Connecticut
TheStreet photo editor Adam Leverone captured the EDM sister duo Krewella shaking the house in concert at Western Connecticut State University April 19. The show is part of The Verge Campus Tour.
DANBURY, Conn. (TheStreet) -- On April 19, Danbury Connecticut became an epicenter for the seismic sounds of electronic dance music, or  EDM. The Verge Campus Tour 2014 headlined by the electronic duo, Krewella showcased their almost two-hour set with floor-rattle bass. 
A nearly 30-foot wide stage was set up in the O'Neill Center on the grounds of Western Connecticut State University in Danbury, Conn. The small space allowed for the group's loud sound to resonate across campus. 
Click through to see highlights of the show. 
>>Read More: Armin van Buuren: EDM Royalty Rocks MSG

Krewella, made of sisters Jahan and Yasmine Yousaf, were formed in 2007.  Their produced Kris "Rain Main" Trindl is accompanying the group on The Verge Campus Tour.
>>Read More: Chevy Corvette and Camaro: New American Muscle in 2015
Jahan Yousaf, 24, performed double duty of vocals and mixing of the groups bass-heavy tracks.
Yasmine Yousaf, 23, began the set on vocals with a raucous opening of the group's single, Party Monster. She lent both vocal and mixing talent during the near two-hour set.
>>Read More: You Don't Know What Your Kids Are Listening To
Hailing from Chicago, the duo showed off their talent in a set highlighted by melodic vocals paired with the driving force of dub-step influenced tracks.
Throughout the set, one of the highlights of the performance was the lighting and effects display put on by Max Chang. 
The stage was draped in hues of deep purple and blue and paired with a mirrors to enhance the effects.
>>Read More: Top 10 LPs Every Self-Respecting Music Lover Should Own
Fans packed the WCSU O'neill Center and moved continuously at the group's beck and call in rhythmic unison.
>>Read More: 10 Best Moments Salvaged From SXSW's Bloat
Enthusiasm of fans gave the whole campus a dance hall atmosphere.
After almost two hours, the sisters completed the show with highlights from the debut album, Get Wet.
They thanked their fans after a three-song encore ending with their hit single, We Go Down.
 -- Text and photos by Adam Leverone.