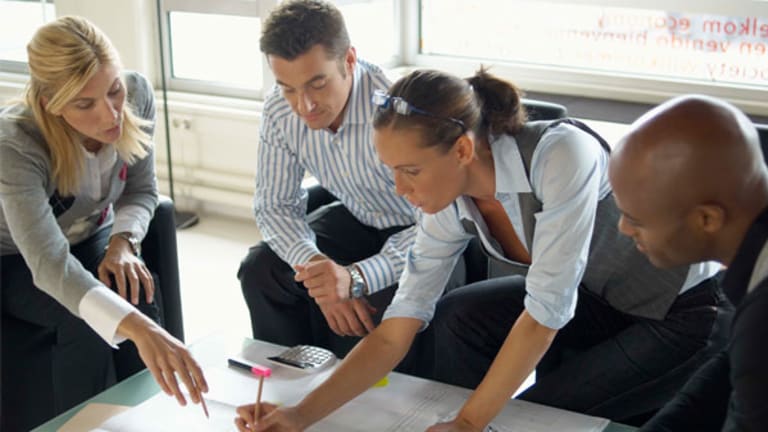 Kostohryz: Prepare Now for Major Bank Runs in Europe
The Germans and Dutch have given the signal. Ignore it at your risk!
NEW YORK (TheStreet) -- Most people don't comprehend the significance of the new bank "bail-in" model of bank restructuring in Europe. Major bank runs are a serious threat.
Therefore, you should have your trigger finger ready to sell. Obviously, that means European stocks and ETFs such as
iShares MSCI Spain Capped Index Fund
(EWP) - Get iShares MSCI Spain ETF Report
,
iShares MSCI Italy Index
(EWI) - Get iShares MSCI Italy ETF Report
and
iShares MSCI France Index
(EWQ) - Get iShares MSCI France ETF Report
.
But it also includes U.S. stocks and ETFs such as
SPDR S&P 500
(SPY) - Get SPDR S&P 500 ETF Trust Report
,
SPDR Dow Jones Industrial Average
(DIA) - Get SPDR Dow Jones Industrial Average ETF Report
and
PowerShares QQQ
(QQQ) - Get PowerShares QQQ Trust Ser 1 Report
that will feel the impact of global turmoil emanating from Europe if bank runs start.
Watch European interbank lending rates closely. A spike in these rates will be your signal to sell stocks globally and take profits.
How should this affect your portfolio management? If bank runs are not triggered in Spain or elsewhere in southern Europe, perhaps not at all. In the absence of external shocks, I am bullish on the U.S. economy and markets, as
I have written at Seeking Alpha
.
Investors Should Not Ignore Signals
The German Bundesbank just published a major study,
, saying that Italians and Spaniards are significantly wealthier than Germans. This follows on the heels of the Eurogroup-imposed bail-in of unsecured depositors in Cyprus. The implications are clear, and the timing is very telling.
Northerners signal that they will not pay for southern bank bailouts. On Tuesday, Eurogoup President
said that Europe (read northern countries) should not bail out southern banks. He said that there must be "push back" on the pleas to bail out investors such as bondholders and unsecured depositors (i.e., those with deposits in excess of 100,000 euros). According to Mr. Dijsselbloem, after wiping out equity and debt holders, if more funds are needed, unsecured depositors should be "bailed in," as is currently being done in Cyprus.
Make no mistake, northern Europeans do not want to spend a single penny on a bailout for southern Europeans. The Cyprus "solution" is now the blueprint for how they can avoid paying for future bank bailouts in southern Europe.
But the Germans and the Dutch do not want to be accused of being "heartless" or "unfair." So, they need some cover.
The Bundesbank Study
The Bundesbank just
published the aforementioned study
(leaked about five days ago) to head off charges that the northern countries are being "stingy" ogres who are not showing "solidarity" with their southern brethren. The study implies that it would be unfair to force relatively poor Germans to bail out the relatively richer Spaniards and Italians. The Germans have actually been making this claim for a while, but this is the first time they have published a formal study on it.
As
this op-ed published at Worldcrunch
illustrates, the German press is picking up on this story with
, emphasizing the fabulous and largely untaxed earnings of spectacularly wealthy Mediterranean scions. This is exactly the sort of "red meat" that Angela Merkel wants to feed to the Germans in the lead-up to German elections. She has built her political reputation as the champion that protects the savings of hard-working and thrifty Germans.
When and if Spaniards come hat-in-hand looking for money to bail out their banks, Merkel is going to be able to point to this study. More importantly, she will be able to say, with some justification, that voters in Germany (who have read or heard of the study) will simply not allow her government to bail out rich Spaniards and Italians who evidently can afford to bail themselves out.
Major Bank Runs May Be Triggered
Unless, the northern countries backtrack hard on their new policy on "bailing in" unsecured deposits (i.e., deposits of more than 100,000 euros), it is going to be a true miracle if there is not a major run on Spanish and perhaps even Italian banks. At that point, we shall see whether the northern Europeans have the stomach to stick around to watch southern European banks collapse.
Rumors are already strong that Luxembourg and Malta -- which have some problems similar to Cyprus -- are next in line.
And Slovenia, which is seeing major banking problems due to skyrocketing credit defaults, seems to be in the rumor mill as well.
If any of these nations experience a new banking crisis, will the treatment of large depositors be any different than that received by large depositors in Cyprus?
In conclusion, I believe that if one more EU country executes a bail-in of large depositors, a new pan-European banking crisis may be set in motion. Right now, EU leaders can get away with claiming that the Cyprus situation is unique. However, if another country is forced to bail in large depositors, it will be a minor miracle if most large depositors stick around to see whether the new bail-in policy will apply to their own European bank.
At the time of publication, the author held no positions in any of the stocks mentioned, although positions may change at any time.
This article is commentary by an independent contributor, separate from TheStreet's regular news coverage.
James Kostohryz has accumulated over twenty years of experience investing and trading virtually every asset class across the globe.
Kostohryz started his investment career as an analyst at one of the US's largest asset management firms covering sectors as diverse as emerging markets, banking, energy, construction, real estate, metals and mining. Later, Kostohryz became Chief Global Strategist and Head of International investments for a major investment bank. Kostohryz currently manages his own investment firm, specializing in proprietary trading and institutional portfolio management advisory.
Born in Mexico, Kostohryz grew up between south Texas and Colombia, has lived and worked in nine different countries, and has traveled extensively in more than 50 others. Kostohryz actively pursues various intellectual interests and is currently writing a book on the impact of culture on economic development. He is a former NCAA and world-class decathlete and has stayed active in a variety of sports.
Kostohryz graduated with honors from both Stanford University and Harvard Law School.