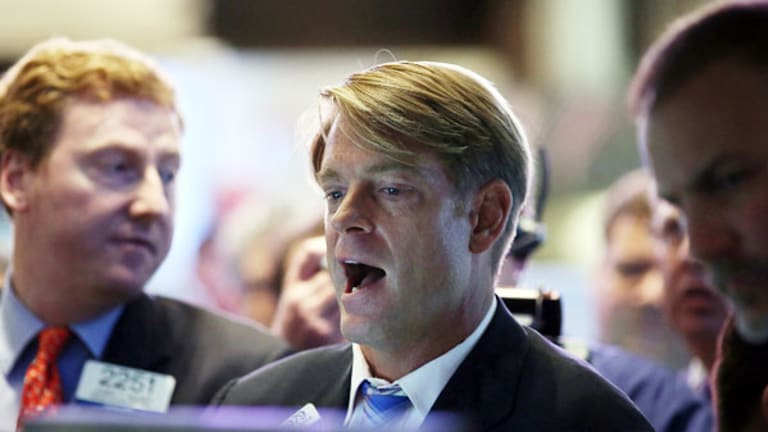 Kostohryz: Is the S&P 500's New High Fundamentally Warranted?
Whether the S&P 500 will continue to hit new highs depends on the time frame for your fundamental analysis.
NEW YORK (TheStreet) -- The S&P 500, along with most broad-market index ETFs such as the SPDR S&P 500 (SPY) - Get SPDR S&P 500 ETF Trust Report, SPDR Dow Jones (DIA) - Get SPDR Dow Jones Industrial Average ETF Trust Report and ProShares Q's( QQQQ), made fresh all-time highs on the last trading day in March. Are such new highs fundamentally warranted?
On a one-month view, fundamentals do not seem supportive. On a one- to two-year view, fundamentals appear to be quite supportive. On a secular view, the outlook is more worrisome. Overall, the outlook seems supportive, when one focuses on the cyclical fundamentals that tend to drive equity returns over the course of a one- to two-year time frame.
Also see: Stock Futures Dip as Second Quarter Opens >>
Short-Term Fundamentals
Global growth seems to be slowing in various regions. Certainly, the recession in European nations, such as Italy and Spain, was accelerating even before the Cyprus crisis; the travails of that island nation can only be expected to cause further economic and financial troubles. Growth in Japan, Korea and Australia has been disappointing, perhaps even alarming. "Dr. Copper," an industrial metal whose price evolution is typically considered to be a predictive factor in many macro econometric models, has also been sending some cautionary signals regarding global growth prospects.
In the U.S., the short-term picture seems to have deteriorated somewhat in the past 30 days. Data on real income, consumer confidence, consumption and durable goods slipped a bit in February-March.
In terms of prospective earnings growth, recently announced profit disappointments by
Oracle
(ORCL) - Get Oracle Corporation Report
and
Fedex
(FDX) - Get FedEx Corporation Report
raise the possibility of a softer-than expected first-quarter earnings reporting period.
Thus, on a 30 day-prospective, it appears that leading and coincident fundamental indicators have not been particularly supportive of new highs.
Also see: Prepare Now for Major Bank Runs in Europe, Kostohryz >>
Cyclical Fundamentals
I define cyclical fundamentals as referring to an entire economic cycle, which in recent times has generally encompassed between five to eight years. Here the fundamental outlook is generally supportive, at the current time.
First, trailing and forward 12-month PE ratios, as well as my own measure of a cyclically adjusted PE (not Shiller's PE10), look to be slightly above historical averages on a long-term secular basis. However, valuations are actually slightly below average, when we look at the historical record of typical valuations, at this particular point in an economic cycle.
Second, most full-cycle macroeconomic indicators are actually flashing bullish signs, at the moment. For example, given high unemployment and relatively low capacity utilization, the economy has lots of running room before meeting any cyclical economic constraints. And on a rolling-three month basis, most cyclical economic indicators are showing acceleration. Thus, in the absence of some sort of external shock, the U.S. economy seems poised to accelerate beyond the 3% growth level before the end of 2013.
Third, monetary conditions are supportive of the U.S. and global economies, and according to
Federal Reserve
officials, highly accommodative monetary conditions are likely to remain in place for at least the next 12 months.
Secular Fundamentals
I define a secular time frame as at least three full economic cycles that will generally encompass about two decades. This is the time frame where the situation is currently less supportive of stocks.
First, the massive accumulation of private and public debt that has occurred in the U.S. in the past decade must inevitably weigh down on long-term growth in the next two decades relative to the average of the previous century. There is really no way to ultimately escape the fact that higher debt-servicing costs as a percent of private and public income must necessarily lead to slower economic growth and/or higher inflation, and/or higher macroeconomic volatility. There is no free lunch.
Second, demographic dynamics are not particularly supportive of growth on a long-term secular time frame. The productive workforce in the U.S. is projected to shrink in the next two decades, while the number of dependents (children and elderly) is projected to rise, creating a fiscal and productive drag.
Other variables that are key to the secular economic outlook are ambiguous.
For example, the prospect for long-term productivity growth is a hotly debated topic. Some economists believe that the U.S. is at the cusp of a productivity boom, driven by new technologies. Other prestigious economists believe that the U.S. is at the cusp of a major productivity slowdown, caused by a winding down of the productivity gains that have heretofore been generated by information-age technologies.
It is my view that there are not sufficiently clear reasons, on balance, to strongly support the view that productivity growth will be significantly higher or lower than it has been on average in the past decade.
The outlook on energy is similarly murky, on a secular basis. The cyclical fundamentals in the energy industry are undeniably bullish, given technological advances brought about by companies such as
Schlumberger
(SLB) - Get Schlumberger NV Report
in U.S. natural gas fields, as well as exciting developments in the alternative energy arena being spearheaded by companies such as
First Solar
(FSLR) - Get First Solar, Inc. Report
. Bullish developments in the area of energy conservation and conversion being pioneered by companies such as
Tesla
are also reasons to support optimism.
However, these bullish cyclical developments are occurring in the context of an undeniably bearish long-term trend of relentlessly rising costs per unit of energy produced. In the long run, there is a gargantuan battle that is taking place between the Malthusian constraints brought about by resource scarcity and the liberating forces of human ingenuity. In the energy arena, it is not yet clear how this portentous battle will ultimately play out.
Thus, the overall secular economic outlook is
not
supportive of high average long-term valuations. High debt and deteriorating demographic profiles are unambiguously negative factors that, all other variables (such as the outlook for productivity growth) being equal, must cause long-term growth to slow relative to historical averages.
A final note on the secular time frame: When analyzing investment prospective -- investment returns on a long-term time frame -- it is worth noting that even very low prospective historical returns on equity investments on a secular basis must be evaluated against the prospects for alternative investments in the fixed income arena, where prospects appear even worse on a secular basis.
Conclusion
In future writings, I plan to discuss -- within their appropriate time frames -- non-fundamental variables, such as technical and psychological factors, that also play a role in stock price evolution.
However, for now, I will simply observe that fundamental variables must be evaluated within their appropriate time frames. For example, the momentum exhibited by short-term economic variables seems to be slowing and may therefore provide some headwinds for the stock market on a short time frame. At the same time, economic fundamentals and valuations seem reasonably supportive of the stock market in a cyclical context.
However, in a secular time frame, the prospects for equity returns are unappealing. But these prospective returns must be evaluated against the prospective returns on cash, quasi-cash and fixed-income securities.
Thus, putting this all together, it appears that fundamentals overall seem to be supportive of the recent all-time highs on a cyclical basis and that, in the absence of major external shocks, they could continue to be supportive of equities for the next one to two years.
At the time of publication, the author held no positions in any of the stocks mentioned, although positions may change at any time.
This article is commentary by an independent contributor, separate from TheStreet's regular news coverage.
James Kostohryz has accumulated over twenty years of experience investing and trading virtually every asset class across the globe.
Kostohryz started his investment career as an analyst at one of the US's largest asset management firms covering sectors as diverse as emerging markets, banking, energy, construction, real estate, metals and mining. Later, Kostohryz became Chief Global Strategist and Head of International investments for a major investment bank. Kostohryz currently manages his own investment firm, specializing in proprietary trading and institutional portfolio management advisory.
Born in Mexico, Kostohryz grew up between south Texas and Colombia, has lived and worked in nine different countries, and has traveled extensively in more than 50 others. Kostohryz actively pursues various intellectual interests and is currently writing a book on the impact of culture on economic development. He is a former NCAA and world-class decathlete and has stayed active in a variety of sports.
Kostohryz graduated with honors from both Stanford University and Harvard Law School.