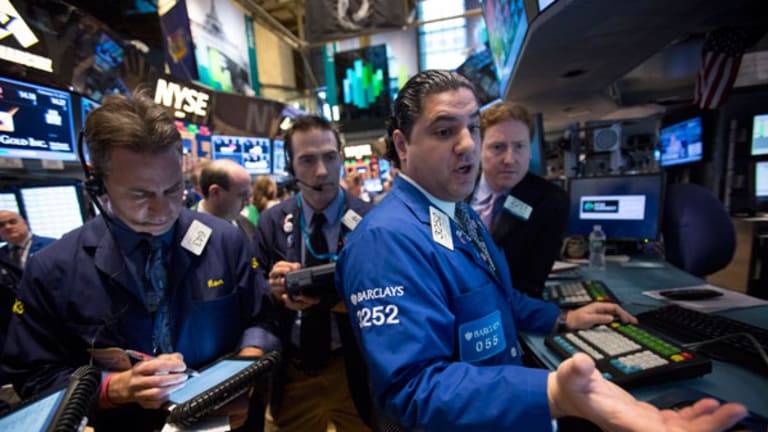 Kostohryz: Anxiety on the Sidelines
The anxiety of potential dip buyers versus profit-takers will be key to the stock market this week.
NEW YORK (TheStreet) -- Right now, the stock market is facing an interesting psychological set-up that will determine the direction of major stock market indexes such as the S&P 500, Dow Jones Industrials and Nasdaq.
Also affected will be their corresponding index ETFs including the
SPDR S&P 500
(SPY) - Get SPDR S&P 500 ETF Trust Report
, SPDR Dow Jones Industrial Average
(DIA) - Get SPDR Dow Jones Industrial Average ETF Trust Report
and
PowerShares QQQ Trust
(QQQ) - Get Invesco QQQ Trust Report
.
There is a palpable anxiety on the part of investors and traders who have been left behind by the massive surge in the major stock indices so far in 2013 to capitalize on any dip to hitch a ride onto the back of the runaway bull market. This is why, up until now in 2013, every minor dip in the major indices has been bought aggressively.
>>Also see: Gold Prices Pop as Investors Cover Short Positions >>
The psychological profile of these folks is such that they are unable to pull the trigger on buying while stocks are rising sharply, for fear of being the sucker that buys at the top. However, any dip in the market may alleviate the fear of being the "last sucker to buy" and psychologically paves the way for these investors to go ahead and purchase stocks anxiously, presumably before the bull market resumes.
Anxiety Among Longs
There is another cohort of anxious investors and traders out there right now, and they represent the exact mirror image of the investors and traders who are anxiously awaiting a dip for the opportunity to buy.
These are the folks who are holding large paper gains from the stellar advance of the stock market thus far in 2013. They are very anxious to preserve their gains and not give them back in the event of a potential market correction.
In this regard, the recent rash of disappointing fundamental macroeconomic data on real income, consumer confidence, consumption, durable goods, ISM manufacturing, ISM services and employment, as well as disappointing earnings data from important bellweather stocks such as
Oracle
(ORCL) - Get Oracle Corporation Report
and
FedEx
(FDX) - Get FedEx Corporation Report
got these people very nervous. The increasingly terrible situation in Europe has them even more nervous.
Adding to the nervousness of the longs is the deteriorating technical internals of the market. Indeed, there seems to be emerging a rarely experienced consensus amongst high-profile technical analysts such as followers of Tom Demark's system, various Ellioticians and conventional technical analysts that the stock market is due for a significant correction.
So the question is: Will the anxiety of the folks on the sidelines to buy on any dip outweigh the anxiety of the longs to protect and harvest profits? The answer to this question will determine the short-term trend of the stock market.
Currently, my short-term outlook is for the pullback to find fairly strong technical support in the area of 1470 to 1500 on the
S&P 500
index. The pullback could pause or bounce in the 1530 area, where there is some horizontal support and the 50-day moving average, prior to entering the target zone.
A strong negative fundamental catalyst would probably be required for the stock market to correct beyond that technical target area. If there were such a fundamental catalyst, the next support areas would be found at around 1460, 1400 and 1350. At that point, we would be talking about a correction rather than a mere pullback.
This article was written by an independent contributor, separate from TheStreet's regular news coverage.
James Kostohryz has accumulated over twenty years of experience investing and trading virtually every asset class across the globe.
Kostohryz started his investment career as an analyst at one of the US's largest asset management firms covering sectors as diverse as emerging markets, banking, energy, construction, real estate, metals and mining. Later, Kostohryz became Chief Global Strategist and Head of International investments for a major investment bank. Kostohryz currently manages his own investment firm, specializing in proprietary trading and institutional portfolio management advisory.
Born in Mexico, Kostohryz grew up between south Texas and Colombia, has lived and worked in nine different countries, and has traveled extensively in more than 50 others. Kostohryz actively pursues various intellectual interests and is currently writing a book on the impact of culture on economic development. He is a former NCAA and world-class decathlete and has stayed active in a variety of sports.
Kostohryz graduated with honors from both Stanford University and Harvard Law School.